CX Daily: Beijing Hits Taiwan With Penalties in Wake of Pelosi Visit
Ma Xiaoguang, spokesman of the Taiwan Affairs Office of the State Council. Photo: VCG
Taiwan /
Beijing hits Taiwan with penalties in wake of Pelosi visit
Beijing announced a slew of countermeasures against Taiwan Wednesday in response to U.S. House Speaker Nancy Pelosi's visit to the island, including suspending trade in certain products and imposing sanctions on institutions regarded as pro-independence.
China's General Administration of Customs announced (link in Chinese) that the import of citrus fruits and two types of fish from the tropical island would be suspended, citing earlier detection of Covid-19 virus and quarantine pest on the products.
Meanwhile, the Ministry of Commerce halted (link in Chinese) exports of natural sand from the mainland, which could impact Taiwan's construction and chipmaking industries.
China sets live-fire military drills as Pelosi lands in Taiwan
Investment strategists say Pelosi trip will have global market impact
Guizhou /
In Depth: How tourism lifted one county out of poverty — and left it vulnerable to Covid
It was June and normally peak season for Li Li, but her restaurant in a scenic part of Southwest China's Guizhou province had only one table of customers on the balmy summer evening. She was not surprised. Empty tables had become a common sight in recent months.
Xijiang Qianhu Miao Village, a national 4A-level scenic area and hub for tourism focused on the Miao ethnic group, shut its gates to visitors in March as the country battled its worst Covid-19 outbreak in two years. It reopened over a month later, but with virus control measures that restricted people's movement to the point where tourism and restaurants continued to suffer.
Covid-19 /
Analysis: Hong Kong Covid outbreak stymied by hybrid immunity, experts say
Hong Kong is battling a new Covid-19 outbreak fueled partly by two highly contagious omicron subvariants, BA.4 and BA.5. But thanks to local hybrid immunity, infections are fewer and less severe than expected.
The Asian financial hub has reported 4,000 to 5,000 daily cases for 13 straight days, below the prediction of around 6,000 to 7,000 made by local officials in July. The vast majority have also not required hospitalization.
Hong Kong clears Sinovac Covid shot for 6-month-olds
FINANCE & ECONOMY
PMI /
China services activity rebounds further as Covid restrictions ease, Caixin PMI shows
Services activity in China continued to rebound in July as Covid restrictions eased, a Caixin-sponsored survey showed Wednesday, offering some good news for economic growth as the manufacturing sector's expansion weakened.
The Caixin China General Services Business Activity Index, which gives an independent snapshot of operating conditions in services industries such as retailing and travel, rose to 55.5 from 54.5 the previous month, the highest reading since April 2021. Values greater than 50 signal expansion.
The Caixin China General Composite PMI, which covers both the manufacturing and services sectors, slid to 54 in July from 55.3 the previous month.
Quick hits /
China in longest streak of liquidity withdrawals since February
BUSINESS & TECH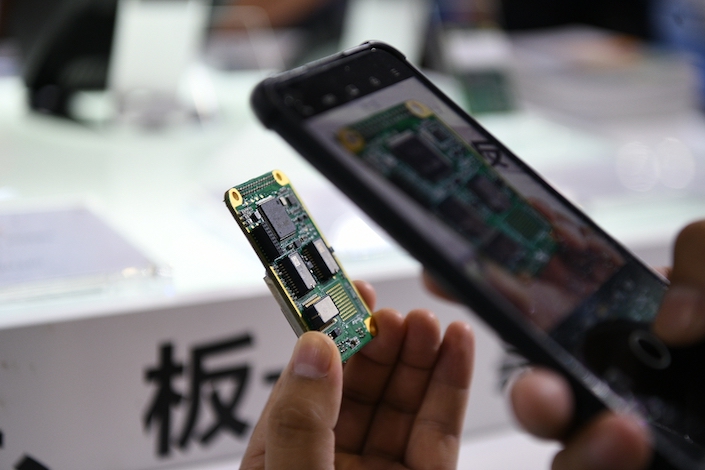 In 2021, 324 million smartphones, accounting for 94.5% of China's domestic smartphone shipments, were compatible with BeiDou's navigation system.
Chips /
China rolls out short-message BeiDou chip for smartphones
China completed development of a chip that will enable smartphones to send and receive communication signals with the BeiDou Navigation Satellite System, the government said Monday.
Using smartphones with the chip, people will be able to send messages through BeiDou satellites in case of emergencies when regular mobile communication signals may be weak or communication facilities damaged, said Yang Changfeng, chief architect of the BeiDou satellite navigation system. The communication function will come on top of the already widely used BeiDou navigation features.
C919 /
China-designed C919 jet completes test flights, paving way for commercial use
China's homegrown C919 passenger jet has completed all test flights required to obtain an airworthiness certificate, bringing it another step closer to commercial use.
After years of delays, all six prototype airplanes have entered the "final stage" of the certification process after completing all the tests, according to a statement (link in Chinese) from Commercial Aircraft Corp. of China Ltd. (COMAC) issued July 23.
Retailers /
Retailer Gome upends e-commerce unit, fires staff
Gome Retail Holdings Ltd., one of China's largest brick-and-mortar electronics retailers, fired a senior vice president and many of the staff at its core online sales unit after it failed to make a dent in the nation's competitive e-commerce sector.
Multiple sources said among the sacked staff of the Beijing-based retailer's Zhenkuaile e-commerce platform was Executive Vice President Ding Wei, who was promoted to the role less than a year ago to replace a departing ex-Alibaba chief.
Quick hits /
Battery giant CATL's co-founder resigns
Two more Unigroup executives placed under investigation
China's livestreaming industry matures after clampdown on stars
Long Read /
As China reforms its financial system, pragmatism should prevail
GALLERY
PLA launches exercises around Taiwan
Recommended newsletter for you /
Caixin Must-Read Newsletter brings you the best of our coverage and stories you can't miss. You can opt-in now and get hand-picked news coverage delivered to your inbox each week for free.
Thanks for reading. If you haven't already, click here to subscribe.
Share this article
Open WeChat and scan the QR code

Caixin China Biz Roundup: Hong Kong 'Homecoming' Listings