Editor's Picks for Year of the Rooster
As the Year of the Rooster struts to a close, we look behind the scenes at Caixin's deepest dives of the year. Not to be cocky, but we're sure you'll be crowing about them to your friends.
The stories took us from the factories of Tanzania to the North Korean enclaves of Beijing. We witnessed happy children eating fried chicken and resilient rural women fighting for their land rights. We hope you appreciate Caixin's efforts to shine a light on underreported stories in an ever-changing China. Feel free to send me your thoughts at dougyoung@caixin.com
Sincerely,
Doug Young
Managing Editor
5. North Korean Businesses in China Start Countdown as Deadline for Closure Looms
Our team dug beneath the headlines to understand the murky world of North Korean businesses in China as they faced imminent shutdown under UN sanctions. Significant barriers had to be surmounted to get the facts on this story, due to the difficulty of identifying and then getting information on these opaque companies.
Key quote: "We won't have to shut down, because our 'big boss' is Chinese."
Several of Beijing's North Korean restaurants are expected to close after the China government ordered North Korean companies in the country to wind down by mid-January. Photo: Visual China
4. KFC Still Finger Lickin' Good in China
A labor of love for longtime China resident and Caixin managing editor, Doug Young, who was fresh out of college and working in Beijing as an English teacher when KFC opened its first China restaurant on the southern edge of Tiananmen Square in 1987.
Key quote: "It was easy to get nervous. The customers were a little surprised when we would welcome them into the store."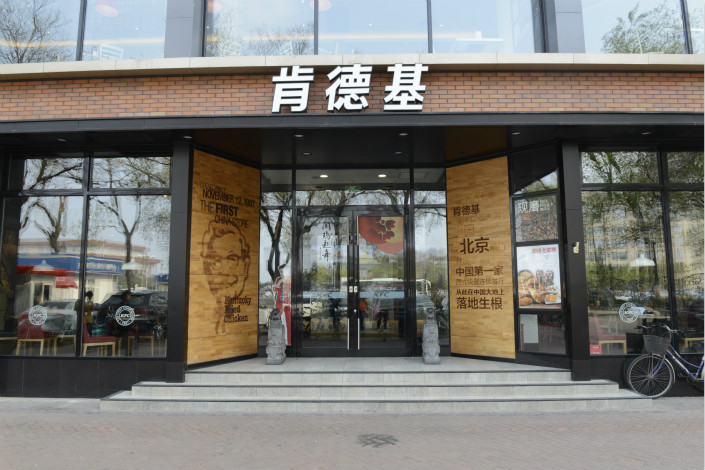 The first KFC restaurant in China, on Qianmen street in Beijing, remains open to this day. Photo: KFC
3. Simply Kicked Out: How Village Committees Deprive Women of Their Land Rights
An expose on how village committees and local governments collude to steal the land rights of married women in Chinese villages, "Simply Kicked Out" breaks the silence on how gender biases, bad governance and a disregard for the rule of law in China have taken away the only asset and social safety net that most rural women have.
Key quote: "A married daughter is like spilled water."
Rural land is the fall-back option for millions in China's countryside, who don't enjoy the same access to health insurance or pensions enjoyed by landless urban dwellers. Pictured is a rural woman working on a farm in Yongji, Shanxi province. Photo: Visual China
The culmination of months of reporting and editing from 10 staffers despite continued threats from the cryptocurrency community, "No Bit Player" showcases Caixin's unrivaled insights into the Chinese government's decision-making process. The take-home message? China's outsized role in the cryptocurrency world is expected to continue despite its bans.
Key quote: "It's like going from day one to being listed."
Photo: Visual China
1. Africa Takes a Seat in the 'Made in China' Workshop
A team of five reporters and editors on two continents investigated a little-reported but hugely significant migration of Chinese manufacturers to Africa, which has seen hundreds of mostly small Chinese entrepreneurs quietly set up shops to cater to the local market, in what could become one of the greatest economic migrations of the 21st century.
Key quote: "Africa looks like what China was 20 years ago."
Photo: Visual China
Share this article
Open WeChat and scan the QR code