Exxon Mobil Fires Up New Gas-Supply Deal as Winter Looms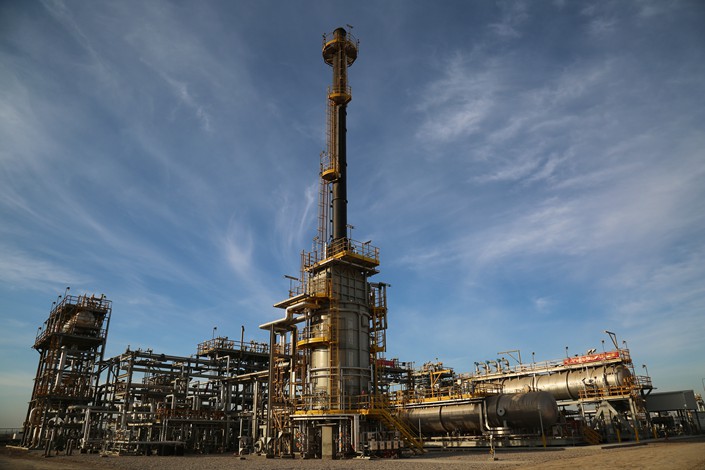 Last year, China's liquid natural gas consumption rose by 46% to 38.13 million metric tons, allowing China to surge past South Korea to become the world's second-largest importer. Photo: VCG
Exxon Mobil Corp. has capitalized again on China's ballooning demand for liquefied natural gas (LNG) as Beijing tries to clean up its energy act, even as concerns remain over difficulties handling major new supplies amid a rapid switchover from traditional coal.
The international energy giant announced it has signed a deal to supply state-owned Zhejiang Energy Group with 1 million metric tons of LNG a year for the next 20 years, according to a statement (link in Chinese) on Thursday.
"China is transitioning into a clean energy future in which natural gas will play an important role," said Peter Clarke, the president of Exxon Mobil Gas and Power Marketing Co. LNG is natural gas cooled into liquid form for ease of transportation. "Exxon Mobil has a long-term commitment to China to help meet China's growing demand for energy with its products, technology, and cooperation and investment," he added.
The recent LNG boom is being driven by Beijing's efforts to reduce China's reliance on highly polluting coal for power and replace it with cleaner-burning natural gas. Last year, LNG consumption rose by 46% to 38.13 million metric tons, allowing China to surge past South Korea to become the world's second-largest importer after Japan. China will account for half of the growth in global LNG demand this year, Wood Mackenzie said in a note this week.
Exxon's latest deal comes two months after it signed a preliminary agreement to build a multibillion-dollar petrochemical and LNG plant in South China's Guangdong province, a move that analysts said indicates the company's desire to capture a large share of the rapidly growing LNG market.
"We expect substantial LNG demand growth in Guangdong," said Huang Miaoru, a senior oil and gas analyst with consultant Wood Mackenzie. "Participation in terminal and downstream projects will enlarge Exxon Mobil's footprint in China's largest LNG importing province and provide the terminal project competitive advantages in the race to capture the region's gas demand growth."
Despite its jump in LNG imports, concerns remain about China's ability to handle the major new supply due to a lack of transport and storage infrastructure, particularly as winter approaches and temperatures plummet in the country's north. Last winter an unexpected surge in demand led to shortages that forced the government to divert gas supplies from industrial usage so that homes could stay heated.
Incomplete installation of national gas-powered heating systems also left many residents in the cold last winter after they were banned from using traditional coal by overzealous local officials before replacement systems were functional.
Managing China's growing LNG supply and demand will remain a "tight balance" over the next two years, said Tian Lei, a researcher with the the Energy Research Institute under China's top economic planning body. Potential bottlenecks remain over transporting the substance, as use of roads, rail and waterways remains highly restricted. At the same time, many of China's port terminals lack qualifications to install LNG tanks. The China Classification Society, which oversees such standards, is still working with government departments to try to solve the issue, said Fan Hongjun, its deputy direct of research and development.
The potential winter challenges are unlikely to affect Exxon Mobil, however, as it looks to muscle in on an industry traditionally dominated by China's state energy giants, which are already ramping up their ability to handle LNG deliveries.
In April, China Petrochemical Corp., or Sinopec, announced plans to more than double its annual natural gas and LNG capacities to 60 billion cubic meters (2.1 trillion cubic feet) and 23 million metric tons, respectively. The extra capacity will also support the development of newly discovered shale gas fields in Southwest China's Sichuan province. In July China National Petroleum Corp., or PetroChina, received its first LNG along the "Northern Sea Route," Arctic Sea lanes that are becoming increasingly accessible due to climate change.
Exxon Mobil's latest deal was signed during the 2018 World Oil Merchants Conference in the eastern city of Zhoushan. In a separate major announcement the same day at the event, Saudi Aramco revealed it will invest in a $25 billion petrochemicals refinery near the city.
Contact reporter Ke Dawei (daweike@caixin.com)
You've accessed an article available only to subscribers
VIEW OPTIONS
Share this article
Open WeChat and scan the QR code

10:50

04:50

04:14

Jun 25 19:43

Jun 25 18:06

Jun 25 18:29

Jun 25 17:50

Jun 25 15:15

Jun 25 14:57

Jun 25 12:26

Jun 25 03:37

Jun 25 03:35

Jun 25 03:46

Jun 24 18:06

Jun 24 18:37
GALLERY