IMF Warns China Against Releasing Another Flood of Stimulus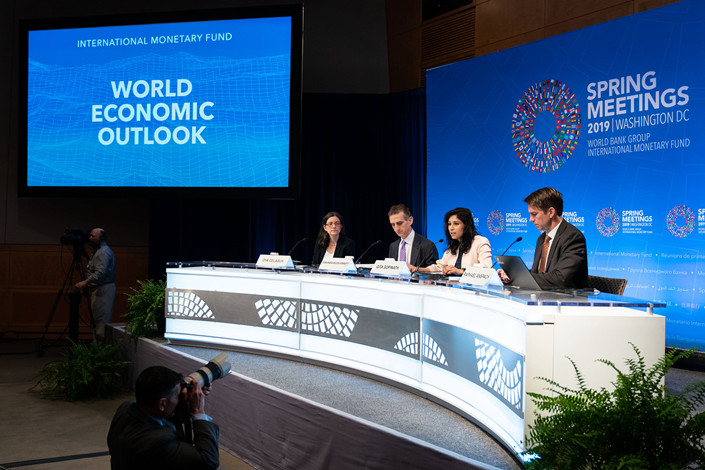 Gita Gopinath, IMF chief economist (second right), speaks at a World Economic Outlook news conference during the spring meetings of the IMF and World Bank in Washington on Tuesday. Photo: VCG
The International Monetary Fund warned China against loosening monetary policy or resorting once again to massive infrastructure spending to shore up growth, saying that the world's second-largest economy's vulnerabilities "remain elevated."
The country has also put off dealing with key sources of financial risk in its economy, the fund said in a semi-annual report on global financial stability released on Wednesday.
China has taken a series of pro-growth measures to bolster slowing economic growth and mitigate U.S. trade war pressures, including liquidity injections through bank reserve requirement cuts, fiscal stimulus through huge tax cuts for individuals and businesses, and more infrastructure spending.
If the country rolls out a large-scale infrastructure investment stimulus, like it has before, it might boost growth in the short term, but it would raise the likelihood of a "sharp slowdown" in the future, the fund said in a separate report also released Wednesday.
Amid the global financial crisis of 2008-2009, China unleashed a 4 trillion yuan ($586 billion) tsunami of stimulus, largely via investment in roads, railways and other infrastructure. Economic growth accelerated, but so did the growth of corporate debt and financial risks. Leaders have repeatedly said that the country will not repeat this tactic.
On Tuesday, the IMF raised its 2019 forecast for China's economic growth to 6.3% from 6.2%, but warned of "more subdued" momentum next year.
Another big chunk of the current fiscal stimulus package, personal income tax cuts, has supported consumption temporarily, but has also made the tax system less progressive, the fund said. Fiscal measures should focus on education, healthcare and social security to help rebalance the economy and reduce inequality, it said. A property tax should also be introduced, the fund said. Such a tax has been under consideration in China for years, but is not expected to be rolled out before 2020.
Putting off reforms
Chinese policymakers should also continue deleveraging the economy, the fund said in its financial stability report, noting that while China has succeeded in arresting the build-up of risks, weaknesses remain. Looser monetary and credit policies would funnel funding toward infrastructure and real estate, the fund said, increasing leverage in these already-indebted sectors and "ultimately raising risks to financial stability."
The IMF also warned that "the most challenging and fundamental aspects" of reforms to China's huge asset management industry have been delayed. This has opened up more opportunities for risk taking, the fund said.
Chinese banks issued around 30 trillion yuan ($4.3 trillion) in asset management products over the past decade, with much of the money raised poured into the opaque shadow banking sector, circumventing regulatory oversight.
Tough new rules for the industry were pushed back and made more flexible in mid-2018, after outcry from banks and amid the struggles of small and private companies, whose access to credit had been hit hard by the crackdown on risk.
A grace period for compliance with the rules was extended by 18 months until the end of 2020, and banks were given more leeway to roll over noncompliant products. Sales of wealth management products were booming again by the end of the year.
Regulators will be "unwavering" in implementing the new asset management rules, Wang Jingwu, head of the People's Bank of China's Financial Stability Bureau told Caixin in March. "If regulators yield to pressure from financial institutions, then the rules' effectiveness will be obliterated," he said.
Contact reporter Ke Baili (bailike@caixin.com)
You've accessed an article available only to subscribers
VIEW OPTIONS
Share this article
Open WeChat and scan the QR code