In Depth: Why Outside Investors Aren't Energized by China's Power Grid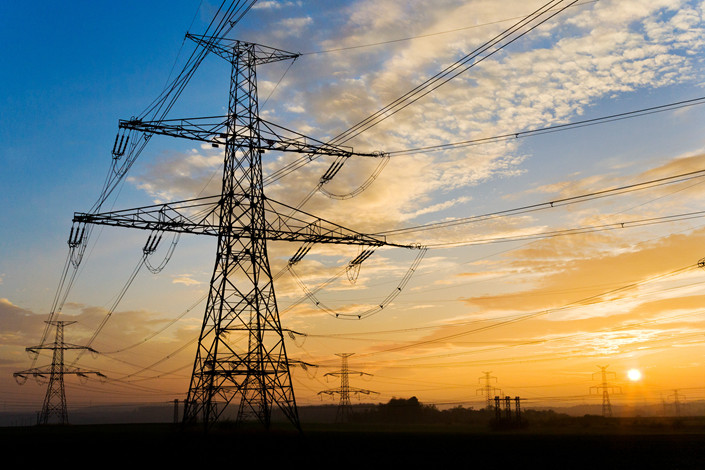 For the program to work, State Grid needs to show would-be investors that they will receive sufficient returns. Photo: IC Photo
*State Grid four months ago announced plans to bring private investors into its ultra-high-voltage grid, capable of transmitting across thousands of kilometers with relatively little electricity loss. However, it is still completely unclear how such investment would work, or if there is any appetite for it.
*Observers have cited a number of concerns that might put off potential investors, including uncertainty over prices, underutilization of such lines and the rights of outside investors
(Beijing) — The mammoth that controls most of China's power grid is trying to charge up Beijing's mixed-ownership reform program, which aims to breathe new life into such state-run giants by bringing in outside investment. But four months after its original announcement, State Grid Corp. of China's plan to bring such investment into its prized ultra-high-voltage (UHV) grid remains shrouded in darkness.
State Grid has long been a target of critics due to its monopoly in the world's biggest producer of electricity. But it proposed a rare gift to opponents last Christmas, announcing it would explore allowing external investment in developing its UHV grid, an ambitious high-tech network that aims to connect western regions rich in renewable energy with the nation's power-hungry east.
Yet four months later, there is little clarity about how such investment will work, or whether there is even sufficient interest. And while China is a world leader in UHV development, doubts linger about the technology's cost-effectiveness. The questions come as State Grid pursues separate ambitions to promote UHV development abroad, leading some to question why it can't even sell the technology at home.
Observers cite a wide range of issues that will need to be resolved to convince investors to take part in such projects in China, from uncertainty over electricity prices, to underutilization of such lines to guaranteeing the rights of outside investors.
UHV is a technology that has been around for decades, but was never successfully brought to large-scale use. It can carry more than 800 kilovolts (kV) on direct current lines and more than 1,000 kV on alternating current ones — several times the capacity of lines used in most of the rest of the world today. Such lines can also cover distances of thousands of kilometers with relatively little electricity loss. The Soviet Union and Brazil experimented with such lines before on a small scale, but State Grid has gone much larger by building 22 lines over the last 15 years.
In theory, the technology could help China to improve its energy efficiency by connecting low-cost and renewable-rich interior provinces such as Sichuan and Qinghai, with denser consumption centers along the crowded east coast where prices tend to be higher.
Seeking outside capital
UHV lines are major investments. In support of the government's renewed push to build new infrastructure to offset slowing economic growth, in September the National Energy Administration (NEA) announced China would seek outside capital to help develop 12 new UHV lines.
Investment bank Citic Securities Co. Ltd. reckons the entire project will cost 180 billion yuan ($26.7 billion) to 200 billion yuan. The largest investment would go to a 1,711 kilometer (1,060 miles) line that would carry 8 million kilowatts (kW) from hydropower-rich Sichuan to the denser urban center of Jiangxi, costing around 31.7 billion yuan.
Outside investment would ideally support these new lines, according to the December announcement. Yet several months later, State Grid has yet to announce how outside investment will work in practice, saying it is still in the research stage. "We can only say that bringing outside investment has only just started and we still need to work out the process," a State Grid insider told Caixin.
Long distance, low returns
For the program to work, State Grid needs to show would-be investors that they will receive sufficient returns. In a recent interview with Caixin, Cao Zhi'an, the general manager of China Southern Power Grid Co., which runs a smaller but still substantial grid in China's south, said that the average net yield of power grid infrastructure is 5%. But he conceded that none of China's operators had any experience yet with mixed ownership of such infrastructure like State Grid is envisioning for its UHV network.
Power transmission infrastructure often requires major investments that can take decades for investors to get the promised returns. State Grid has previously said it expects that large-scale industrial funds, investment platforms and local governments are likely to be investors in its projects, although capital from other channels is welcome, according to Feng Laifa, the director of State Grid's finance department.
Zhu Hansong, the CEO of Goldman Sachs Securities, told Caixin that investing in infrastructure projects fundamentally differs from investing in other sectors such as technology, where investors would expect to be able to get back their money plus returns in relatively short time periods. That means that the UHV projects might only be suitable for major long-term investors like sovereign wealth funds.
Another key concern for potential investors would be their status as non-controlling stakeholders, given that the infrastructure would be part of the key national power grid and thus control would unlikely be given to outsiders. That means investors wouldn't have much say in how the projects are operated, Cao Zhi'an said.
The challenge of balancing the interests of outside investors in such key projects and state-owned businesses has been a tough issue in other government efforts at mixed-ownership so far. While state-owned China Railway Corp. (CRC) had just a 15% stake in a proposed privately-developed high-speed railway line in Zhejiang, it soon ran into difficulties as the project's private investors felt muscled-out from the decision-making process. The government's plans to introduce private capital into its planned new national gas pipeline company could face similar challenges.
Unfulfilled potential
Providing stable returns could pose yet another challenge to the UHV projects due to underutilization, a problem dogging China's existing lines. For example, the Ximeng-Taizhou UHV line went into operation in October 2017, carrying power from Northern China's Inner Mongolia autonomous region 1,620 kilometers to East China's Zhejiang province. Yet so far, data shows that only around 10% of its capacity is being used.
Similarly, transmission along the Southern Hami-Zhengzhou line connecting the western Xinjiang Uygur autonomous region to Central China's Henan province has barely carried half of its potential capacity since coming online in January 2014. A 2018 energy market report found similar issues with underutilization on at least six existing UHV lines, or more than a quarter of China's total.
Beijing's efforts to cut electricity prices to spur the economy could also undermine development of UHV, said Wang Zhonghong, a retired engineering professor at Tsinghua University and expert adviser on power planning. The government cut industrial electricity prices by 10% last year and is planning to do the same in 2019. Such cuts could hurt UHV projects by undermining returns in the absence of government-guaranteed fix return rates. The combination of low utilization and uncertainty around electricity prices made Wang skeptical that UHV transmission projects will ever fulfill their hoped-for economic benefits.
Another challenge will come from China's complex array of competing regional interests when it comes to power generation, since local interests often pressure local grid operators to buy power from their own region, even when it's cheaper to buy it from other areas. At the same time, plans to create a national power market that would be key for the UHV network's success are still on the drawing board.
Contact reporter David Kirton (davidkirton@caixin.com)
You've accessed an article available only to subscribers
VIEW OPTIONS
Share this article
Open WeChat and scan the QR code