After Blast, Jiangsu Waters Down Initial Plan to Shutter Thousands of Chemical Firms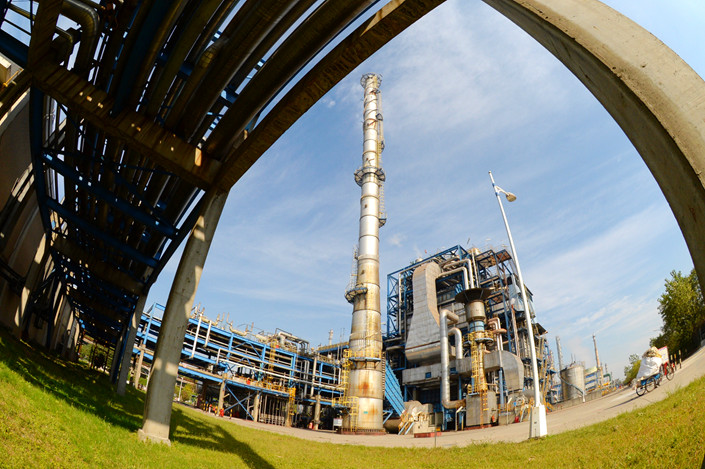 A carbon monoxide production facility in Nanjing, East China's Jiangsu province, in November 2017. Photo: IC Photo
While authorities in the eastern province of Jiangsu are beefing up safety standards in the wake of the devastating chemical blast that killed 78 in March, the industry appears to have used its heft to lobby against the most drastic proposed measures, according to insiders.
The blast at the Jiangsu Tianjiayi Chemicals fertilizer and pesticide plant in Xiangshui county left a 100 meter-wide (328 feet) crater and released hazardous chemicals into the air and water nearby. The cause appears to have been the improper storage of inflammable hazardous waste. Inspectors flagged safety risks at the plant in a visit a year earlier.
In response, the provincial government announced plans this week to speed up the relocation of smaller chemical companies away from densely populated urban areas, and those that stay open will have to beef up security standards or close their doors by 2020. Chemical plants located within a kilometer (0.6 miles) of the Yangtze River will also have to relocate or close by the same date.
Yet the new plan has faced strong opposition from the Jiangsu's influential chemical industry, insiders say. The province is a major producer of pesticides and dyes, with total output second in China only to neighboring Shandong province. Jiangsu is home to 4,280 chemical companies and 50 chemical parks, according to the Jiangsu Chemical Industry Association (JCIA). Chemicals are seen as a "pillar" industry, sources say, with authorities wary that legislation would affect the province's employment levels and economic development.
An earlier draft of the government's plan released for consultation in April proposed reducing the number of chemical companies in the province by 70% to 1,000 and the number of chemical parks by 60% to 20. Yet the industry pushed for a less dramatic draft, according to Qin Zhiqiang the president of the JCIA. In the final version of the rules, the government said it will only close chemical enterprises "that are not in compliance with legal regulations" and will "continue to reduce the number of chemical parks" without providing specific information.
Yet so far closing chemical parks is proving difficult. On April 16, the Yancheng city government announced that it would close the Xiangshui industrial park, where the March blast occurred. However, Caixin found the park's two largest enterprises, Jiangsu United Chemicals Technology Co. Ltd. and Yancheng United Chemicals Technology Co. Ltd., remain open, with their staff receiving no instructions to work elsewhere.
In other places, there has been a lack of clarity for employees where closures are planned. At the three chemical parks near the city of Nantong that have been told to close their doors, staff have not received compensation or new placements, leading to protests.
As of mid-April, police had detained at least 26 people in relation to safety lapses at the Xiangshui site, mainly from Tianjiayi Chemicals. Yet locals have long complained about lax safety standards among the smaller chemical plants. A blast at the same park killed eight people in 2008, and a chlorine leak harmed dozens three years later.
Chemical blasts caused by lax storage standards have been a frequent issue in China in recent years. In November, a blast caused by a vinyl chloride leak at a chemical plant in North China's Hebei province killed 24 and injured 21. At least 165 people died when chemicals in a shipping container exploded at the port of Tianjin in April 2015.
Contact reporter David Kirton (davidkirton@caixin.com)
You've accessed an article available only to subscribers
VIEW OPTIONS
Share this article
Open WeChat and scan the QR code

China Stories: Strict Rules at Home Push Chinese Metaverse Entrepreneurs, Investors Overseas