Regulator Penalizes 22 at Kangmei for $12.6 Billion of Overstatements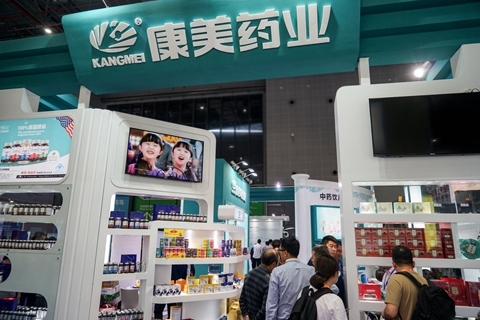 Shanghai-listed Kangmei has lost nearly 70% of its value since a fraud scandal broke out. Photo: VCG
China's top securities regulator Friday penalized 22 employees including top executives of one of the country's biggest listed drugmakers for financial reporting fraud involving 88.6 billion yuan ($12.6 billion) of overstatements between 2016 and 2018.
The individuals were fined a combined 5.95 million yuan for their role in the case involving Shanghai-listed traditional Chinese medicine supplier Kangmei Pharmaceutical Co. Ltd. Among those facing penalties are Chairman Ma Xingtian, Vice Chairwoman Xu Dongjin and Deputy General Manager Qiu Weixi. The penalties include fines and life-long bans from entering the securities markets, according to the China Securities Regulatory Commission (CSRC).
Three other senior executives were also banned from markets, including engaging in securities issuance, trading or other intermediary services, or taking senior positions at listed companies, the CSRC said, without naming the individuals or giving a period for the bans.
The securities regulator said it will further investigate the case and pass it to the judiciary system if criminal violations are found.
Kangmei engaged in "premeditated, organized, long-term and systematic" fraud in its financial reports, "maliciously deceiving investors and causing extremely bad impacts" on the market, said Gao Li, the CSRC spokeswoman at a press briefing Friday.
In a months-long investigation into Kangmei, the CSRC found fabricated invoices, tax receipts and deposit slips to inflate revenue and profits as well as overstated fixed assets and project values. The company also failed to disclose major shareholders or affiliated companies' use of its capital, the CSRC said.
Between 2016 and 2018, Kangmei inflated revenue by 29 billion yuan and operating profit by 4.1 billion yuan. That included 510 million yuan of inflated interest income based on 88.7 billion yuan of overstatements of cash positions, said CSRC the. The overstatements represented 76.7% of Kangmei's net assets in 2016, 93% in 2017 and 108% in 2018.
In its 2018 financial results, Kangmei inflated fixed assets by 1.2 billion yuan and exaggerated ongoing projects and property investments by 2.4 billion yuan, the regulator found.
The company also provided 11.6 billion yuan for its controlling shareholder, Chairman Ma's Kangmei Industrial Investment Holdings Co. Ltd., and affiliated companies to invest in stocks or repay debts between 2016 and 2018 without proper disclosure.
Kangmei fell under the spotlight late last year as the company was rattled by a debt crisis. In late April, Kangmei confirmed it was under CSRC investigation on suspicion of false financial reports.
But the company's founder and Chairman Ma described the overstatements as "accounting errors" resulting from loopholes in internal controls and financial management. After correcting the accounts, the company's net profit in 2016 and 2017 would have been reduced by half.
In May, the CSRC said it found that Kangmei was fabricating financial reports.
Kangmei's auditor, GP Certified Public Accountants Co. Ltd., the largest auditing company in Guangdong, was also put under investigation for failure to perform due diligence.
Kangmei's stock, a constituent of MSCI's global indexes, has lost nearly 70% of its value since April.
Contact reporter Han Wei (weihan@caixin.com)
You've accessed an article available only to subscribers
VIEW OPTIONS
Share this article
Open WeChat and scan the QR code