CX Daily: New Virtual Banks Face Headwinds in Hong Kong
Virtual banks /
In Depth: Virtual banks pick a tough time to launch in Hong Kong
More than a year after Hong Kong's banking regulator issued licenses to eight virtual banks, only three have opened for business. The Covid-19 pandemic is a factor, but the new ventures face other headwinds in a particularly competitive and highly regulated market.
In a city with a population of almost 7.5 million and more than 160 traditional banks, the competition in Hong Kong's banking sector is exceptionally fierce. How much market share the new challengers can grab away from traditional banking giants with deep roots in the international financial hub is still unknown.
In the longer term, the virtual banks aim to build on success in Hong Kong and expand to the Chinese mainland and other markets. Winning the first battle in Hong Kong is crucial for them and their parent companies.
FINANCE & ECONOMICS
Ant Group's headquarters in Hangzhou, East China's Zhejiang Province, on July 23.
Fintech /
As Ant Group saturates its home market, overseas expansion becomes priority
Financial services giant Ant Group is intensifying efforts to expand overseas as it scrapes its head on the ceiling of the domestic market. The company plans to broaden revenue streams and secure more than 1 billion users overseas by 2025.
The company, which removed its home province of Zhejiang from its official name in June, has been talking a big game about global growth since it added internationalization last year to its three business growth pillars — alongside digital payments, financial services and technology.
Ant's strategic investment in Paytm, India's answer to Ant's Alipay, seems to have been a largely successful step in this direction as the company has mimicked Ant Group's model of combining financial management, e-commerce, insurance, and built-in mini programs.
Banking /
HSBC paints grim outlook in 'hugely unpredictable' times
HSBC Holdings Plc joined the chorus of banks warning about a difficult economic outlook to cap a costly earnings season.
The Asia-focused lender missed estimates after reporting first-half profit that fell by half to $5.6 billion because of higher credit provisions. It is speeding up a shakeup of its global operations after warning that the fallout from the coronavirus pandemic may trigger loan losses of as much as $13 billion this year.
HSBC has been seeking to pivot away from Europe and the U.S. to expand its business in the fast-growing Chinese market. The lender, which has been singled out by Washington for its backing of Beijing, said it will continue to shift capital toward Asia, which provided nearly all of its earnings. CEO Noel Quinn said the tensions between "China and the U.S. inevitably create challenging situations for an organization with HSBC's footprint."
Visas /
Beijing says it will retaliate if U.S. denies visas to Chinese journalists
Beijing will retaliate if Washington declines to renew U.S.-based Chinese journalists' visas, Foreign Ministry spokesperson Wang Wenbin said Tuesday. The length of the visas was already shortened to 90 days following a previous diplomatic spat involving journalists in May.
The ministry learned that Chinese journalists in the United States have already submitted their applications for visa renewals, but none has so far received "a clear response from the U.S. side," Wang said. "For a long time, the U.S. has been stepping up its political suppression of the Chinese media out of its Cold War mentality and ideological bias," Wang said. "If it is bent on going down the wrong path, China will have to take legitimate necessary reactions and resolutely safeguard its own legitimate rights and interests."
Fraud /
Investigators reveal how Kangde Xin carried out $1.65 billion fraud
Investigators from China's securities watchdog Monday revealed a complex web of accounts and transactions with illegal underground lenders that employees at Kangde Xin Composite Material Group Co. Ltd. used to carry out a four-year fraud that has brought the company to its knees.
The scheme was disclosed during a three-day hearing by the China Securities Regulatory Commission (CSRC) in Beijing to determine what administrative punishment should be imposed on the Zhangjiagang, Jiangsu province-based company. Investigators found that about 15 billion yuan ($2.1 billion) of cash and bank deposits shown on the Shenzhen-listed company's financial statements turned out to be an illusion. Sales and other documents had been systematically falsified over a four-year period and inflated profits by a total of 11.9 billion yuan, a figure subsequently adjusted to 11.5 billion yuan.
Quick hits /
Chinese researchers find mutation that could make Covid-19 10 times more infectious
BUSINESS & TECH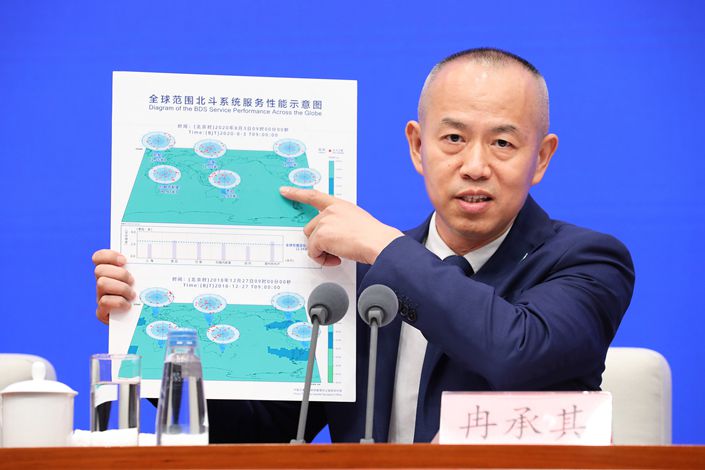 Ran Chengqi, director of the China Satellite Navigation System Management Office and spokesman for the BeiDou Navigation Satellite System, speaks at a press conference Monday in Beijing.
Beidou /
China's homegrown satellite navigation system has 'world-class' tech, official declares
China says it has mastered "world-class" satellite navigation technology for its BeiDou system and has promised to ramp up investment to create a complete industrial chain of manufacturing and services.
The BeiDou Navigation Satellite System was officially commissioned Friday by Chinese President Xi Jinping. In June, the 55th and final satellite was put into orbit, completing the navigation network that has been in development since 1994.
BeiDou's core components are "100% made in China," said Ran Chengqi, director general of the China Satellite Navigation Office, Monday at a press conference.
Luckin Coffee /
Two Luckin Coffee affiliates fined by CSRC for disclosure violations
China's securities regulator fined scandal-plagued Luckin Coffee Inc. founder Lu Zhengyao and two companies he controls for violations of disclosure requirements.
Ucar Inc., a limousine services company controlled by Lu, was fined 500,000 yuan ($71,600) because it failed to consolidate the results of Borgward Automotive China Co Ltd. in first-quarter and first-half financial reports last year. That violated information disclosure rules, the China Securities Regulatory Commission (CSRC) said. Ucar acquired 67% of Borgward in January 2019.
In addition, Qwom Digital Technology Co. Ltd., a marketing company controlled by Lu that provides advertising services to Luckin, was fined 300,000 yuan for failure to disclose related-party transactions with Luckin, the CSRC said.
TikTok /
Bytedance founder doubts probe intentions with company poised to sell U.S. TikTok under duress
The notoriously low-profile billionaire behind TikTok-owner ByteDance blasted the U.S. government, saying a national security probe into the app was always intended to result in a "comprehensive ban."
In his second company-wide letter to Chinese staff in two days, ByteDance founder and CEO Zhang Yiming blamed an atmosphere of "anti-China sentiment" for the intense scrutiny of his company. ByteDance, which is poised to sell under duress a large portion of its overseas operations to Microsoft Corp. following sustained attacks by the Trump administration.
Zhang said the U.S. regulatory investigation of his company's 2017 purchase of Musical.ly, which began in November, was not really intended to force a sale — which would have been "unreasonable" but "within a legal framework."
• Microsoft's long history in China complicates potential TikTok deal
Metals /
Rio Tinto, Chalco progress on long-delayed Guinea iron ore project
Anglo-Australian metals and mining giant Rio Tinto Group and its Chinese partner Chalco are making progress on their long-delayed development of an iron ore mine in Guinea, the company told Caixin Monday.
"The Simandou iron ore project (Blocks 3 and 4) in Guinea is progressing as we collaborate with our partners to optimize the program," the company said. The West Africa project also was mentioned earlier in Rio Tinto's half-year earnings report after being on hold for several years, mostly due to infrastructure financing issues. The change followed the Guinea government's approval for the development of two other blocks of Simandou deposits in June, Rio Tinto said. This provided hope for the potential construction of sites owned by the company.
Quick hits /
Alibaba boosts investment in EV maker Xpeng before New York IPO
Burberry opens its first real-world social media store in Shenzhen
Thanks for reading. If you haven't already, click here to subscribe.

Register to read this article for free.
Register
Share this article
Open WeChat and scan the QR code