China Business Digest: Nongfu Spring Prices HK IPO at Top of Range; Bank of China Profit Drops 11.5%
New export restrictions by China are casting uncertainty over TikTok's sale of U.S. assets. Meanwhile, two more state-owned banks are among participants in China's digital currency pilot program. Bank of China joined a list of banks that posted steep profit declines after setting aside huge sums to cover bad loans.
— By Tang Ziyi (ziyitang@caixin.com)
** TOP STORIES OF THE DAY
China's new export restrictions threaten TikTok's U.S. sale
ByteDance Ltd. may need Chinese regulatory approval to sell its TikTok U.S. assets, under revised export rules (link in Chinese) released by China's Ministry of Commerce and Ministry of Science and Technology on Friday. Such a requirement would add uncertainty to ByteDance's pending sale of TikTok's U.S. operations as demanded by the administration of U.S. President Donald Trump.
The new rules require Chinese companies to obtain regulatory approval before exporting technologies including artificial intelligence and content recommendations based on data analysis, an area pioneered by ByteDance and used in its popular Toutiao, Douyin and TikTok apps.
Two more state-owned banks join China's digital currency trials
A trial of China's digital currency recently kicked off in several cities as part of a long-running program started in 2016 led by the central bank. In addition to the country's four biggest state-owned banks, another two state-owned banks, Postal Savings Bank of China Co. Ltd. and China Citic Bank Corp. Ltd., have joined the trial, sources with knowledge of the matter told Caixin.
Bank of China posts record profit drop on large bad loan provision
Bank of China, one of the country's big four state-owned banks, reported an 11.5% drop in first-half net profit, its steepest decline for the January-June period. The state-owned lender joined a list of banks that have set aside more funds to counter expected losses from rising bad loans post the Covid-19 pandemic.
Exclusive: Citic Securities won't fill departing CEO's position
Citic Securities won't fill (link in Chinese) a position of chief executive officer at its Hong Kong unit CLSA after the current CEO leaves following only 16 months on the job, according to a person close to the company. Citic Securities bought the Hong Kong unit in 2013, aiming to build China's Goldman Sachs but failed to realize its ambition.
Credit Suisse plans to double China headcount in five years
Credit Suisse Group AG plans to double its headcount in China over five years as the global banking giant accelerates its pursuit of the nation's wealthy, seeking to move past a scandal that's engulfed once-favored client and Luckin Coffee Inc. founder Lu Zhengyao.
Chinese bottled water giant Nongfu Spring prices $1.08 billion HK IPO
Chinese bottled water producer Nongfu Spring will raise HK$8.35 billion ($1.08 billion) in its Hong Kong initial public offering (IPO) after pricing its shares at HK$21.50 each, according to people close to the company's board.
Dr. Peng to revise plans for PLCN
Chinese internet service provider Dr. Peng Telecom & Media Group Co. Ltd. (link in Chinese) is revising plans for its Pacific Light Cable Network (PLCN) project, the first undersea fiber-optic cable connecting Hong Kong and Los Angeles, sources at the company told Caixin.
It made the decision after U.S. partners Google LLC and Facebook Inc. quit the project, Bloomberg reported, in the latest setback caused by a "Clean Network" program rolled out by the Trump administration.
Official manufacturing PMI slips to 51
China's official manufacturing purchasing managers index (PMI) slipped to 51 in August from 51.1 in July, official data showed (link in Chinese) Monday. That indicates the country's manufacturing activity expanded at a more modest pace than the previous month.
Cover story: How China is racing to catch up with money launderers
The rapid evolution of financial crime has left a 13-year-old money laundering statute in the dust, forcing authorities to press for tougher, more effective rules and penalties. (Read this week's cover story here.)
Bad debt wave drags China's big banks to worst profit drop
China's biggest banks posted their worst profit declines in more than a decade, putting pressure on their dividend plans, as bad debt ballooned and the government drew them into efforts to backstop a slumping economy. (Bloomberg)
Chinese airlines suffer losses in the first half this year
China's three largest state-owned airlines, China Airlines Ltd., China Southern Airlines Co. Ltd. and China Eastern Airlines Corp. Ltd. all swung to losses in the first half this year from the same period last year amid the coronavirus epidemic, the companies' earnings reports showed (link in Chinese).
** OTHER STORIES MAKING THE HEADLINES
• A China venture of American Express Co. started operations on Friday in the eastern city of Hangzhou, making the company the first foreign firm to provide bank card clearing services in one of the world's largest payment markets.
• Daiwa Securities Group Inc., one of the world's largest securities firms, has won regulatory approval to set up a joint venture on the Chinese mainland with a controlling stake, as China further opens the domestic financial market.
• Major overseas mutual funds sunk more money into China stocks in the second quarter, a recent report showed, highlighting the strong performance of the country's equities.
• Nestle SA has agreed to sell its water business in China to local beer giant Tsingtao Brewery Group Co. Ltd., as part of its ongoing effort to offload underperforming brands.
• The Australian arm of China's Huawei Technologies Co. Ltd. has cited negative business conditions for pulling out as the major sponsor of a professional rugby league club as diplomatic tensions between the nations worsen. (Bloomberg)
• Amid U.S. sanctions, Chinese telecom-equipment maker ZTE Corp. counted its home China market as its biggest revenue source — and the only source to post growth — during the first half of this year, the company's 2020 interim earnings report showed.
• Chinese automobile giants, including SAIC Motor Corp. Ltd. and Guangzhou Automobile Group Co. Ltd., reported (link in Chinese) sharp year-on-year declines in revenue and net profits in the first half this year amid the pandemic.
• TCL Technology Group Corp., one of China's three leading display-panel makers, has agreed to buy a majority stake of panel-making plant in Suzhou from Samsung Electronics Co. Ltd. for $1.08 billion.
** ON THE CORONAVIRUS
• On Sunday, the Chinese mainland reported 17 new Covid-19 cases with symptoms (link in Chinese), all of which were imported, according to China's top health body.
Read more
Caixin's coverage of the new coronavirus
• As of Monday afternoon Beijing time, the number of coronavirus infections globally exceeded 25.2 million, with the death toll surpassing 846,000, according to data compiled by Johns Hopkins University.
• India set a global record for the most daily new cases, with as many 78,761 cases reported Sunday, according to data from its health ministry.
• When Indian Foreign Secretary Harsh Vardhan Shringla was in Dhaka earlier this month to try and mend a frayed relationship with Bangladesh, one of the offers he made was that of a potential Covid-19 vaccine. He said Bangladesh will get priority access to a vaccine produced by India. (The Straits Times)
** AND FINALLY
China's box office revenue hit 526 million yuan ($76.9 million) on Tuesday, also known as Chinese Valentine's Day, marking the highest record for a single day since some of country's cinemas reopened in July, data from online ticketing platform Maoyan showed.
The performance was mainly driven by "Love You Forever," a romantic drama produced by Huayi Brothers Media Corp., which grossed 277.5 million yuan on the festival. And blockbuster war film "The Eight Hundred," which is produced by Alibaba Pictures Group Ltd., took in 190.6 million yuan on that day.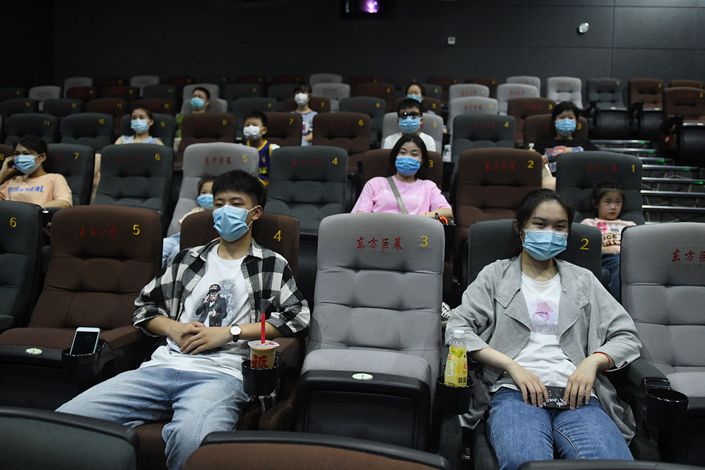 People watch a movie at a reopened cinema in Fuyang, Anhui province, on July 27.
** LOOKING AHEAD
Sept. 1: Release of Caixin China manufacturing PMI
Sept. 3: Release of Caixin China services PMI
Contact reporter Tang Ziyi (ziyitang@caixin.com) and editors Yang Ge (geyang@caixin.com) and Michael Bellart (michaelbellart@caixin.com)
Read more
China Business Digest: Japanese PM Shinzo Abe Resigns; China Bans Imports From Another Australian Meat Processor
Support quality journalism in China. Subscribe to Caixin Global starting at $0.99.

Register to read this article for free.
Register
Share this article
Open WeChat and scan the QR code