Sep 10, 2021 09:40 AM
CHINA
CX Daily: What's Standing In The Way Of 'Common Prosperity'?
An old neighbourhood is being demolished in Shenzhen, South China's Guangdong province, in August 2020. Photo: VCG
Common prosperity /
In Depth: What's standing in the way of 'common prosperity'?
The meeting of the ruling Communist Party's Central Financial and Economic Affairs Commission on Aug. 17 (link in Chinese) was not the first appearance of the phrase "common prosperity" in a report from China's top leadership.
But the way the phrase was used by the President Xi Jinping-chaired meeting last month meant that it — and the associated idea of "third distribution" — quickly jumped up the policy agenda nationwide.
State media reported that the commission emphasized the need to "reasonably regulate excessively high incomes" and that while the party allowed some people to "get rich first," it is now prioritizing "common prosperity."
Gaming /
Tencent, NetEase summoned over new gaming rules for kids
Several Chinese regulators Wednesday called in online gaming companies including Tencent Holdings and NetEase to ensure they follow Beijing's new restrictions on video gaming for minors.
Several major gaming publishers, game account rental platforms and video game livestreaming platforms were summoned for the meeting, which was held by the Publicity Department of the Chinese Communist Party and the National Press and Publication Administration (NAPP). Officials from the Cyberspace Administration of China (CAC) and the Ministry of Culture and Tourism also attended, according to state-run Xinhua News Agency.
China tech stocks slide as regulators ramp up pressure on gaming
Tencent, NetEase Shares lose $60 billion amid gaming crackdown
FINANCE & ECONOMY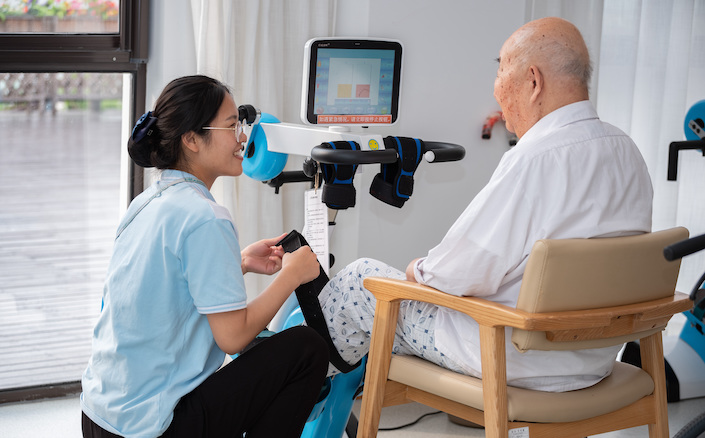 A senior nursing home in Nanjing.
Pension /
Four things to know about China's new national pension insurance company
China's new national pension company gained regulatory approval Wednesday, and a veteran banker and a senior forex official were nominated to run the 11.15 billion yuan ($1.72 billion) pension fund.
The state-owned pension institution was created to address a massive funding gap as China's rapidly aging population and shrinking workforce put more pressure on the state pension system's finances.
Here are four things to know about how the National Pension Insurance Co. will be established and what role it will play in China's three-pillar pension system.
China-Afghanistan /
China pledges $31 million of aid to Afghanistan, rallies neighboring countries' support
China plans to provide 200 million yuan ($31 million) of humanitarian aid to Afghanistan in the form of food, winter items, vaccines and medicines, China's foreign minister said at a Wednesday video link meeting with his regional counterparts.
Wang Yi made the announcement as he suggested areas in which the countries could coordinate and cooperate on Afghan issues, according to a statement from the foreign ministry.
Foreign ownership /
Chart of the Day: Foreign financial firms expand footprint in China as ownership caps are scrapped
As China scrapped the foreign ownership cap in more and more segments of the financial industry in the past few years, an increasing number of international players have won the green light to either set up wholly owned entities or take full control of existing joint ventures.
Foreign ownership limits were scrapped last year for securities, mutual fund, futures and life insurance firms as part of efforts to boost financial opening-up and also to deliver on a promise made in phase one of the China-U.S. trade deal.
Quick hits /
Haitong Securities probed in client's financial reporting fraud case
Wang Tao: China's trade number surprise, but their strength might not last
BUSINESS & TECH
A residential development in Shenzhen's Nanshan district. Photo: VCG
Property /
Realty giant to shutter offices in Shenzhen after city slaps limits on home prices
One of China's biggest real estate agencies plans to close a fifth of its offices in Shenzhen, where transactions for pre-owned homes have dropped dramatically since February when the city became the nation's first to attempt to cap the prices of such properties.
Lianjia, a realtor under the Tencent-backed and NYSE-listed KE Holdings Inc., recently disclosed in an internal memo that it will close about 100 offices in the South China metropolis starting in September, an agent working for the company told Caixin.
In August, pre-owned home transactions in the city were down more than two-thirds from a year earlier, according to the Shenzhen Real Estate Intermediary Association (SREIA), an industry group for local realtors.
IPO /
China Railway's cargo unit surges 44% on Shenzhen debut
Shares of China Railway Special Cargo Services Co. Ltd., the cargo freight unit of state railway operator China Railway Corp., jumped 44% on its debut Wednesday on the Shenzhen Stock Exchange.
The cargo unit was originally a wholly owned subsidiary of China Railway, which sold a 15% stake to six investors in 2019 as part of a push for state-owned enterprise restructuring that led to the public listing.
Sany /
Sany Group's wind power unit approved for Shanghai IPO
A wind power equipment making subsidiary of China's top construction machinery manufacturer Sany Group won approval for its IPO on Shanghai's high-tech board that aims to raise 3.03 billion yuan ($469 million).
The approval takes the company a step closer to obtaining the funding it will need for its plans to grab a larger slice of China's booming wind power generator market amid growing demand for green energy.
Sany Heavy Energy Co. Ltd., established in 2008 to run businesses including wind turbine production and wind farm design, meets the STAR Market's listing conditions and information disclosure requirements, the listing committee of the Nasdaq-style board said in a Tuesday announcement (link in Chinese).
Quick hits /
China accuses Canada Goose of 'misleading' consumers in ads
Nio eyes U.S. stock sale in biggest China offering since Didi
Energy Insider /
China starts trial of clean power trading
GALLERY
Mega hydroelectric plant closer to completion
Thanks for reading. If you haven't already, click here to subscribe.
Share this article
Open WeChat and scan the QR code