Sep 23, 2021 10:03 AM
CHINA
CX Daily: How Evergrande Hid Its Debt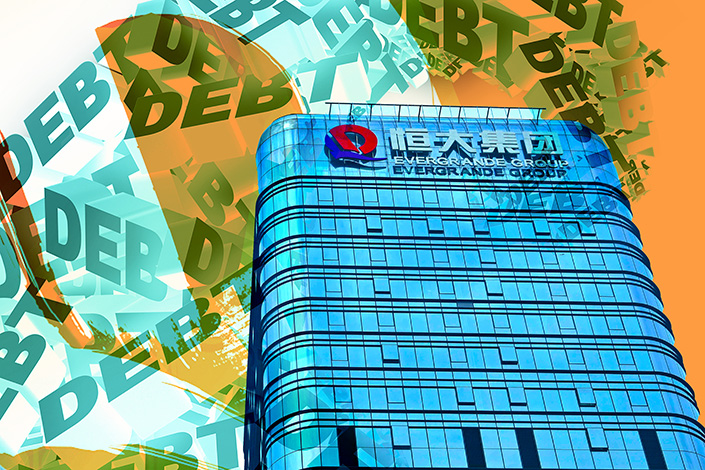 Evergrande has not been transparent about its off-balance-sheet liabilities.
Evergrande /
In Depth: How Evergrande hid its debt
Judging from its balance sheet, China Evergrande Group is a behemoth.
As of the end of the first half of 2021, Evergrande had total assets of 2.37 trillion yuan ($367.3 billion) and total liabilities of nearly 2 trillion yuan. It had 571.7 billion yuan of interest-bearing liabilities, a figure that was actually down by about 145 billion yuan from the end of 2020.
Evergrande managed to lower this number mainly by deferring payments to its suppliers. But that just shifted the liabilities to another part of its balance sheet. Its trade and other payables increased by 122 billion yuan in the first half of 2021, compared with the end of 2020.
Caixin Explains: How Evergrande's Hui Ka Yan blew up a $43 billion fortune
Evergrande debt crisis is manageable, Bridgewater founder says
Luckin Coffee /
Scandal-racked Luckin Coffee plunged $866 million into the red in 2020
Embattled Luckin Coffee Inc. reported a net loss of 5.6 billion yuan ($866 million) for 2020, 77% wider than the company's 3.1 billion yuan shortfall the year before.
Revenue jumped one-third to 4 billion yuan on the back of price increases, the company said in its 2020 annual results released Tuesday. The earnings were delayed after the company had to redo earlier financial results due to the accounting fraud scandal that rocked the Chinese coffee chain last year along with broader confidence in Chinese stocked listed in the U.S.
In a separate statement released on the same day, Luckin also said it offered $187.5 million to settle all claims in a U.S. securities class action lawsuit filed last year over its accounting fraud.
FINANCE & ECONOMY
Property investment increased 0.3% year-on-year in August, the smallest rise in 18 months and down from a 1.4% gain in July.
Property /
Regulators face balancing act in curbing property risks, analysts say
China's economy has reached the point that it needs to shift away from heavy reliance on the property industry, and authorities should fine-tune policies to counter risks, experts said.
China's once white-hot real estate industry has shown signs of a deepening slowdown amid tightening regulatory controls. The country's home sales by value slumped 20% in August from a year earlier, the biggest drop since the onset of the pandemic in 2020, recent data from the National Bureau of Statistics showed.
Lending /
Ant Group lending platform Huabei resumes sending credit data to PBOC
Ant Group Co. Ltd.'s consumer lending service Huabei resumed submitting its users' credit information to the central bank's credit reporting system, a step toward complying with rules designed to bring the risk-prone online lending industry into the regulatory fold.
Launched in 2014, Huabei is a "buy-now-pay-later" service offered through Alipay, China's leading payment platform. As of June 2020, Huabei and Jiebei, another of Ant Group's consumer lending services, loaned more than 2 trillion yuan ($309 billion) to millions of users, according to the prospectus for the fintech giant's now-shipwrecked IPO. The two lending services are Ant's biggest money-earners.
Yuan /
Cross-border yuan settlements surge to record high
Cross-border settlements in the Chinese currency totaled 28.39 trillion yuan ($4.39 trillion) in 2020, up 44.3% from the previous year, according to the People's Bank of China.
Yuan settlements accounted for 46.2% of overall cross-border settlements, 8 percentage points higher than in 2019 and reaching a record high, the central bank said.
WTO /
China appeals WTO decision upholding Trump solar-panel tariffs
China appealed a World Trade Organization ruling that rejected the nation's claims against the U.S. relating to measures that the Trump administration imposed on solar panels imported from Chinese manufacturers.
Earlier this month, a WTO panel said China failed to establish that Washington's safeguards against imports of certain crystalline silicon photovoltaic cells were inconsistent with WTO rules. China notified the WTO Monday of its decision to appeal, the Geneva-based body said in an emailed statement.
Quick hits /
China pumps $18.6 billion into banking system during Evergrande crisis
ASEAN finances eroded by pandemic, stoking risk of currency slump
BUSINESS & TECH
President Xi Jinping speaks at the general debate of the 76th session of the United Nations General Assembly via video in Beijing on Tuesday. Photo: Xinhua
Energy /
Xi says China will not build new coal-fired power plants abroad
China will not build new coal-fired power projects abroad, Chinese President Xi Jinping said in a speech to the United Nations General Assembly Tuesday. He said the country will increase efforts to realize its climate pledges.
Xi also said China country will give more support to developing countries in generating green and low-carbon energy, according to a transcript of his speech delivered via video released by the state-run Xinhua News Agency.
Coal /
China's top coal producers guarantee they'll provide enough to avoid winter blackouts
China's top coal producers said they would maintain adequate shipments to power stations as demand outstrips supply to ensure the nation's grid can operate uninterrupted ahead of the peak winter season and bring down surging prices, in part by selling directly to end users.
Three state-owned coal companies, China National Coal Group Corp., Shanxi Coking Coal Group Co. Ltd., and Shandong Energy Group (links in Chinese) made the supply and price pledges in separate statements, according to Monday WeChat posts by the China Coal Trade and Distribution Association.
Environment /
Top China metals companies busted for breaking environmental pledges
China's top environmental watchdog uncovered a litany of violations during the central government's latest round of compliance inspections, including illegal disposal of hazardous waste and illicit developments requiring large amounts of coal causing high carbon dioxide emissions.
The violators include subsidiaries of two state-owned mining enterprises, China Nonferrous Metal Mining (Group) Co. Ltd. (CNMC) and China National Gold Group Co. Ltd. (CNGC), according to the Ministry of Ecology and Environment (MEE). The inspectors slammed the companies for poorly carrying out their environmental protection obligations, according to MEE reports published Friday.
Tech Insider /
Baidu-backed driverless truck, Douyin limits kids to 40 minutes daily
Hot Topics /
Ant Group consumer lending platform starts handing over data to PBOC, rent-free decade for South Koreans with two kids
GALLERY
Mid-Autumn Festival kindles micro-tourism
Thanks for reading. If you haven't already, click here to subscribe.
Share this article
Open WeChat and scan the QR code

China Stories: Verdict Reversal in High-Profile Murder Stands Out Amid Exoneration Trend