CX Daily: China's Safety Problem With Illegal Buildings
Safety /
Cover Story: China's safety problem with illegal buildings
Shortly after noon April 29, Wang Yue, a student leader at Changsha Medical University in Changsha, the capital of central China's Hunan province, was told to check the whereabouts of other students in her department. She couldn't reach her friend surnamed Li by phone and later learned that Li went to lunch at a restaurant outside the school.
Wang didn't see Li in an afternoon class. It turned out that Li was among 54 people killed in the collapse of an eight-story building adjacent to the school that housed several restaurants, including the one where Li had lunch that day.
The cause of the disaster remains under investigation, but local prosecutors said they authorized arrests in the collapse of 11 people, including building owner Wu Zhiyong, 40, and three people in charge of the building's design and construction.
Davos /
Climate envoys from China, U.S. expected to meet at Davos
China's special climate envoy Xie Zhenhua is expected to meet with his U.S. counterpart John Kerry at the long-awaited World Economic Forum (WEF) annual meeting, which began Sunday. The encounter at the event in the Swiss town of Davos will be their first face-to-face meeting since November's climate talks in Glasgow.
Xie and Kerry are among officials and experts due to speak Tuesday at a session called Safeguarding Our Planet and People, part of the five-day meeting at the Swiss ski resort that will focus on issues regarding the Ukraine crisis, the Covid-19 pandemic and climate change, among others.
FINANCE & ECONOMY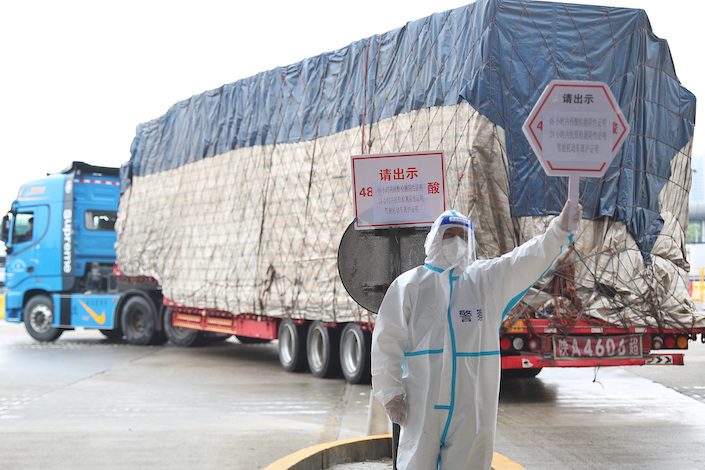 Shanghai entered a city-wide lockdown in early April to contain its worst Covid outbreaks.
Shanghai /
Shanghai's economy pounded in April by Covid lockdowns
Shanghai's long-running Covid lockdowns hammered the economy of China's largest city, based on key indicators of business and industrial activity.
April industrial output in Shanghai plummeted 61.6% from the same month a year earlier to 136.4 billion yuan ($20.2 billion), dragging down industrial production for the first four months by 12.6% year-on-year, according to data from the city's statistics authority. Fixed-asset investment in the city dropped 11.3% in the first four months.
Long Read: The free market isn't to blame for Shanghai's lockdown woes
Fintech /
Ant sharpens Southeast Asia strategy with new leadership
China's Ant Group Co. signaled its global business expansion is back on track as the fintech giant put one of its top executives in charge of operations in Southeast Asia, the world's hottest mobile wallet market.
The future of billionaire Jack Ma's Ant has been up in the air since Chinese authorities blocked its mega share sale in 2020 and ordered a sweeping overhaul of the business. With Jia Hang in charge of Southeast Asia operations since March, the region is set to take center stage in the company's new growth push.
Quick hits /
China's capital logs most Covid-19 cases of current outbreak, reviving lockdown angst
Singapore bourse still rules Chinese mainland futures market as Hong Kong edges in
Editorial: To stabilize employment, trust the market
BUSINESS & TECH
Arm China's office building in Shanghai in March 2020. Photo: VCG
Arm /
Mysterious firm seeks controlling stake in Arm China
Chip designer Arm Ltd.'s China joint venture could be acquired by a firm whose origin is shrouded in mystery in the latest chapter of a two-year boardroom struggle with ousted Chairman and CEO Allen Wu.
In a statement published last week, the firm in question — Lotcap Group — said it signed a letter of intent to buy a 51% stake in Arm China from Chinese shareholders Amber Leading (Hong Kong) Ltd., Ningbo Meishan Bonded Port Area Anchuang Growth Equity Investment Partnership, and Arm Ecosystem Holdings (Hong Kong) Ltd.
Lithium /
Majority stake in embattled Chinese lithium miner sold at nearly 600 times the guide price after fierce bidding
The majority stake in an embattled Chinese lithium mining company would be sold at an incredible price during an auction after fierce bidding amid surging demand for the key ingredient of electric vehicle batteries.
The hammer price of 2 billion yuan ($298.8 million) is 596 times the opening price for the auction of a 54.3% stake in Sinuowei Mining Development Co. Ltd. based in Southwest China's Sichuan province, according to the auction platform owned by JD.com Inc.
Renewable /
Zhejiang lays out plans for 100 new renewable energy projects
One of China's wealthy coastal provinces unveiled plans for 100 new renewable energy pilot projects over the next three years, becoming the first region in the country to release a roadmap to kick off its green energy transition.
Zhejiang's economic planning agency said in a social media post that 100 "new power system" pilot projects will be built in the province by 2025. It estimated that the projects will add at least 6.8 million kilowatts of renewable energy capacity, reduce annual coal consumption by 1.8 million tons and slash carbon dioxide emissions by over 4.9 million tons per year.
Quick hits /
Boeing Max faces another hurdle as China Eastern isn't ready
Audi apologizes over China ad's potential copyright breach
Didi investors to vote on New York delisting after Beijing crackdown
GALLERY
Covid curbs in China's capital get tougher
Recommended newsletter for you /
Caixin Must-Read Newsletter brings you the best of our coverage and stories you can't miss. You can opt-in now and get hand-picked news coverage delivered to your inbox each week for free.
Thanks for reading. If you haven't already, click here to subscribe.
Share this article
Open WeChat and scan the QR code