CX Daily: China to Support Domestic Share Trading of Foreign-Invested Companies
Currently there are 168 domestically listed companies with foreign investors as controlling shareholders.
Listings /
China to support domestic share trading of foreign-invested companies
China will promote foreign investment with a focus on manufacturing to further expand capital inflows, stabilize the scale of foreign investment and improve the quality of foreign capital utilization, the government said.
As part of a bundle of measures outlined Tuesday in a joint document issued by the National Development and Reform Commission (NDRC) and five other ministries, the authorities will support qualified foreign-invested companies to sell shares on China's stock market and issue bonds.
Civil servants /
Civil service to recruit record numbers next year, including more graduates
China plans to recruit a record 37,100 civil servants next year for central government agencies and their subordinate bodies, most of whom will be placed in the tax system, according to official statements.
Tax authorities across the country, including the State Taxation Administration (STA), plan to hire nearly 25,000 people in 2023, an increase of 4,985 compared with the previous year, according to China Taxation News, an official newspaper run by the STA.
Rishi Sunak /
Trending in China: Social media users cheer Rishi Sunak's appointment as U.K.'s prime minister
Rishi Sunak, who officially became the U.K.'s new prime minister Tuesday, has generated widespread interest on China's internet with his appointment making him the first British of Asian descent in the top office and the youngest in over 200 years. He is also among the wealthiest elected officials in the country.
On China's Twitter-like platform Weibo, Sunak's elevation has sparked questions around the future of one of the world's biggest economies, where inflation has reached its highest level in 40 years, and whether the 42-year-old will have a longer tenure than his predecessor Liz Truss.
FINANCE & ECONOMY
Fiscal /
China's fiscal revenue buoyed by nontax income spike
China's fiscal revenue continued to rebound in September, powered by a surge in nontax income, despite weak tax growth.
General public budget revenue rose 8.4% year-on-year in September, up from 5.6% in August. That was the first increase in five months, according to Caixin calculations based on data published Tuesday by the Finance Ministry. The growth was mainly driven by a 39.7% jump in nontax revenue, while tax income increased 0.4%.
E-cigarettes /
China to impose consumption tax on e-cigarettes next month
China will impose steep consumption taxes on e-cigarettes starting Nov. 1 to promote public health, the Ministry of Finance said Tuesday.
A 36% tax will be imposed on the production or importation of e-cigarettes, and an 11% tax will be levied on wholesale distribution of e-cigarettes, the ministry said. China does not tax cigarettes at the retail level.
Corruption /
Arrest warrant issued for ex-president of China Merchants Bank
China's top prosecutor issued a warrant for the arrest of Tian Huiyu, a former president of China Merchants Bank Co. Ltd. (CMB).
The country's top anti-graft agency concluded an investigation into allegations of Tian's bribery, abuse of power and trading with undisclosed information, a Wednesday statement from the Supreme People's Procuratorate said.
Exclusive: Ex-chief of China Merchants Bank profited on CATL investments
Quick hits /
Vietnam Party chief to visit China
Chinese stocks rally as authorities seek to boost confidence
Hong Kong arrests two for $446 million money laundering scheme
BUSINESS & TECH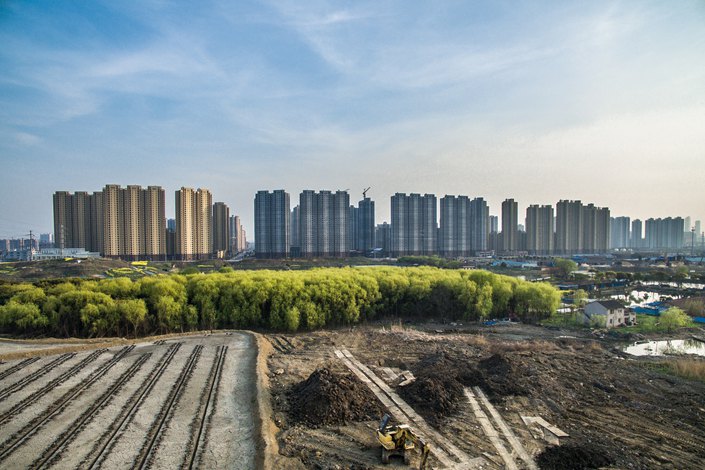 State firms bought 33% of the land on offer in a recent auction in Wuxi, down from as much as 92% in recent sales. Photo: VCG
Land /
Local SOEs slow land purchases after Finance Ministry's warning on inflating revenue
A dramatic reduction in the value of land purchases by state enterprises at an auction in the Jiangsu province trade hub of Wuxi this week suggests the noose could be tightening on the practice of local authorities using such auctions to cook their books.
It came after China's Ministry of Finance banned local authorities from using their own state-owned enterprises (SOEs) to inflate revenue from land sales, a practice many have relied on as the property crisis has eaten their revenue.
C919 /
China's first homegrown jet gets December delivery date
The first batch of China's homegrown C919 aircraft will be delivered to China Eastern Airlines Corp. in December, the state-owned carrier's general manager Li Yangmin said Monday at an internal meeting.
China Eastern will shoulder the "political responsibility" to be the first airline operating the C919 in commercial flights, Li said. The country hopes to rival Boeing Co. and Airbus SE in producing jets.
Quick hit /
Debt-laden Fosun plans to ditch $11 billion of assets
GALLERY
Covid curbs intensify as outbreaks spread
Recommended newsletter for you /
Caixin Must-Read Newsletter brings you the best of our coverage and stories you can't miss. You can opt-in now and get hand-picked news coverage delivered to your inbox each week for free.
Thanks for reading. If you haven't already, click here to subscribe.
Share this article
Open WeChat and scan the QR code

Caixin-Sinica Business Brief: China Mourns Death of Former President Jiang Zemin