Shanghai Bank's Plea for Help Highlights Funding Stress in Key Debt Market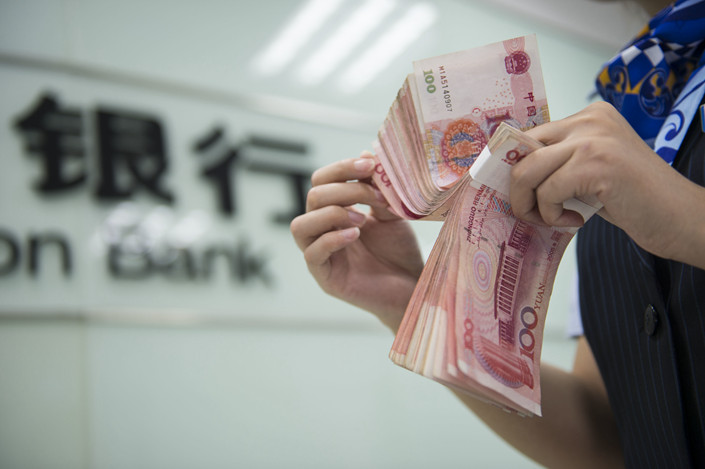 Shanghai Huarui Bank appealed to the central bank to consider the difficulties of private banks and give strong support to their issuance of NCDs in 2020.
Some of China's smaller banks could be in for a rough ride this year as one of their main sources of funding — negotiable certificates of deposit (NCD) — looks set to shrink as the fallout from the collapse of regional lender Baoshang Bank Co. Ltd. last year continues to reverberate.
The struggle ahead was highlighted this week in an announcement from Shanghai Huarui Bank Co. Ltd., the city's first private bank that was set up in 2015 and focuses on servicing customers in the free trade zone, small and midsize companies and startups.
In a statement published Tuesday to announce its 2020 NCD issuance plan, Shanghai Huarui acknowledged it had become more difficult to issue such debt in 2019 in the wake of the turmoil triggered by the fall of the Inner Mongolia-based lender. Noting the need to maintain stable liquidity and ensure the bank has enough funds to meet its operational requirements, Shanghai Huarui appealed to the central bank to consider the difficulties of private banks and give strong support to their issuance of NCD in 2020.
In a sign of the sensitivity of the bank's comments, its statement was withdrawn and is no longer available on the website of the Shanghai Clearing House, a clearing and settlement platform for interbank business. A new version was published on Thursday that did not contain those comments.
Funding squeeze
However, a source close to Shanghai Huarui told Caixin that there were "work errors" in the earlier release and some of the content had been misinterpreted. "This was just a regular application for a quota," the source said. "In this kind of application, what bank wouldn't call for support for its issuance plan?"
In its Thursday statement, the bank said it aimed to have an outstanding NCD balance of less than 4.9 billion yuan ($708 million) at the end of 2020, little changed from the 4.8 billion yuan outstanding at the end of 2019.
Caixin's study of the NCD issuance plans of 29 commercial lenders, mostly small and midsize banks, show many intend to have lower outstanding balances of certificates this year than last year. Tianjin Rural Commercial Bank Co. Ltd., for example, plans to keep its outstanding NCD value under 51.8 billion yuan, down from last year's 57 billion yuan. Qingdao Rural Commercial Bank Corp. plans to keep its outstanding NCD value under 65.2 billion yuan, down from last year's 70 billion yuan.
NCDs are bonds that banks issue to one another on the interbank market that usually carry a maturity of less than a year and are a way for lenders to raise money to fund their business activities, mostly to make loans to customers. Since they were introduced in 2013, they have become an important tool for smaller banks, which do not have the huge national deposit base of the big state-owned commercial banks to draw on. In 2018, some small banks got as much as 40% of their funding from the sale of NCDs.
Regulators started a crackdown on banks' use of the interbank market to raise funds in 2017 amid growing concerns that NCDs were adding to financial risks in the economy. The collapse of Baoshang Bank last year and its subsequent takeover by the government exposed the dependence of smaller banks on NCDs. The disruption to the interbank market triggered by the event led the large banks who buy up most of the NCDs issued by smaller banks to shun such debt after the central bank said it would only guarantee about 90% of Baoshang Bank's NCDs for any entity holding more than 50 million yuan of its certificates.
The breaking of this implicit guarantee that the authorities would bail out holders of NCDs has left many smaller lenders struggling to sell.
The central bank has included interbank liabilities as part of the Macro-Prudential Assessment — a framework introduced in early 2016 to evaluate banks across a range of criteria such as bad debts, exposure to credit risk and capital adequacy. It requires a bank to have interbank liabilities of no more than a third of its total liabilities.
A previous version of this story incorrectly stated when the PBOC introduced the Macro-Prudential Assessment. It was in 2016. The previous version also gave an incorrect figure for the share of Baoshang Bank's NCDs that the central bank would guarantee. It was about 90%.
Contact reporter Timmy Shen (hongmingshen@caixin.com, Twitter: @timmyhmshen)
Caixin Global has launched Caixin CEIC Mobile, the mobile-only version of its world-class macroeconomic data platform.
If you're using the Caixin app, please click here. If you haven't downloaded the app, please click here.
You've accessed an article available only to subscribers
VIEW OPTIONS
Share this article
Open WeChat and scan the QR code