CX Daily: Chinese developers allegedly bribe LA councilman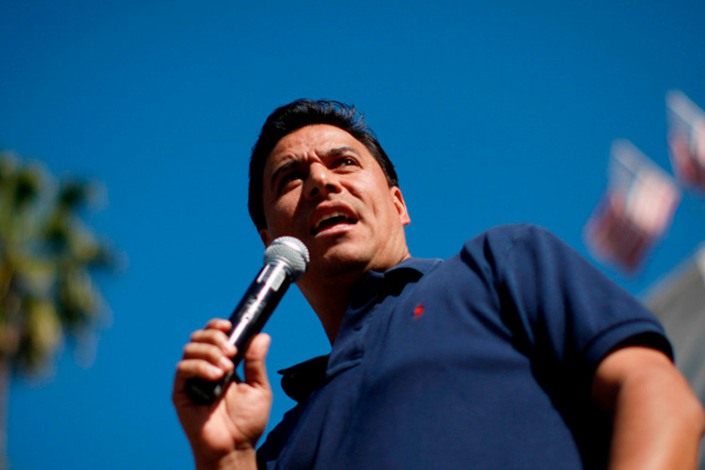 Jose Huizar Photo: josehuizar.com
Bribery /
In Depth: How Chinese developers became entangled in LA bribery case
An investigation of corruption allegations against a Los Angeles city councilman brought to light a multimillion-dollar bribery scheme involving several Chinese developers seeking the politician's backing for lucrative property deals in the second-largest U.S. city.
Suspended LA Councilman Jose Huizar was charged with accepting at least $1.5 million in illicit financial benefits in what local media called the worst City Hall corruption scandal in almost a century. Huizar was indicted July 30 by a federal grand jury on 34 felony counts alleging he accepted bribes from a host of developers in exchange for favorable business treatment.
A Caixin investigation found that two Shenzhen-based private companies — Shenzhen New World Group Co. Ltd. and Shenzhen Hazens Real Estate Group Co. Ltd. — were the main Chinese companies targeted by U.S. investigators for alleged bribery. Shenzhen New World was founded and controlled by businessman Huang Wei. Shenzhen Hazens is owned by businessman Yuan Fuer.
FINANCE & ECONOMICS
Funds /
New leaders give measure of independence to company cleaning up Baoshang Bank
The company set up by the central bank in part to deal with the risks generated by the industry-shaking scandal at Baoshang Bank Co. Ltd. is set to get its first batch of executives as it begins to gain a measure of independence from the People's Bank of China (PBOC).
Two central bank officials will leave their posts to assume the positions of chairwoman and general manager of Deposit Insurance Fund Management Co. Ltd. (DIFM), sources with knowledge of the matter told Caixin.
Wang Yuling, 54, will serve as chair of the company. She's been with the PBOC since 1989, and was most recently appointed head of the Wuhan PBOC branch in December 2017. Huang Xiaolong, deputy head of the PBOC's financial stability bureau and DIFM's legal representative, will act as general manager.
China PBOC's fund to become Huishang Bank's 2nd-largest shareholder
Wealth management /
With BlackRock venture's approval, more foreign firms get a shot at managing Chinese people's money
Regulators have given more foreign firms the once-off-limits opportunity to manage the Chinese people's money by approving a joint venture of asset management heavyweight BlackRock Inc. and Singapore's sovereign wealth fund.
The approval is just the latest step that China has taken to open up its financial sector to foreign firms by offering them a chance to get their hands on the country's multitrillion-dollar wealth management industry. As of the end of May, China had 90.1 trillion yuan ($13 trillion) of outstanding wealth management products.
The China Banking and Insurance Regulatory Commission (CBIRC) on Saturday announced the approval (link in Chinese) of the Shanghai-based company, which is owned by BlackRock, Singapore's Temasek Holdings Pte. Ltd., and China Construction Bank Corp. BlackRock and Temasek will jointly hold 60% of the shares, but the exact ratio has not been disclosed, Caixin reported in January.
Banking /
China is approaching its limit on bad small business loans
China's top banking regulator warned that the ratio of nonperforming small business loans is approaching a pre-set "tolerance limit" but reiterated the necessity of maintaining credit support to help businesses weather the Covid-19 pandemic.
The outstanding value of nonperforming "inclusive" loans to small and micro businesses — defined as those to businesses with credit lines of less than 10 million yuan ($1.4 million) — reached 400 billion yuan at the end of June, up 9.25% from the start of the year, according to a Saturday statement (link in Chinese) from the China Banking and Insurance Regulatory Commission (CBIRC).
The inclusive nonperforming loan (NPL) ratio had risen to 2.99% at the end of the first half and is now approaching the "tolerance limit," the statement said. The NPL ratio for China's banking sector overall reached 2.1% over the same period, up 0.08 of a percentage point from the beginning of 2020.
Yuan /
Charts of the Day: China's marathon effort to get its currency used more overseas
China has made some progress on its drive to increase the use of the yuan, also known as the renminbi (RMB), in cross-border settlement and global markets, but its tiny share means there's a long way to go.
According to a central bank report, banks handled a record 19.67 trillion yuan ($2.83 trillion) in cross-border yuan payments and receipts on behalf of clients last year, up 24.1% year-on-year and 62.6% from 2015. "The RMB cross-border settlement maintained a relatively rapid growth, with the share of the cross-border RMB settlement in total cross-border settlement reaching a record high," the report said. Receipts and payments were basically balanced, with a net inflow of 360.6 billion yuan, it said.
Quick hits /
Opinion: Second listings in Hong Kong offer Chinese firms all the comforts of home
BUSINESS & TECH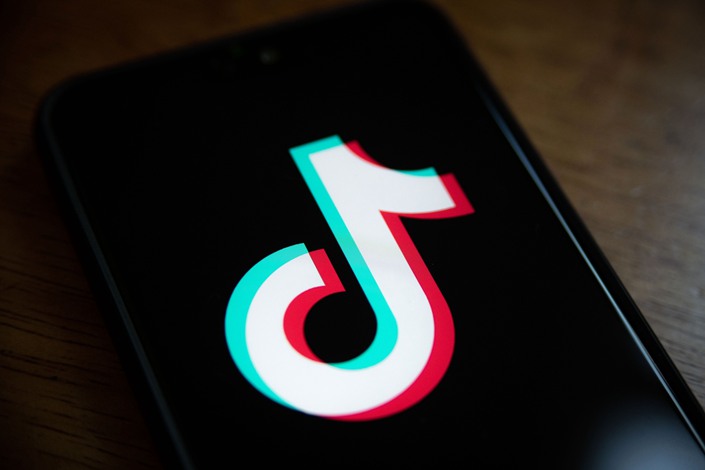 TikTok said it "strongly disagreed" with concerns raised by U.S. President Donald Trump as he issued an Aug. 6 order to ban the app from the country within 45 days. Photo: Bloomberg
TikTok /
TikTok challenges Trump ban in U.S. court
TikTok and its Chinese parent, ByteDance Ltd., sued Monday in federal court in Los Angeles to challenge an Aug. 6 order from President Donald Trump prohibiting U.S. residents from doing business with TikTok. Trump says TikTok is a security risk for user data. The company said the president's decision was made "for political reasons," is unconstitutional and violates rights to due process.
Trump's executive order would "destroy an online community where millions of Americans have come together to express themselves, share video content and make connections with each other," TikTok said.
Trump is stepping up his campaign against China, betting it will help him win reelection in November despite upsetting millions of younger TikTok users. A law expert said the challenge faces an uphill fight as courts don't generally review the president's determinations on questions of national security.
Trump administration reassures Apple, other firms on using WeChat in China
M&A /
Platinum Equity in talks to buy HNA's Ingram for $7 billion
U.S. private equity firm Platinum Equity is in advanced talks to buy HNA Group Co.'s Ingram Micro Inc. in a deal that values the technology distributor at about $7 billion, including debt, according to people with knowledge of the matter.
Discussions are ongoing and talks could still fall apart, said one of the people, who asked to not be identified because the matter isn't public. Ingram Micro has drawn interest from other suitors, one of the people said. Representatives for HNA, Ingram Micro and Platinum Equity declined to comment.
HNA, a Chinese conglomerate facing scrutiny by the government, has shed billions of dollars of holdings in real estate, among other industries, after a global acquisition spree left it debt-laden. HNA acquired Ingram Micro in 2016 in an all-cash deal worth about $6 billion.
Vaccines /
China started giving medical workers experimental Covid-19 vaccine last month, official reveals
Chinese health authorities have been inoculating medical workers and other at-risk groups against Covid-19 for more than a month as part of an emergency access program, a senior health official disclosed as he flagged plans to include other essential workers ahead of the winter flu season.
National coronavirus vaccine task force chief Zheng Zhongwei confirmed the existence of the program for the first time in a prime-time interview with state media outlet CCTV Saturday. He said the emergency use was limited to people such as medical personnel, epidemic prevention officials and border inspection workers. Zheng did not reveal which particular vaccine or vaccines are being used.
Premier says Mekong countries will get Chinese vaccine first
Electric cars /
Supercharged investor interest drives Chinese Tesla challenger toward $1.27 billion U.S. IPO
Chinese electric-car startup Xpeng Inc. is seeking to raise as much as $1.27 billion in its IPO on the New York Stock Exchange (NYSE), the latest Chinese company to take advantage of investor enthusiasm for the industry.
Xpeng plans to sell 85 million American depositary shares (ADSs) priced between $11 and $13 a share, allowing it to raise as much as $1.1 billion, according to the IPO prospectus it filed with the U.S. Securities and Exchange Commission last week. The prospectus also provides an over-allotment option to sell an additional 12.75 million shares if investor demand proves strong, meaning the company could raise more than $1.27 billion in total. JPMorgan Chase is the book runner on the share sale, which is also being underwritten by Credit Suisse Group AG and BofA Securities.
Quick hits /
Online educator Koolearn's generosity goes unappreciated by investors
Editorial: How China can overcome its talent deficit and become a chipmaking power
Thanks for reading. If you haven't already, click here to subscribe.

Register to read this article for free.
Register
Share this article
Open WeChat and scan the QR code