CX Daily: U.S. Firms in China Increasingly Worry Trade Frictions Could Drag for Years
Business sentiment /
U.S. businesses in China grow gloomier over deteriorating bilateral relations: survey
American companies in China are becoming more conservative about their local investment plans as they increasingly worry that U.S.-China trade frictions won't be quickly resolved and could drag on for years, according to a survey released Wednesday.
"Dynamics caused by the pandemic coupled with uncertainties around the trade tensions, strong local competition and in certain sectors regulatory change have really put management of U.S. multinationals operating in China to the test," said Ker Gibbs, president of the American Chamber of Commerce in Shanghai. The group's 2020 China Business Report was based on responses from 346 members polled in June and July.
Just 28.6% of American companies in China plan to increase their local investment, down sharply from 47.2% that had such plans at the same time last year, the survey showed.
FINANCE & ECONOMICS
The China Banking and Insurance Regulatory Commission wants to require licenses for online health-care mutual aid platforms.
Mutual aid /
China may regulate online health-care mutual aid platforms
China's banking and insurance regulator is considering bringing the 5.4 billion yuan ($760 million) medical insurance-like online health-care mutual aid industry under regulation and require licensing for operators of the platforms.
The China Banking and Insurance Regulatory Commission (CBIRC) raised the idea Monday in an article published by an insurance industry journal. Online health-care mutual aid platforms are essentially commercial insurance providers, but there are no clear regulatory body or standards, said the CBIRC's department in charge of cracking down on illegal financial activities.
Online health-care mutual aid programs have attracted more than 150 million participants in China in less than two years. The market is dominated by Xiang Hu Bao, introduced in October 2018 by Ant Group Co. Ltd., with more than 100 million members. About a dozen second- and third-tier players have jumped on the bandwagon.
Economy /
China's consumer inflation slips amid easing pork prices
Consumer inflation saw a slight drop in August, dragged down by moderating food prices, while the contraction of factory-gate prices eased as the world's second-biggest economy continued to recover post-pandemic, official data showed Wednesday.
The consumer price index (CPI), which measures changes in prices of a basket of consumer goods and services, rose 2.4% year-on-year (link in Chinese) last month, down from a 2.7% increase in July and marking the first monthly deceleration since May, data from the National Bureau of Statistics (NBS) showed. The August reading was in line with the median estimate in a Caixin survey (link in Chinese) of economists.
Factory-gate deflation eased as the producer price index (PPI), which measures changes in prices of goods circulated among manufacturers and mining companies, fell 2% year-on-year (link in Chinese) in August. The reading, in line with the median estimate in the Caixin survey, was milder than a 2.4% drop the previous month, marking the third consecutive monthly rebound.
Bonds /
Bankrupt firm tied to prestigious Peking University refuses to honor offsprings' debts
State-owned Peking University Founder Group Corp. (PUFG), which is undergoing bankruptcy reorganization, will not recognize $1.7 billion of dollar bonds issued by two overseas subsidiaries as its own debt.
The bankruptcy administrator of troubled PUFG said it notified overseas bondholders in August that the company won't include (link in Chinese) in its own debt the five dollar-denominated bonds with a combined principal of $1.7 billion backed by keepwell deeds it provided, according to a notice the bankruptcy administrator released Monday on the Shanghai Clearing House's website.
PUFG did not directly provide a guarantee for the bonds but signed keepwell deeds, which usually serve as "letters of support" used by Chinese companies to facilitate offshore bond sales by subsidiaries. "The decision underscores the limitations of keepwell deeds in protecting bond investors," analysts at Moody's Investors Service wrote in a recent report. "It also sets a potential precedent for future cases involving keepwell deeds."
Stocks /
Several ChiNext stocks suspended on suspicion of investor speculation
Trading in several stocks on the ChiNext board of the Shenzhen Stock Exchange was temporarily suspended on signs of abnormal speculative activity.
Since late August, the exchange has suspended trading of Xinjiang Tianshan Animal Husbandry Bio-Engineering Co. Ltd., Zhengzhou Sino-Crystal Diamond Co. Ltd. and Shenzhen Changfang Group Co. Ltd., the bourse said Tuesday (link in Chinese). The exchange found that the market caps of the three companies' shares in circulation were relatively small and their shares were priced low, but they surged in a relatively short period, showing signs of being subject to speculation.
Quick hits /
Lou Jiwei: The four uncertainties China faces in the pandemic world
Chinese scientists find more evidence that Covid-19 may cause diabetes, top doctor says
BUSINESS & TECH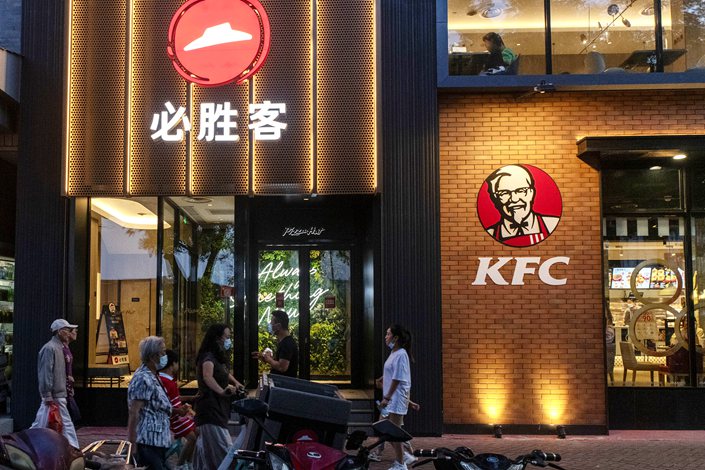 Yum China will be the fourth U.S.-listed Chinese business to make a secondary share offering in Hong Kong since 2018.
IPO /
KFC operator Yum China's Hong Kong IPO oversubscribed dozens of times
China's largest restaurant operator, Yum China Holdings Inc., is riding high investor demand in Hong Kong with the retail portion of its debut oversubscribed dozens of times, one day before the New York-listed company's secondary IPO.
The retail offering by the mainland operator of KFC, Pizza Hut and Taco Bell was overbooked by a factor of 51, while the portion set aside for institutional investors was 7.7 times oversubscribed, according to a company statement Wednesday.
In response, Yum China decided to allocate more shares to retail investors, cutting the share for their institutional counterparts by 12.5 percentage points to 83.5% and leaving the remainder for smaller investors.
Manufacturing /
Japan companies line up for 'China Exit' subsidies to come home
The Japanese government has seen an overwhelming surge of interest in subsidies to bring manufacturing back as the coronavirus pandemic highlights the risk of having supply chains concentrated in a single region, particularly China.
The program to promote domestic manufacturing had 220 billion yen ($2.07 billion) earmarked in the supplementary fiscal 2020 budget. In the first round, which ended in June, the government approved 57 projects totaling 57.4 billion yen, or more than half the 90 applications. The second round of applications, which closed in July, got a much larger response: 1,670 applications worth about 1.76 trillion yen — 11 times the remaining amount in the budget. Recipients will be chosen in October after a review by outside experts.
TikTok /
TikTok parent plans bonuses to thank employees amid turmoil
TikTok's Chinese parent ByteDance Ltd. plans to hand out cash bonuses to its 60,000-plus global workforce to thank them for helping the company "overcome challenges posed by the Covid-19 pandemic and changing macro environment," the company said.
Full-time employees who worked 26 or more days between July 1 and Aug. 31 will be eligible for a bonus worth half their August base salary, ByteDance said Tuesday in a letter to employees. It will be the first extra bonus paid by ByteDance in recent years, several employees told Caixin. ByteDance faces a Sept. 15 deadline set by U.S. President Donald Trump to divest its popular TikTok short video app or face a ban in the U.S. Trump last week reiterated the deadline and said the federal government must be "well compensated," or the service will be shut down.
Fake meat /
Plant-based faux meat maker Beyond Meat shifts production lines to China
Serving as the faux meat supplier for Starbucks plant-based menu is not enough for Beyond Meat's China ambitions. The U.S. fake meat maker is now moving some of its production lines to China as well, a country with an estimated 50 million vegetarians.
Beyond Meat (Jiaxing) Food, a wholly owned subsidiary of Beyond Meat, is building two production facilities in Jiaxing Economic and Technological Development Zone, which is close to the financial hub of Shanghai, according to a company statement released Tuesday. Trial production is expected to begin within months, with full production set to be realized in early 2021, the company said, stressing that the move makes Beyond Meat the first foreign plant-based meat maker to establish a major manufacturing facility in China.
Quick hits /
Wall Street abuzz over Chinese data center operator's IPO
Costa closes all stores in Qingdao in China strategy adjustment
Goldman-backed Chinese pet services firm Boqii files for $115 million U.S. IPO
Thanks for reading. If you haven't already, click here to subscribe.

Register to read this article for free.
Register
Share this article
Open WeChat and scan the QR code