PBOC Q&A: What Regulators Want From Ant Group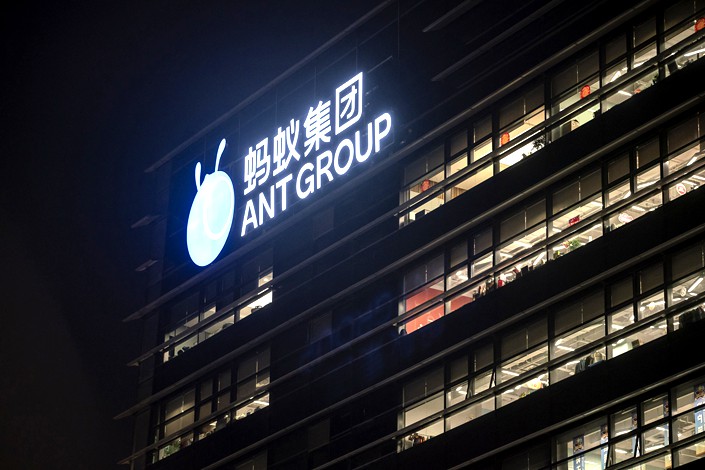 Ant Group's headquarters in Hangzhou, East China's Zhejiang province. Photo: VCG
On April 12, the People's Bank of China (PBOC), the China Banking and Insurance Regulatory Commission, the China Securities Regulatory Commission, and the State Administration of Foreign Exchange jointly interviewed Ant Group Co. Ltd. again. Later, PBOC Deputy Governor Pan Gongsheng answered journalists' questions on behalf of these authorities.
Why did financial management authorities interview Ant Group again?
Pan Gongsheng: The Fifth Plenary Session of the 19th Central Committee of the Chinese Communist Party, the Central Economic Work Conference, and the Ninth Meeting of the Central Financial and Economic Affairs Commission have clarified that China should intensify efforts to oppose monopolies and contain the disorderly expansion of capital to effectively prevent risks. With the strategic goal of building a new competitive advantage, China should establish a sound system for the governance of internet platforms to achieve the regulated, healthy and sustainable development of its platform economy.
Since Ant Group was jointly interviewed by the four authorities in December, the company has instituted up a special team to develop a rectification program under the guidance of financial management authorities and actively carry out rectification tasks. The main requirement of the latest interview was for Ant Group to face up to the severe problems existing in its financial business activities and the seriousness of the rectification work at hand, that it commits to implementing in-depth and effective measures in accordance with regulatory requirements and the rectification program to build itself into an upright and innovative enterprise that operates and pursues healthy development within the confines of the law. At the same time, Ant Group needs to adhere to the principle of serving the real economy and the people, and actively respond to national development strategy. It needs to strengthen fintech innovation in accordance with the requirements of prudential regulation, and reinforce fintech's international competitiveness to play a bigger role in China's campaign to build a new development pattern of "domestic and international circulations."
Read more
What to Know About China's Strategy for a New Economic Development Pattern
What are the main contents of Ant Group's rectification program?
Since Ant Group's rectification work first began, financial management authorities have conducted in-depth discussions with Ant Group concerning rectification measures and have guided the group to formulate a comprehensive and feasible rectification program.
Ant Group's rectification mainly consists of five aspects: First is correcting unfair competition practices in its payment business, giving consumers more choice in methods of payment; and disconnecting Alipay's improper connection to Huabei, Jiebei and other financial products, modifying illegal behaviors such as embedding credit business in payment products. Second is breaking down the information monopoly, operating the personal credit investigation business in accordance with the law and "Regulation on the Administration of Credit Investigation Industry," and collecting and using personal information in a way that is "legal, minimal and necessary" while ensuring both personal and national information security. Third is applying to become a financial holding company, incorporating all institutions engaging in financial activities to make them under the supervision of financial management authorities; and improving measures for isolating risks and regulating relevant transactions. Fourth is strictly following the requirements for prudential regulation, improving corporate governance and rectifying illegal financial activities in regards to credit, insurance and wealth management to control high financial leverage and financial risk contagion. Fifth is managing and controlling liquidity risk for important fund products and consciously reducing Yu'e Bao's balance.
Financial authorities will urge Ant Group to carry out profound, effective rectification and well manage the working pace while maintaining continuity of business and normal operations, ensuring an unchanged financial service experience for the public and continuously improving the group's financial services to the people's benefit.
Read more
Four Things to Know About China's Big Changes to Data Collection Rules
How will financial authorities strengthen the financial regulation of internet platforms?
In accordance with strict and fair regulatory principles, financial authorities will give consideration to both current situations and long-term development, improve deficiencies, promote fair competition, crack down on monopolies and prevent the disorderly expansion of capital. First, they will adhere to a concept of "based in finance and empowered by technology." Internet platforms should provide financial services that ultimately serve the real economy and prevent financial risks, but they should not make technology a "protective coat" for legal and regulatory violations. Violating operations will be investigated and punished severely in accordance with the law. Second, they will put all financial activities under financial regulation without exception. All financial services must be licensed; in addition, financial regulators will improve their regulatory capacities and levels, optimize regulatory frameworks and prevent regulatory arbitrage. Third, they will attach equal importance to development and regulation. Financial authorities will strengthen regulation, regulate market order, prevent market monopolies and guarantee data property rights and personal privacy in accordance with the law; meanwhile, they will grasp the law underlying the development of the platform economy, raise financial service experience levels, and cement and enhance internet platforms' international competitiveness.
Financial authorities will resolutely work to consolidate and develop the public sector, and encourage, support and guide development of the nonpublic sector. They will create a fair competitive environment, continue to support private enterprises' lawful fintech activities, protect property rights in accordance with the law, promote entrepreneurship and motivate vitality and tech innovation of private capital.
What do China's financial authorities think about strengthening international cooperation on fintech regulation?
The rapid development of fintech and the platform economy in recent years has played a truly significant role in improvements of financial service efficiency and inclusiveness of the financial system's benefits, and the reduction of trade costs. At the same time, with its cross-sector, mixed and cross-regional operations, its risk contagion has a higher speed, broader range and stronger spillover effects. These features pose new challenges for financial regulation and have become common issues for regulatory authorities in countries around the world.
Regulatory agencies of the world's major economies have approached these issues seriously and have already taken practical actions through regulatory adjustment and policy response. In terms of regulation concepts, these financial authorities have adhered to the principle of "the same rules for the same services" and striven to maintain a balance between driving fintech development and preventing financial risks. As for regulation approaches, they have explored the application of such technological achievements as big data, cloud computing and artificial intelligence in order to improve their abilities to monitor and predict risk, and conduct penetrating supervision. As for the content of regulation, anti-monopoly and personal information protection are the focal points. For example, in 2018 the EU implemented the General Data Protection Regulation and accelerated the issuance of the Data Governance Act; in recent years the U.S. has launched antitrust investigations targeting big tech companies; and in 2020, Germany approved the 10th amendment to the Act Against Restraints of Competition.
China's financial regulators are willing to further cooperate with international financial organizations and other countries' regulatory authorities in fields including anti-monopoly, data supervision, operation management and consumer protection, to contribute to the drafting of fintech regulations and to strengthen regulation coordination in order to create an open, inclusive and safe fintech environment, improve the financial sector's innovation capacities and prevent cross-border regulatory arbitrage and the cross-border contagion of financial risks.
This article is a translation of a statement released by the People's Bank of China on April 12. It has been edited for clarity.
To read the full statement in Chinese, please click here.
Contact editor Lin Jinbing (jinbinglin@caixin.com)
Read more about Caixin's coverage about Ant Group:
What You Need to Know About Ant Group's Suspended IPO and the Future of Chinese Fintech
Cover Story: Why Ant Group's IPO May Stay on Ice for a While
Cover Story: How Ant Grew Into an Elephant-Sized Behemoth
Support quality journalism in China. Subscribe to Caixin Global starting at $0.99.
Follow the Chinese markets in real time with Caixin Global's new stock database.
You've accessed an article available only to subscribers
VIEW OPTIONS
Share this article
Open WeChat and scan the QR code

Caixin China Biz Roundup: Rape Allegations at Acting School Spark Uproar