CX Daily: How China's New Carbon Market Will Work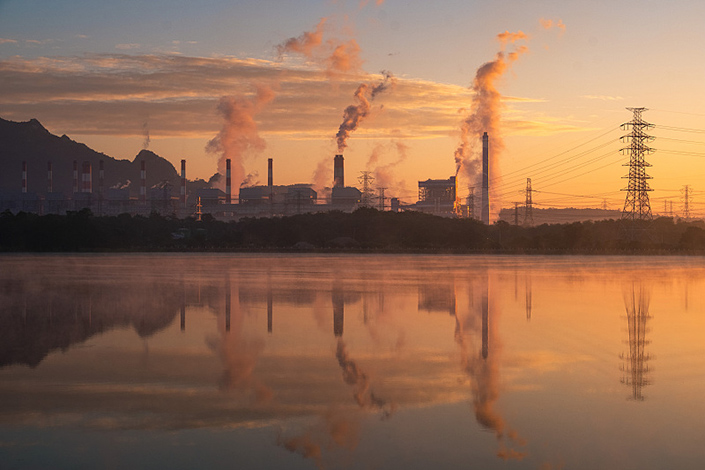 The launch of China's national ETS is expected to help achieve the goals President Xi Jinping set in September: bringing the country's carbon emissions to a peak by 2030 and reducing them to net zero by 2060. Photo: VCG
Carbon /
Caixin Explains: How China's new carbon market will work
China is set to launch (link in Chinese) a national carbon trading market this month as the world's largest greenhouse gas emitter considers an emissions trading scheme (ETS) a key part of its strategy to transition to a low-carbon economy.
China's national carbon market is expected to become the world's largest once it is up and running, outpacing Europe's, as total annual carbon emissions of just the first batch of companies trading amounts to more than 4 billion tons (link in Chinese), according to official estimates.
The first batch involves more than 2,000 power generation companies, which account for more than 40% of China's energy-related carbon emissions, according to the International Energy Agency. Here are five things to know about China's coming nationwide ETS.
China sets July launch for carbon emissions trading scheme
FINANCE & ECONOMY
An overview of a foreign trade container terminal in Qingdao, East China's Shandong province on Tuesday. Photo: VCG
Economy /
China will keep its economic operations within a 'reasonable range'
China will keep its economic operations within "a reasonable range" (link in Chinese) in the second half this year and into next year, with a focus on further supporting the real economy and creating jobs, Premier Li Keqiang said.
The government will employ comprehensive measures to take some of the pressure off smaller companies struggling under soaring commodity prices, with an eye on boosting employment, Li said at a meeting Tuesday.
Still, the government won't "flood" the economy with cash, Li said, repeating the mantra that China will maintain a stable monetary policy.
Credit /
China's total social financing growth slows as shadow banking shrinks
Growth of total social financing in China slowed in the first half as the crackdown on shadow banking decreased off-balance sheet borrowing and as bond issuance returned to normal after a surge last year to offset the pandemic's economic impact.
Outstanding total social financing, a broad measure of credit and liquidity in the economy, increased by 17.74 trillion yuan ($2.74 trillion) to 301.56 trillion yuan in the first six months, data from the central bank show. The increase was 3.13 trillion yuan less than in the same period last year.
Covid-19 /
China exports 500 million Covid-19 vaccine doses in first half
Despite concerns over efficacy and safety, China has become the world's largest exporter of Covid-19 vaccines.
In the first half of this year, China exported more than 500 million doses of its vaccines to 112 countries and territories, accounting for one-sixth of the global output of Covid-19 vaccines, customs data show.
China's exports of coronavirus vaccines have exceeded total exports from all other vaccine-making countries, according to London-based science information and analytics firm Airfinity.
Quick hits /
U.S. steps up surveillance of Chinese submarines in South China Sea
BUSINESS & TECH
Shopee's booth at the Yiwu 2018 China International Electronic Commerce Expo in Jinhua, East China's Zhejiang province, on April 11, 2018. Photo: VCG
E-commerce /
Singapore's Shopee sees China as a bulwark against e-commerce threats closer to home
Tencent-backed Shopee, Southeast Asia's largest e-commerce firm, reshuffled its top brass as it talks up how Chinese merchants are crucial to fending off threats at home.
Zhou Junjie, the firm's chief commercial officer, moved to China and took over Chinese cross-border operations after relocating from Singapore in May, he told Caixin this week.
Zhou said he plans to beef up Shopee's Chinese logistics and payments chops and to shorten the payback period for Chinese cross-border sellers as a way to entice more local merchants to sell overseas on the platform as China's e-commerce exports surge.
Energy /
With renewable power network online, China looks to battery-focused energy storage
Following its rapid construction of wind and solar farms as it seeks to build up its renewable power generating capacity, China will turn its focus over the next five years to developing a new generation of battery-based energy storage systems (ESS) to complete that network.
At the center of its blueprint is a plan to install 30 gigawatts or more of next-generation ESS capacity by 2025, representing nearly eight times the installed capacity at the end of 2020, according to a document released by China's state planner and the National Energy Administration in April. The document further states a target of providing ESS capacity for the entire renewable power generation market by 2030 as the technology matures.
Climate /
China's big cities will suffer more heat waves and heavier rains, Greenpeace says
Beijing and Shanghai are among places facing the greatest risk from extreme weather conditions in China, according to a new report (link in Chinese) by Greenpeace East Asia.
The warning comes with fresh analysis released by the environmental group Wednesday, highlighting the risk of heat waves and heavy rainfall across major metropolitan regions around Beijing and Shanghai, and in southern Guangdong province, especially in densely populated urban areas.
The survey of 60 years of climate data highlights the fast-growing risk of extreme weather in "urbanizing" communities on the outskirts of China's large cities.
Property /
China real estate to see little extra cash from banks' reserve ratio cut, analysts say
China's cut to the amount of money banks need to hold in reserve will only result in a small flow of cash into the property sector, previously the primary beneficiary of such moves, with small businesses struggling under high commodity prices set to gain the most, according to analysts.
The central bank's lowering of the reserve requirement ratio (RRR) for financial institutions by 50 basis points, or half a percentage point, starting Thursday, the first since April last year, may provide a boost to the sluggish lending of the past few months, analysts at brokerage Cinda Securities Co. Ltd. wrote Monday in a note.
Quick hits /
China's mobile phone shipments fall 27% as users delay upgrading
Former top China grain official under investigation in corruption dragnet
Baidu and ON Semiconductor team up with eye on image sensors for self-driving cars
Energy Insider /
Energy Insider: China starts world's first commercial modular small reactor
Hot Topics /
University of Hong Kong cuts ties with student union, parts of China bar unvaccinated people, 17 dead in Suzhou hotel collapse
'Teahouse' returns to the Beijing stage
Thanks for reading. If you haven't already, click here to subscribe.
Today's CX Daily was compiled and edited by Kevin Guo (xinguo@caixin.com).
Share this article
Open WeChat and scan the QR code