Sep 02, 2021 09:56 AM
CHINA
CX Daily: How China Won Its 70-Year Battle With Malaria
In Bozhou, East China's Anhui province, a medical worker stands in a hospital laboratory, where microscopic examination of a parasite that potentially causes malaria in humans can be carried out. Photo: Ma Danmeng/Caixin
Infections /
In Depth: How China won its 70-year battle with malaria
On June 30, China was certified malaria-free by the World Health Organization (WHO), crowning the success of a 70-year disease control effort.
So far, only 40 countries and regions in the world have been granted the certification, and in the WHO Western Pacific Region, China is the first country to be certified in more than three decades.
To finally stamp out the disease, the country devoted resources to developing new treatments and developed targeted strategies to stop outbreaks as soon as they appear. These decades of work have provided experience that can help countries still struggling with their own persistent malaria problems.
China records first anthrax death this year after dozens of infections
IP /
E-commerce sites that flout intellectual property rules could be shuttered under draft rules
E-commerce businesses like Alibaba and Pinduoduo would lose their trading licenses if they continue to flout intellectual property rules under a legal amendment being reviewed by Chinese policymakers.
The companies will also face other restrictions if they ignore serious intellectual property (IP) violations by vendors that use their platforms, according to a revised draft (in Chinese) of China's E-Commerce Law which took effect in 2019. The draft is under review until Oct. 14.
FINANCE & ECONOMY
PMI /
Covid flare-ups drag down China's manufacturing sector, Caixin PMI shows
Activity in China's manufacturing sector contracted in August for the first time since April 2020 as output dropped and total new orders fell further, a Caixin-sponsored survey showed.
The Caixin China General Manufacturing Purchasing Managers' Index (PMI), which gives an independent snapshot of the country's manufacturing sector, fell to 49.2 in August from 50.3 the previous month, according to the survey report released Wednesday. Readings of less than 50 indicate contraction.
August's reading was the lowest since February last year, when large swathes of the country shut down their economic activity due to Covid-19.
Plenum /
Chinese Communist Party sets key plenum for November
The Chinese Communist Party set a plenary session for November to discuss the "major achievements and historical experience of the party in the past century," state media Xinhua News Agency said.
The decision to hold the sixth plenary session of the 19th Central Committee was made Tuesday at a meeting of the party's Politburo, China's top decision-making body, chaired by President Xi Jinping, Xinhua said. An exact date was not given.
Fintech /
Ping An fintech unit denies offering bribes to officials
OneConnect Financial Technology Co. Ltd., a fintech unit of Chinese financial conglomerate Ping An Insurance (Group) Co. of China Ltd. denied anonymous allegations it offered bribes to government officials and overstated business performance, which sent its shares tumbling.
On Tuesday afternoon, New York-listed OneConnect was accused of the illegal activities in an anonymous letter that was circulating online and seen by Caixin. OneConnect shares fell more than 10% before the market opened in New York.
Banking /
Exclusive: Former Bank of China executive to be new ICBC vice president
Industrial and Commercial Bank of China Ltd. (ICBC), the world's largest commercial bank by assets, is set to name Zheng Guoyu as a new vice president, sources with knowledge of the issue told Caixin.
Zheng, a former vice president at Bank of China Ltd., was appointed a member of the Communist Party committee of ICBC and will take the position of vice president following administrative procedures, the sources said.
Quick hits /
China hedge funds pay $300,000 to beat Wall Street to best graduates
BUSINESS & TECH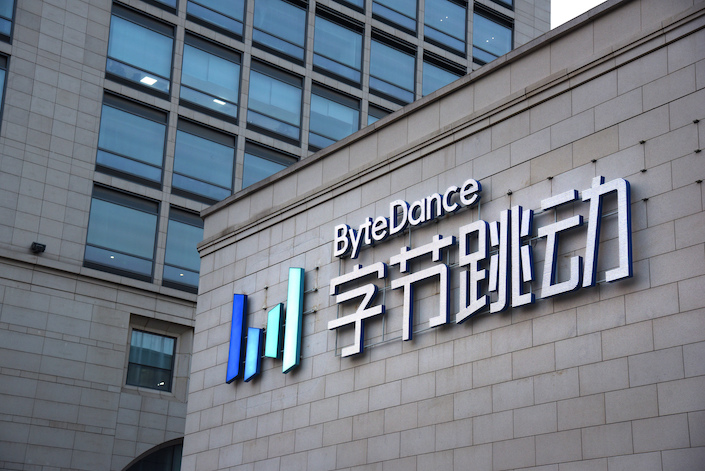 China authorities ruled that "996" working schedules are illegal.
Pay cuts /
ByteDance workers take a 20% pay hit as Sunday overtime ends
Employees at ByteDance Inc., the owner of short-video apps TikTok and Douyin, found that their August paychecks shrank 20% from previous months as overtime pay withered under a new, less-demanding work scheduling policy.
The pay cut was expected after the company decided last month to end a weekend overtime policy known as "big/small weeks," a common work system adopted by many big tech companies. It required staff to work every other Sunday, some employees told Caixin.
China's tech giants are under increasing public pressure over grueling, long-hours schedules, which were blamed for several deaths of young employees. At the same time, some ByteDance workers are concerned about the loss of income.
BeiDou /
China's GPS alternative gets regulatory roadmap in push to boost adoption
China's market regulator issued guidelines on how to certify products compatible with the BeiDou Navigation Satellite System as Beijing aims to use its homegrown GPS alternative in everything from smart vehicles to consumer electronics.
The guidelines (link in Chinese), published Friday by the State Administration of Market Regulation (SAMR), come a year after China launched the final satellite of the BeiDou network, enabling the system to provide global users with services ranging from positioning and navigation to global short-message communication and international search and rescue assistance.
Education /
Education authorities warn of punishment if national policies aren't enforced
China's education authorities tightened oversight of local governments, schools and educational institutions with a new set of rules to enforce national policies amid a regulatory storm in the country's educational system. The rules came into effect Wednesday.
A document issued by the State Council's education inspection committee outlines measures to hold entities or individuals accountable if they fail to fulfill their educational duties or violate laws and regulations. The education ministry's office of national education inspection conducts the day-to-day work of the committee.
Quick hits /
Sinovac investor reports Chinese coronavirus vaccine windfall
Aluminum hits 10-year high as demand roars, China supply shrinks
Amid tough new rules on minors gaming, NetEase says less than 1% of revenue comes from teens
Hot Topics /
Tencent quits music rights, teen dies from anthrax, China and U.S. climate envoys to meet
GALLERY
Stunning views of Earth from Shenzhou-12
Thanks for reading. If you haven't already, click here to subscribe.
Share this article
Open WeChat and scan the QR code

China Stories: Verdict Reversal in High-Profile Murder Stands Out Amid Exoneration Trend