Sep 29, 2021 08:43 AM
CHINA
CX Daily: How Evergrande's Founder Played The Capital Markets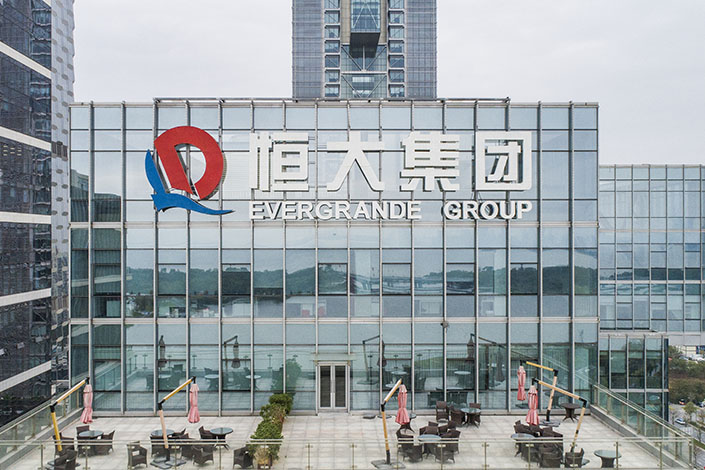 Evergrande /
In Depth: How Evergrande's founder played the capital markets
Cash-strapped China Evergrande Group (03333.HK) was once skilled at charming the capital market.
Since it went public in 2009, Evergrande, whose main business is real estate development, has had four major subsidiaries listed in Hong Kong. Over that time, Evergrande has often employed tactics to generate hype in the capital market to push up its valuation. Although this was an open secret, Evergrande's stock price kept going up.
As China's housing market cooled in recent years, along with the government's roll-out of the "three red line" policy — which put a 70% ceiling on developers' liability-to asset ratios, a 100% cap on net debt-to-equity ratios and required developers to have enough cash on hand to cover short-term liabilities, Evergrande's financial market savvy was no longer enough to divert attention from its mounting operating costs and debt.
Power /
What's behind China's regional power outages
Many regions across China have been in the grip of a power shortage in the past few weeks. In the central province of Hunan, some building facade lighting and billboards are being turned off during peak hours. In the southern trade hub of Guangdong, some factories have been ordered to shut down for up to a week. In Northeast China, residents are experiencing sudden power blackouts that last for hours.
While it's not the first time local governments have been forced to suspend power supply and ration electricity, previous measures tended to be limited to industrial users. But this time, electricity cuts are being felt by both industry and residents alike.
Power outages are putting lives at risk in China's energy-rich Northeast
Opinion: Supply/demand mismatch, price caps to blame for China's power shortage
FINANCE & ECONOMY
More than 440 SPAC IPOs raised $127 billion in the U.S. so far this year.
SPACs /
SGX: China-related SPACs interested in Singapore listing
Singapore's stock exchange said several China-related special purpose acquisition company (SPAC) projects have expressed interest in raising funds in the city-state after the exchange earlier this month launched new rules allowing SPAC listings.
The exchange is in close contact with these projects, including Chinese investors who are interested in setting up SPACs, as well as other SPACs interested in acquiring Chinese companies, Xie Caihan, chief representative of Singapore Exchange Ltd.'s Beijing office, said at a media briefing.
After assessing market conditions, some Chinese SPAC issuers may consider listing on the Singapore exchange that serves the Southeast Asian market, and their acquisition targets may also have businesses in the region, Xie said.
Corruption /
Ex-regulator accused of taking bribes while overseeing state takeover of bank
Li Guorong, a former banking regulator in Southwest China's Sichuan province, is accused of taking bribes while serving as a senior executive responsible for the takeover of troubled Baoshang Bank Co. Ltd., China's top antigraft agency unveiled in a Monday statement (link in Chinese).
Li, 46, was a deputy head of a team appointed by the China Banking and Insurance Regulatory Commission (CBIRC) and the central bank to take over Baoshang Bank in 2019 in China's first state takeover of a commercial lender in 20 years.
China-Canada /
Canadian citizens released after being granted bail for medical reasons
Michael Kovrig and Michael Spavor, the two Canadian citizens detained in China since late 2018 on espionage charges, have been released on bail for medical reasons, according to the Chinese foreign ministry.
Chinese courts approved their applications after a "diagnosis of professional medical institutes of China and under the guarantee of the Canadian ambassador to China," foreign ministry spokesperson Hua Chunying said at a regular press briefing Monday.
BUSINESS & TECH
An HNA Group building in Beijing' s Chaoyang district on Jan. 30. Photo: VCG
HNA /
HNA seeks to repay less than half of debt claims sought against airline unit
Debt-plagued Chinese conglomerate HNA Group Co. Ltd. has disclosed a plan to repay less than half of the billions in debt claims creditors have sought from its airline business, after the unit secured a strategic investor earlier this month as part of its bankruptcy restructuring.
Under the tentative plan, Shanghai-listed Hainan Airlines Holding Co. Ltd. and 10 affiliates will repay 161.3 billion yuan ($25 billion) of the roughly 400 billion yuan sought by 4,915 creditors, according to a statement (link in Chinese) filed Monday to the Shanghai Stock Exchange.
Under the plan, creditors will be paid no more than 100,000 yuan in a one-time cash payment. Parent HNA Group and other related firms will be responsible for paying two-thirds of remaining debts, with the final third disbursed by Hainan Airlines under a debt-for-equity swap, with shares priced at 3.18 yuan.
Property /
Weak Guangzhou land auctions show developers pulling back
Poor results in land auctions held in southern China's Guangzhou city show developers pulling back as regulators' efforts to rein in the real estate sector coincide with an imminent collapse of one of country's largest developers, China Evergrande Group.
Less than half of the land in the latest auctions in Guangzhou city was sold and very few lots topped the asking price, showing developers are reluctant to buy more properties.
Alibaba /
Alibaba offers WeChat pay on some apps at Beijing's behest
Alibaba Group Holding Ltd. added rival Tencent Holdings Ltd.'s payment system to some of its apps, further widening cracks in the internet giants' walled-off ecosystems.
Services including food-delivery app Ele.me, online ticketing platform Damai, e-book reader Shuqi and Kaola, a site for imported goods, now offer WeChat Pay alongside existing payment options like Ant Group Co.'s Alipay, according to checks by Bloomberg News Tuesday.
Common prosperity /
Tech giants talk up their contributions to China's 'common prosperity'
Leading China tech executives promoted their companies as supporters of Beijing's campaign for big businesses to help build "common prosperity" and give back to society at the World Internet Conference Monday.
Tencent Holdings Ltd.'s Vice President Yang Jian and Qualcomm Inc.'s Global Vice President Guo Tao were among speakers who listed various projects with a community focus such as supporting improved digital infrastructure in underdeveloped areas and increasing financial literacy.
Quick hits /
Leonardo DiCaprio-backed Polestar valued at $20 billion in SPAC deal
Energy Insider /
CNOOC seeks $5.4 billion Shanghai listing
Tech Insider /
Mass-produced satellites, industrial robots, Huawei's latest cloud venture
GALLERY
China's Zhuhai Airshow gets underway
Thanks for reading. If you haven't already, click here to subscribe.
You've accessed an article available only to subscribers
VIEW OPTIONS
Share this article
Open WeChat and scan the QR code