CX Daily: China's Looming Pension Shortfall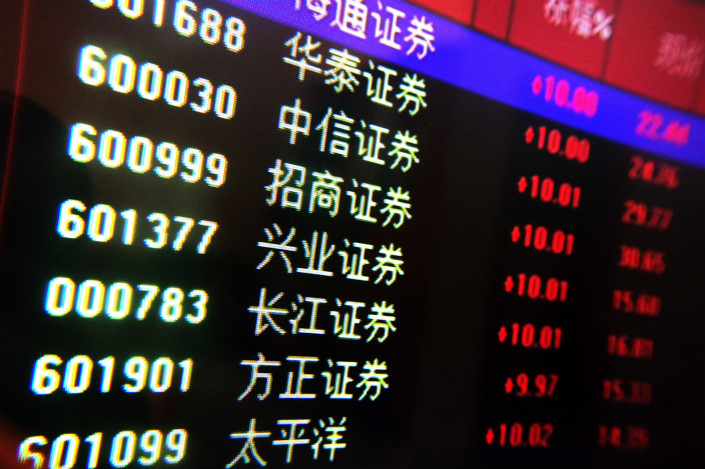 Photo: VCG
Investors can apply to trade on new tech board
China's 3 million qualified individual investors can now apply to trade stocks on the coming Nasdaq-style high-tech board, which may open for business in Shanghai by mid-year. Brokerages are already gearing up to accept and process applications online.
The Shanghai Stock Exchange, where the new board will be launched, Thursday instructed investors to apply to their brokerage houses for authorization to trade in the new stocks. In a Thursday statement, the exchange said investors can add new-board trading rights to their existing A-share trading accounts without filing additional paperwork or opening new accounts.
FINANCE & ECONOMICS
Former Chinese Finance Minister Lou Jiwei. Photo: VCG
Social security /
Equity in state firms is moving too slowly into national pension fund: Ex-finance minister
China should pick up the pace in pushing ahead with a 2017 policy of transferring part of the equity of SEOs into the national pension fund to deal with the looming shortfall of the fund, former finance minister Lou Jiwei told us, saying the effort has been moving too slowly.
The implementation of the policy would cushion the impact of Beijing's move to cut companies' overall pension contributions to reduce their burden. China is facing the treat of a widening gap between the pension fund's revenue and expenditure as the population ages and payouts rise. In 2017, China's pension funds avoided going into deficit only because of subsidies from the central government.
Sounding the alarm /
Finance minister warns about hidden local government debt, again
Chinese authorities are seeing some local governments continuing to illegally borrow money off-the-books through local government financing vehicles, Finance Minister Liu Kun said during the country's annual legislative session, adding that the ministry will hold local authorities accountable for any new hidden debt they take on.
Still, China's overall local government debt remains manageable, he said.
As of December, China's on-the-books outstanding local government debt amounted to 18.4 trillion yuan ($2.74 trillion), while overall government debt, including central government debt, amounted to 33.4 trillion yuan, official data show. These figures don't include off-the-books local government debt worth an estimated 40 trillion yuan as of the end of last year.
Treading carefully /
Top province warns banks face tough year as bad debts soar
Banks in Shandong, China's third-biggest province and an eastern industrial powerhouse, offloaded more than 220 billion yuan ($32.8 billion) of soured assets from balance sheets over the course of 2018, 18% more than in 2017, the provincial government said in a report.
The report said pressure from bad debts, a cooling economy, potential bond defaults, liquidity requirements and illegal financing activities remained relatively large. The authority pledged greater efforts to rein in risks this year by setting up mechanisms to monitor risks and corporate financial strength, cracking down on illegal fundraising and improving credit support for small business.
Currency /
Beijing approves IMF to invest in domestic capital market with renminbi
Beijing has approved the IMF's request to become a renminbi Qualified Foreign Institutional Investor (RQFII), according to an official announcement released Tuesday by the China Securities Regulatory Commission (CSRC).
With the qualification, the IMF can trade in China's stock and bond markets with the country's official currency under government-approved quotas. The IMF's investment quota is not yet available.
Indexes /
MSCI: China stocks approaching overseas stake limit will be cut from indexes
Global index compiler MSCI Inc. said listed companies approaching the overseas ownership limit would have their A-shares removed from its China indexes or have their weighting cut, citing "investability" issues.
The announcement came one day after Shenzhen-listed Han's Laser Technology Industry Group Co. Ltd. was cut off from foreign investors as it approached the 30% upper limit for overseas ownership of listed companies set by Chinese regulators.
Coming up /
Saturday, March 9: The National Bureau of Statistics (NBS) will release February's CPI and PPI.
Sunday, March 10: The PBOC will release data for February's M2, M1, M0 growth, new yuan-denominated loans and newly added social financing.
Wednesday, March 13: The second session of the 13th National Committee of the CPPCC is set to conclude.
Thursday, March 14: The NBS will release several February reports on industrial production operation, investment in fixed assets, investment in real estate development, total retail sales of consumer goods and energy production.
Friday, March 15: The 13th National People's Congress is set to conclude.
NBS will release its February report on sales prices of residential buildings in 70 large and medium-sized cities.
Quick hits /
• Chinese stock brokers line up for $10.6 billion in fresh capital
• James Liang: Want more working women to have babies? Start with promoting equality
• Leading investment bank turns upbeat on property after premier's report
• Head of Hong Kong bourse proposes allowing overseas investors in high-tech board
BUSINESS & TECH
Zhao Yong, chairman of Sichuan Changhong Electric Co. Ltd. Photo: IC
Two Sessions /
Government incentives need better standards, more predictability: Appliance chief
The head of a Chinese TV and home-appliance giant has critiqued Beijing's possible second campaign to bring more major consumer goods to the countryside, saying that without clear regulations and standards, some companies will try to defraud the government.
Previous incentive programs, such as subsidies to farmers, made home appliances such as washing machines and refrigerators affordable for a time in villages, but eventually the market slumped, said Zhao Yong, chairman of Sichuan Changhong Electric Co. Ltd. in a panel discussion during the annual meetings of the National People's Congress .
Huawei woes /
Huawei sues U.S. government over equipment ban
Chinese telecom giant Huawei is suing the U.S. government over a law that bans the purchase of Huawei equipment, it announced during a press conference Thursday.
The company said it would sue to abolish Section 889 of the 2019 National Defense Authorization Act, whichexplicitly bans executive government agencies from purchasing equipment from Huawei and ZTE, another Chinese telecom provider. The bill was signed into law by U.S. President Donald Trump in August 2018. Huawei's rotating chairman, Guo Ping, asserted that the ban is illegal.
Extradition /
Meng Wanzhou's next court appearance is set for May 8
Huawei CFO Meng Wanzhou's next court appearance regarding her possible extradition has been set set for May 8, though according to Canada's Department of Justice, the date is not the start of the extradition hearing, which has yet to be scheduled.
During a short proceeding Wednesday in British Columbia's Supreme Court, a lawyer for Meng said "serious concerns" have been raised given the case's "political character," "motivation," and "comments by the U.S. president," according to SCMP.
Dirty business /
Guangzhou's toilets to offer 'business opportunities'
Guangzhou should encourage in-restroom business such as commercial advertisements that would contribute to budgets for bathroom improvements, a new local government plan suggested.
Beijing is once again pushing a "toilet revolution" campaign, reportedly pledging as much as 7 billion yuan ($1.04 billion) to build and upgrade toilets in rural areas in 2019. However, the campaign policies offer toilet projects in urban areas little in the way of confirmed long-term support – and so the pressure is on cities like Guangzhou to shore up funds for maintenance.
Coming up /
Tuesday, March 12: Momo Inc. is expected to report earnings for its fiscal quarter ended Dec 2018 before the U.S. markets open.
Quick hits /
• Former China Mobile chairman: Eight things to know about 5G
• Tmall gets new head as Alibaba renews its strategy
• Southeast Asian ride-hailing giant secures $1.46 billion from SoftBank's Vision Fund
Thanks for reading. If you haven't already, click here to subscribe.
You've accessed an article available only to subscribers
VIEW OPTIONS
Share this article
Open WeChat and scan the QR code

08:24 PM

07:51 PM

07:39 PM

04:35 PM

May 06 06:31 PM

May 06 06:25 PM

May 06 06:16 PM

May 05 06:52 PM

May 05 06:46 PM

May 05 06:43 PM

May 04 06:37 PM

May 04 06:34 PM

May 04 05:50 PM

Apr 30 07:05 PM

Apr 30 06:31 PM
GALLERY