CX Daily: Dozens of Banks Are Crossing the Warning Line For Nonperforming Loans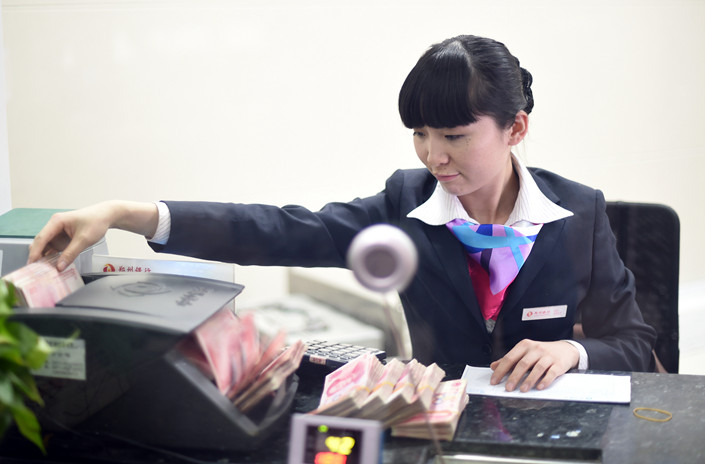 Of the 42 banks in a Chinese province with elevated levels of nonperforming loans, a dozen reported an NPL ratio above 20%, the National Audit Office found.
Nonperforming loans soar after banks ordered to come clean
At the end of last year, nonperforming loan (NPL) ratios at 42 commercial banks in Central China's Henan province — nearly half of the province's commercial banks — crossed the 5% warning line set by the China Banking and Insurance Regulatory Commission amid tightened reporting requirements.
Of the 42 banks, a dozen reported an NPL ratio above 20%, including "several" with a ratio higher than 40%, the National Audit Office said in its latest quarterly audit report. The report highlighted the problem of high NPL ratios, though only for Henan.
These NPL ratios highlight the impact of tighter regulations and have caught market attention as risky loans could easily turn sour amid an economic slowdown.
FINANCE & ECONOMICS
China's P2P industry became the focus of a crackdown on internet financial risks that started in 2016. Photo: IC

P2P /
Exclusive: P2P registration system may roll out in second half
China is expected to start a long-expected pilot program for registration of the country's remaining P2P online lending platforms in a national monitoring system during the second half of this year, we've learned.
Two central government watchdogs met last week with regional financial regulators, soliciting opinions on the monitoring and registration of P2P platforms. They aim to start registration in pilot cities in more developed areas in the second half and complete the national registration system by 2020, sources told us.
GDP /
Asian Development Bank sees trade conflict as biggest external risk to China growth
China's economic expansion will continue to moderate in 2019 and 2020 amid uncertainty caused by trade tensions with the U.S., the impact of curbs on shadow banking, slowing growth in household income and weakening prospects for the labor market, the Asian Development Bank (ADB) said in its annual outlook released Wednesday.
The world's second-largest economy is likely to see GDP increase 6.3% this year, down from a 6.6% pace in 2018, and slow further to a "more sustainable" 6.1% in 2020, the Manila-based lender said in its latest Asian Development Outlook, although it pointed out that the forecasts are subject to "external uncertainties and domestic risks."
Markets /
China stocks hit one-year high
Stocks in China closed out a gangbuster week Thursday, with the Shanghai Stock Exchange (SSE) Composite Index hitting a one-year high.
The SSE Composite closed Thursday up 8.4% over the last five days, with a 1% gain today. The rally began with a combined 5.8% gain on Friday and Monday. Stock markets in China will be closed Friday for a national holiday.
Regional integration /
Guangdong eases limits on cross-border car plates in integration push
The Guangdong provincial traffic regulator decided to make it easier for some companies to get car license plates that ease travel among Guangdong, Hong Kong and Macau as part of China's Greater Bay Area integration.
Guangdong's Traffic Management Bureau said it will remove some previous restrictions on companies' qualification, such as cross-border investment value and tax payment, for business vehicle plates that are permitted to travel freely between the province and the two Special Administrative Regions. China is putting in place a series of new policies to streamline business links and labor flows in the Greater Bay Area.
Coming up /
Fri, April 5: The Committee of 100 hosts its annual conference in Washington, D.C. April 5-7, with the theme of "The U.S. and China: New Visions." Caixin will provide coverage.
Sun, April 7: The PBOC may release March data on foreign exchange reserves.
Wed, April 10: Caixin will host "Renewing Multilateralism to Face Fresh Challenges," a roundtable in Washington, D.C.
The PBOC will release March data for M2, M1, M0 growth, new yuan-denominated loans and newly added social financing.
Thurs, April 11: The NBS will release March CPI and PPI.
Friday, April 12: Authorities may release March import and export data.
The IMF and World Bank start their Spring Meetings in Washington, D.C., to discuss poverty reduction, international economic development and finance.
BUSINESS & TECH
A Guazi store in Beijing on Feb. 23, 2019. Photo: VCG

In-depth /
Used-car platforms go offline as market revs up
With a $1.5 billion cash injection from Japan's SoftBank Vision Fund, Chehaoduo Group, which operates Guazi, one of China's major online used-car marketplaces, said it would expand its physical footprint.
Market watchers said internet marketplaces are set to extend their battleground from online to offline this year. Similar to tech giants like Xiaomi Corp. — which started as an online-only smartphone retailer but moved into physical stores to boost brand recognition — online used-car marketplaces are pouring cash into service centers at which customers can speak with staff, see vehicles in person and get repairs.
Aviation /
Airline stocks soar on news of tax break
Major Chinese airlines' stock prices jumped by as much as 15.62% after Beijing announced plans to halve the infrastructure taxes paid by carriers starting later this year.
On Wednesday, China's cabinet, the State Council, said the government would implement a series of incentives aimed at bolstering the country's slowing economic growth. The incentive package includes a 50% cut in the civil aviation development fund levy starting July 1.
Devices /
Huawei bets big on consumer products
At a recent company conference, Huawei Technologies Co. Ltd. founder Ren Zhengfei unveiled an internal restructuring to expand the consumer business, which includes smartphones, laptops, smart watches and other wearable and internet-powered devices.
This year's shift in direction is designed to cope with attacks from the U.S. over alleged security concerns, Ren said, adding that next year, Huawei will focus on the development of its cloud business to compete on the global market.
Fintech /
State-owned bank enters fintech partnership with Tencent
State-owned China Construction Bank (CCB) and tech giant Tencent will jointly build a lab for fintech innovation, the two have announced. The lab will be led by Tencent's cloud business unit and involve collaboration on technologies including AI and big data, according to a company release.
Tencent's rival Ant Financial has also inked multiple deals with Chinese state banks, including CCB in May 2017, according to CGTN.
Energy /
China tells Exxon boss: Bring on 'wholly foreign-owned petrochemical'
Exxon Mobil is welcome to expand investment and set up more large "wholly foreign-owned petrochemical projects" in China, Vice Premier Han Zheng said at a Thursday meeting with the multinational energy giant's CEO Darren Woods, according to state-run Xinhua News Agency.
As China continues to clean up its energy act, Exxon Mobil has also tied up with Chinese partners o liquefied natural gas projects, in addition to traditional petrochemical projects like gas stations.
Quick hits /
Seeking corporate customers, Tencent raises its stakes in WeChat marketers
Japan's new 'Reiwa' era raises questions for Chinese business with same name
China may float world's biggest LNG tanker
Thanks for reading. If you haven't already, click here to subscribe.

Register to read this article for free.
Register
Share this article
Open WeChat and scan the QR code

17:06

13:20

Jun 04 17:45

Jun 04 17:19

Jun 04 16:26

Jun 04 12:38

Jun 03 18:07

Jun 03 16:48

Jun 03 13:17

Jun 03 12:25

Jun 03 06:45

Jun 02 16:29

Jun 02 14:45

Jun 02 12:04

Jun 02 05:38
GALLERY