CX Daily: China's Falling Exports and Shrinking Trade Surplus
A batch of wind turbine blades wait to be exported at Lianyungang port in East China's Jiangsu province on April 12. Photo: IC Photo
Falling exports whittle down China's trade surplus
China's exports fell in April, causing its trade surplus to shrink, official data showed Wednesday, adding to concerns that the export sector would further lose momentum given the growing uncertainty around trade talks with the U.S.
Goods exports fell 2.7% YOY to $193.5 billion in April, compared with the previous month's 14.2% increase, according to data released by the General Administration of Customs. The figure missed the median forecast for a 3% increase in a Bloomberg survey of economists.
Imports increased 4% YOY to $180 billion after a 7.9% decrease in the month before, the data showed, beating Bloomberg's median forecast of a 2.1% decline. China's trade surplus narrowed to $13.8 billion in April, down 47.2% YOY and down 57.3% month-on-month.
FINANCE & ECONOMICS
Morgan Stanley downgraded shares of major Chinese banks, warning that the government's less market-oriented credit policies could give rise to bad loans and reduce profit of lenders. Photo: IC Photo

Downgrades /
Morgan Stanley frets over potential bad loan rise
Morgan Stanley downgraded its recommendations on shares of China's big-four state-owned lenders, warning that Beijing's "resumption of less commercially viable credit policy" to support economic growth could lead bad loans to soar and eat into banks' profit.
The brokerage giant lowered Shanghai- and Hong Kong-listed shares of Bank of China and Agricultural Bank of China, as well as A-shares of Industrial and Commercial Bank of China and China Construction Bank, to "equal weight" from "overweight," it said in an analyst report. "Overweight" suggests the stock is expected to outperform its peers and is often seen as a recommendation to buy, whereas "equal weight" indicates the stock's performance is projected to be in line with its sector.
Securities /
China starts trading of defaulted corporate bonds
After record defaults on corporate bonds, China is allowing the trading of matured defaulted bonds for the first time on two state-owned financial-asset transaction platforms, a move sources say is an important innovation to proactively dispose of defaulted bonds, stabilize the market and prevent malicious escape from debts.
The first completed transactions were in matured bonds of China's second-largest defaulter of last year, Wintime Energy Co. Trading in defaulted bonds at steep discounts from face value will become a normal operation at the Beijing Financial Assets Exchange and the central bank's China Foreign Exchange Trade Center as part of an effort by the central bank to establish a defaulted-bond trading system, sources said.
Q&A /
Exclusive: U.K. chancellor describes how Britain can be a BRI partner
During the Belt and Road Forum (BRF) in Beijing last month, British Chancellor of the Exchequer Philip Hammond affirmed the U.K.'s commitment to the initiative. It was the second time Hammond has attended the forum as a representative of the British government, and since his last attendance in 2017, Sino-British ties have been strained over British-U.S. naval drills in disputed waters in the South China Sea and the uncertainty over a possible Brexit.
Yet the U.K. is keen to bolster its involvement in BRI. The U.K. is working with China to improve infrastructure in Africa and Asia and has appointed a former HSBC chairman as a special envoy to the BRI representing the U.K. Treasury. This time, Hammond met with PBOC Governor Yi Gang, Vice Premier Hu Chunhua and Premier Li Keqiang and agreed to host the next China-U.K. Economic and Financial Dialogue in London in June.
We sat down with the British finance minister to discuss his BRF experience, the U.K.'s role, its assessment of Huawei's 5G and the U.K.'s public opinion toward China. Check out our interview.
Sustainable development /
Hong Kong moves to green up financial sector
Hong Kong's monetary authority unveiled a plan Tuesday to set up a new regulatory framework promoting financial activities that target environmental friendly projects, responding to Beijing's calls to make the city a green finance hub in the Greater Bay Area.
The Hong Kong Monetary Authority (HKMA) outlined a three-phase plan to bolster "green finance" in the city, or investment that takes into account environmental and climate factors in addition to returns. The first step will develop a framework in one year following international standards to provide a "baseline" for banks to follow, according to the HKMA. The authority will partner with international organizations to offer technology support for Hong Kong banks and assess their green finance practices.
Quick hits /
Mainland stocks open down then creep back up
Ken Fisher: Why America's recession red flag is good news for China stocks
BUSINESS & TECH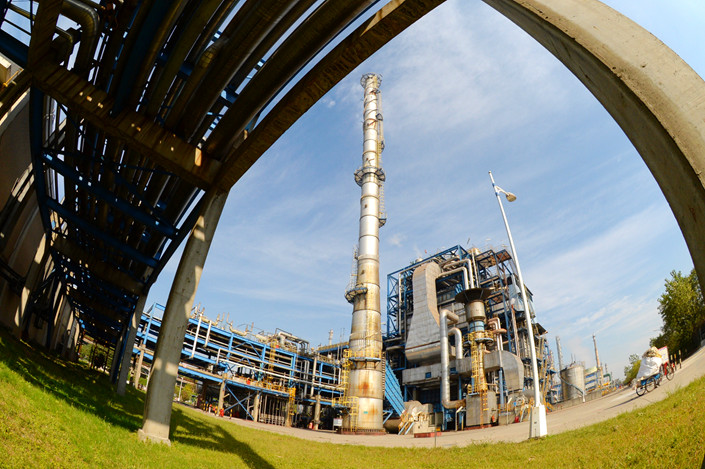 A carbon monoxide production facility in Nanjing, East China's Jiangsu province, in November 2017. Photo: IC Photo

Walking back /
Following opposition, Jiangsu waters down plan to shutter chemical plants
Plans announced this week in Jiangsu province to speed up the relocation of smaller chemical companies away from densely populated urban areas and to require those that stay open to beef up security standards or face closure have faced strong resistance from the industry, which lobbied authorities into watering down the language, insiders say.
An earlier draft of the government's plan released for consultation in April proposed reducing the number of chemical companies in the province by 70% and the number of chemical industrial parks by 60%. Yet the industry pushed for a less dramatic draft, according to the local industry association. In the final version of the rules, the government said it will close only companies that are "not in compliance with legal regulations" and will "continue to reduce the number of chemical parks" without providing specific information.
In depth /
How Foxconn's Terry Gou built a manufacturing empire
Hon Hai Precision Industry Co. Ltd., better known by its trading name Foxconn, is the world's largest contract manufacturer of electronics, a key supplier for Apple Inc., Amazon Inc. and other global tech giants and has the majority of its 1.4 million global workforce on the Chinese mainland.
After the company's founder Terry Gou announced plans last month to run in Taiwan's next election of its top leadership, Foxconn's stature rose and Gou's capability to build such a massive presence on the mainland became a point of interest. In our feature, we explore the history of Foxconn as well as its founder's personality, shrewd business practices and understanding of local politics that have led to the company's overall success.
Gaming /
Tencent suspends blockbuster video game 'PlayerUnknown's Battlegrounds' in China
Tencent suspended its China operations of the mobile game "PlayerUnknown's Battlegrounds," saying the game's "testing" phase was over, implying it did not receive official approval.
The game premiered informally in China in February 2018, but Tencent could not charge players and receive commercial gains, though the game was one of the most-played in China. The company didn't immediately respond to us regarding any possible resumption of "Battlegrounds."
Real estate /
Hong Kong homebuyers warned not to get carried away by surge in sales
Potential buyers should remain prudent when assessing the local housing market as the outcome of the ongoing U.S.-China trade negotiations remains uncertain, said Joseph Tsang, managing director of real estate services firm JLL in Hong Kong, who echoed a similar warning Monday by the chief of the region's de-facto central bank.
The warnings came in response to a surge in property sales over the weekend that resulted in the city's real estate market having its best day for new home sales in two and a half years on Saturday. Developers sold nearly 1,100 new units on that day, we learned from industry data providers.
Quick hits /
Beijing's highly anticipated new airport to test passenger flights next week
LeTV brand rises from the ashes as 'Lerong'
Luxury car dealers squeezed by slower sales, service scandals
Huawei smashes Samsung-Apple smartphone duopoly, but does it have longer-term legs?
DDMC gets China broadcast rights for La Liga football matches until 2025
U.S. fake-meat maker's rally juices up Chinese peers
Thanks for reading. If you haven't already, click here to subscribe.
Share this article
Open WeChat and scan the QR code