'Chinese Quora' Zhihu Completes $434 Million Fundraising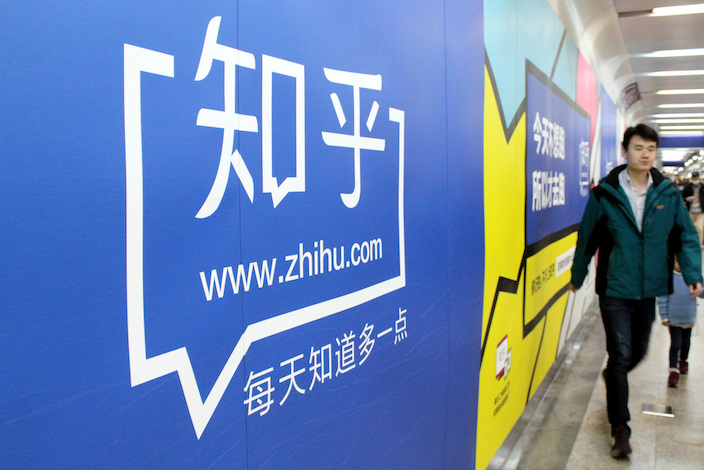 Zhihu was valued at $3.5 billion in the latest funding round raising $434 million. Photo: VCG
China's largest question-and-answer platform Zhihu completed a $434 million funding round from investors including search engine giant Baidu Inc. and leading short video site Beijing Kuaishou Technology, the company said Monday.
It was the largest funding round for Zhihu, China's equivalent to Quora in the U.S., valuing the company at nearly $3.5 billion, sources close to the transaction said. The investment came one year after Zhihu finished its last fundraising of $270 million, a deal that put its valuation at $2.4 billion.
Beijing-based Zhihu said it will invest the funds in promoting technology upgrades and product innovation as well as building its online business ecosystem.
Founded in 2010, Zhihu operates a knowledge-sharing platform where users can ask questions and get responses from other users. The company has 220 million registered users and featured more than 130 million questions and answers, according to data provided by Baidu.
Zhihu has previously secured six rounds of fundraising since its establishment, with total investments of $450 million. Its long-time backers include social media giant Tencent Holdings, China-focused venture capital fund Qiming Venture Partners and Kai-Fu Lee-led Sinovation Ventures.
The most recent funding round represents first-time investments in Zhihu by Baidu and Kuaishou. Previous investors including Tencent and Capital Today also participated in the round.
Zhou Yuan, Zhihu's founder and chief executive, said the company will work closely with Kuaishou and Baidu to jointly develop and distribute good content and enhance online ecosystem-building.
Zhihu has been working in recent years to commercialize its platform through the sale of advertisements and by offering knowledge products such as paid online courses and digital publications. However, Zhihu's search for new revenue sources has moved slowly, and advertising is still the main source of its revenue, according to a former Zhihu employee.
Companies' declining spending on ads amid slowing economic growth has hurt revenue of internet companies including Zhihu and led to a wave of layoffs since the second half of last year. In December, Zhihu terminated around 100 people, citing "normal operational adjustments at year end."
Market analysts said a partnership with Baidu is likely to offer more traffic access to Zhihu through Baidu's search services. Baidu said it will launch deep cooperation with Zhihu by linking content on Zhihu's platform with Baidu's mobile app and integrate into other Baidu products. By the end of July, Baidu's app had daily active users of 190 million, who created more than 6 billion search requests.
It is unclear how Zhihu will cooperate with Kuaishou, one of China's most popular short video-sharing platforms. Kuaishou didn't respond to a Caixin inquiry.
The investment in Zhihu also reflected Baidu's efforts to expand its business reach to catch up on mobile with rivals such as Tencent and ByteDance. Baidu, once a third of the powerful triumvirate that ruled China's internet alongside Alibaba and Tencent, has been scrambling to compete in the mobile internet era.
Baidu in recent years stepped up investments in new business startups in search to access new users and expand its offerings. In April 2018, Baidu partnered with Tencent in investing in short-video site Pear Video. In October, it joined the $600 million fundraising of NetEase Cloud Music. This year, Baidu has invested in e-commerce service provider Youzan Ltd., as well as online content provider Qimao and Kaishu Story.
Contact reporter Han Wei (weihan@caixin.com)
You've accessed an article available only to subscribers
VIEW OPTIONS
Share this article
Open WeChat and scan the QR code

Caixin-Sinica Business Brief: China Resumes Issuing Visas to Foreigners