In Depth: Why China Is Still Hooked on U.S. Soybeans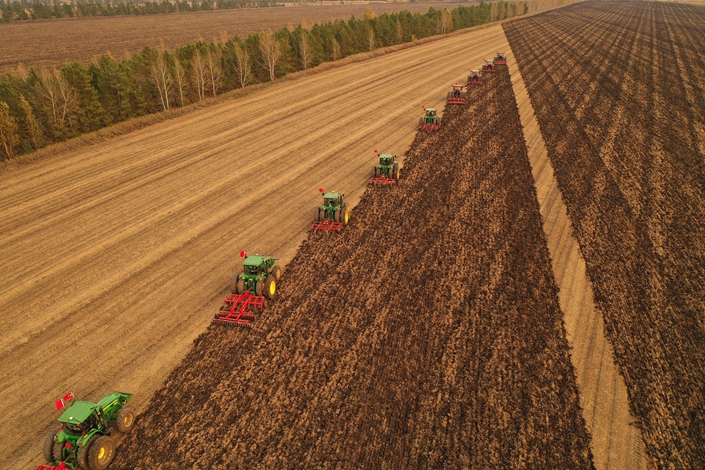 Harvesters collect the soybean crop on Sept. 28 in Heihe, Northeast China's Heilongjiang province. Photo: VCG
It's almost midnight in Shanghai, but Xu Jianfei, managing director of soybean trading company Huahong Investment Co. Ltd., is still busy working — tracking down suppliers, organizing transport, consulting with clients. Long hours have become the norm for Xu as Chinese traders have been forced to scour the world for new sources to reduce their dependence on U.S. soybeans, which have become one of China's main weapons in the trade war with America.
As Beijing choked off imports of the legume from the U.S. to hurt American farmers and retaliate against Washington's import tariffs on billions of dollars of Chinese goods, it left traders, processors and food producers scrambling to find alternatives. Before the trade war, the U.S. was the biggest source of imports, supplying about a third of China's overall purchases, and it's been an uphill struggle to find alternatives either through imports from other countries or through boosting domestic production.
The widespread feeling among Chinese buyers at the moment is that "sourcing options are limited," Xu told Caixin in a recent interview. "We've reached an inflection point in terms of where China gets its soybeans from, but the global supply chain hasn't yet adjusted to this new situation," Xu told Caixin.
China is home to 20% of the world population but only has 7% of the world's farmland resources. For many agricultural products, it is dependent on imports. The country is the world's biggest consumer of soybeans, eating up some 110 million tons every year, but with domestic output only reaching around 16 million tons a year, 90% of its demand is imported.
The U.S. is the world's biggest grower of soybeans, producing some 123 million tons of the legume in 2018. But in the first half of 2019, the U.S.' share of Chinese imports sank to just 15.4% and Brazil took the top spot with more than 70%, customs data show.
Retaliation weapon
Soybeans are an essential ingredient in the Chinese diet — they are used for making soy sauce, cooking oil and tofu — and a key input of animal feed for chickens and pigs. China consumes around 60% of globally traded soybeans. Most of the imported beans are used to make cooking oil and animal feed, as these products can be made using genetically modified (GM) beans, while the lower-yielding domestic crop, where GM is banned, goes into making high value-added products for human consumption such as soy sauce, tofu and soy milk.
Soybeans were the U.S.' biggest export to China and have been one of China's main weapons of retaliation in the trade war. Beijing slapped import tariffs of 25% on U.S. soybeans in July 2018 and Chinese buyers have periodically stopped their purchases, leading to a collapse in American sales and a decline in China's overall soybean imports.
The dispute with the U.S. has added a sense of urgency to the Chinese government's existing strategy to boost domestic soybean cultivation and output, which began in earnest in 2016.
At the beginning of every year, the State Council, China's cabinet, releases its most important policy document, known as the No. 1 Central Document. Since 2004, the document has focused on agricultural and rural issues, and 2019 was no different. Although the government has for years highlighted the importance of self-sufficiency in key agricultural products, this year's document emphasized the need to diversify agricultural imports and step up efforts to boost domestic soybean production.
In the wake of the document, the Ministry of Agriculture and Rural Affairs in March released detailed implementation proposals for a "Soybean Revitalization Plan," targeting an expansion of farmland used for cultivation of the legume to 23.1 million acres by 2020 from 20.8 million acres in 2018 and an increase in average yield to 21.6 kilograms per acre from around 20 kilograms. As a result of the government's supportive policies and additional subsidies over the past four years, soybean harvests have risen — output for the 2019-2020 crop year is expected to be more than 17 million tons, up from 16 million tons in 2018, the highest in over a decade, according to agriculture analysts.
That's a drop in the ocean compared with China's overall needs, but with a shortage of land, high land costs and low productivity it will be almost impossible for the country to shake off its import dependency. Without a breakthrough in soybean production technology, it will be impossible to keep increasing domestic production, according to the Soybean Industry Going Out Strategy and Policy report released by the agriculture ministry in February to encourage the industry to expand overseas in countries, including Russia.
To become self-sufficient in soybeans, China would require 115.3 million acres of land, more than five times the current acreage and more than one-third of the country's entire available arable land, said Jiang Lianzhou, dean of the College of Food Science and Nutritional Engineering at the Northeast Agricultural University. "As China has limited land resources, the primary task is to secure supplies of staple food (rice, corn and wheat). It just doesn't have enough land to grow that many soybeans," Jiang told Caixin.
China has little alternative to importing soybeans, but in the wake of the trade hostilities with the U.S., the government has been calling on traders, state-owned conglomerates and private enterprises to step up efforts to find new sources.
The primary focus for Chinese companies has been on South America, notably Brazil, a major grower and traditionally a significant soybean exporter to China because of the high quality and competitive cost of its output. Brazil has been exporting the legume to China for years — in 2010, 65% of its soybean exports went to China.
Brazil, China's largest trading partner in soybeans and the world's second-biggest producer, has been one of the main beneficiaries of the trade war — in 2018, its soybean shipments to China accounted for 82% of its total exports of the legume and are likely to account for 75% in 2019, Bartolomeu Braz Pereira, president of the Brazilian Soy Producers Association, told Caixin.
State-owned Cofco Corp., China's largest food processor and a major international commodities trader, buys soybeans from a range of sources in Brazil including farmers and small wholesalers and ships them back to China. It operates two terminals at the Port of Santos, in southern Brazil. As a relative latecomer though, Cofco has expanded through acquisition rather than organically in order to compete with other big players, a person familiar with the company told Caixin.
The company said in September that it is looking to increase its investment in infrastructure in Brazil, mostly in logistics and storage. It is also looking at ways to channel long-term financing to support the expansion of soy production on open land, undeveloped land with little or no vegetation cover.
Satisfying demand
However, despite the growing presence of Chinese companies in Brazil's soybean supply chain, trade in the South American country is still dominated by international agricultural giants, namely Bunge, Cargill, Archer Daniels Midland and Louis Dreyfus, who were Brazil's four largest soybean exporters in 2017, according to statistics from TRASE, an international supply chain data platform.
But Brazil won't be able to satisfy all of China's demand should imports of soybeans from the U.S. fail to recover to pre-trade-war levels and traders have also turned to other South American countries including Argentina, the world's third-biggest producer. In the first half of 2019, China imported 2.4 million tons of soybeans from Argentina, 10 times more than in the same period last year.
China has been reluctant to allow imports of soybean meal for animal feed, because it wants to support the domestic crushing industry. But in September it opened its doors to shipments from Argentina, the world's biggest exporter of the feed, after 20 years of negotiation, a sign of how much China needs the meal in spite of the slump in its hog herd as result of a nationwide outbreak of swine fever.
More recently, China has turned to its northern neighbor Russia as a source of soybeans, eyeing its vast and inexpensive land. In June, China signed the "Joint Statement on Comprehensive Strategic Cooperation Partnership in the New Era" with Russia, which included pledges of mutual support for agricultural production including soybeans.
In July, China's customs administration scrapped controls on imports from Russia, which had previously been restricted to just five regions, opening the domestic market to shipments from all over the country.
In 2018, 90% of Russia's soybean exports, 800,000 tons, went to China, a 64.7% year-on-year surge, according to Chinese government data. One analyst told Caixin shipments could rise to as high as 3.7 million tons in 2024, but that's still a small part of China's total needs.
No panacea
Some 20 Chinese soybean companies have made investments in Russia, according to the agriculture ministry. Small and midsize companies have focused on buying land, farming and building basic processing facilities, while large private or state-owned companies have invested in infrastructure such as warehousing and dock facilities, the report said.
Russia's Far East has vast supplies of cheap farmland close to the Chinese border, which can lower costs of production, Ren Jianchao, general manager of Jiawo Beidahuang Agricultural Holdings Co. Ltd., told Caixin. Jiawo bought 8,154.5 acres of land at the end of 2018 and harvested its first 2,471.1 acres of soybeans at the end of September.
Nevertheless, Russia isn't a panacea for Chinese companies. The Russian Far East doesn't manufacture the kind of agricultural machinery soybean farming requires and it's difficult for Chinese companies to bring in their own equipment because of high import duties. In addition, Russia has tightened controls over foreign labor in recent years, which makes it difficult for Chinese companies to grow soybeans in the country — they say they need Chinese farmers because Russian farm workers have no experience in how to cultivate the crop.
Russia also attaches great importance to ecology and environmental protection, Xia Er, a project manager with Joyvio Agriculture Development Co. Ltd., a meat and aquatic products processor, told Caixin. The government has imposed strict requirements on the use of pesticides and fertilizers in cultivated land, and insists on fallow crop rotation, all of which adds to costs.
The region also suffers from unfavorable weather conditions, and pests are a big problem, making growing conditions even more difficult, Zhang Zhen, a researcher at the agriculture ministry, told Caixin. Currently, soybean yields per acre are around half of China's own domestic production, he said.
The outbreak of swine fever may ease pressure on China's soybean supplies in the short term. But over the longer term, despite the country's best efforts to boost production and diversify its sources of supply away from the U.S., it won't be able to entirely escape from the grip of American soybeans.
A previous version of this story incorrectly attributed the data for Russia's 2018 soybean exports to China. The data came from Chinese government sources.
Contact reporter Liu Jiefei (jiefeiliu@caixin.com)
You've accessed an article available only to subscribers
VIEW OPTIONS
Share this article
Open WeChat and scan the QR code

Caixin-Sinica Business Brief: China Overhauls IPO Rules