Aug 10, 2021 09:25 AM
CHINA
CX Daily: Alibaba To Fire Manager Accused Of Raping Colleague
The headquarters of Alibaba in Hangzhou, East China's Zhejiang province, in September 2019. Photo: VCG
Alibaba /
Alibaba to fire manager accused of raping colleague
Alibaba Group Holding Ltd. will fire an employee accused of sexually assaulting his female colleague, the company said Monday after her detailed account of the attack and the company's failure to act went viral online.
Following an internal investigation, Chief Executive Officer Daniel Zhang said the company will "expedite the formation of an anti-sexual harassment policy" in a memo to staff. He said two executives at the e-commerce giant have resigned after failing to take appropriate action.
Alibaba did not respond to questions about what, if any, measures the 22-year-old enterprise currently has in place to address sexual harassment.
Covid-19 /
Cover Story: How should China respond to the delta variant?
After largely controlling the Covid-19 pandemic for 20 months, China's "zero-case" strategy is facing its biggest challenge yet: the highly transmissible and virulent delta variant.
As of Thursday, China had 533 new cases in 18 out of 31 provinces and province-level cities, all of them caused by the delta mutation of the coronavirus. The rapid spread makes China's control measures more costly and is stirring debate over whether the government needs to recalibrate its strategy.
Editorial: How to tackle the challenge of Covid-19 delta variant
Opinion: As delta spreads, does China's virus strategy need a rework?
FINANCE & ECONOMY
As of the end of 2020, Fidelity managed $700 billion of assets globally.
Fidelity /
Fidelity cleared to open its own China mutual fund business
China's top securities regulator approved Fidelity International Friday to set up a wholly owned mutual fund business, making the U.S. company the second global asset manager after BlackRock Inc. to tap into the country's fast-growing wealth market.
The new company, to be based in Shanghai with $30 million of registered capital, is 100% controlled by Fil Asia Holding Pte. Ltd., a Singapore-based unit of Fidelity. The new China venture can conduct mutual fund and private fund management, the China Securities Regulatory Commission (CSRC) said in a statement. As of the end of 2020, Fidelity managed $700 billion of assets globally.
JPMorgan wins nod to fully own its China securities venture
Reserves /
China's foreign currency hoard hasn't been this big in more than five years
China's foreign currency reserves rose to the highest level in more than five years at the end of July, driven by stronger non-U.S. dollar currencies, official data showed.
The reserves rose to $3.236 trillion at the end of last month, up $21.9 billion from the end of June and marking the highest level since December 2015, data from the State Administration of Foreign Exchange (SAFE) showed Saturday. The reading beat market forecasts of $3.228 trillion, according to a research note released Monday by UBS Group AG.
Trade /
Chinese export, import growth shrivels in July as virus risks reemerge
Exports of Chinese goods grew in July at their lowest clip this year, rising 19.3% year-on-year, according to data (link in Chinese) released Saturday by the General Administration of Customs.
That beat the median forecast of an 18.4% rise in a Caixin survey (link in Chinese) of economists.
Imports grew 28.1% year-on-year, more slowly than in the previous fourth months, and lower than the median forecast of 32.5%. China's trade surplus rose to $56.6 billion from $51.5 billion in June.
Rating /
China issues sweeping new rules for credit rating companies
China issued sweeping new regulations for credit rating businesses in a key step toward bringing the scandal-plagued industry under better oversight.
The rules, jointly issued by five central government bodies including the central bank and the top economic planner, spell out requirements for rating companies' business operations, corporate governance and disclosure, as well as punishments for industry malpractice.
Quick hits /
China's factory inflation surges again on commodity prices
Rising inflation risks crimping China's standout bond rally
Opinion: How China can make world's biggest carbon market more effective
BUSINESS & TECH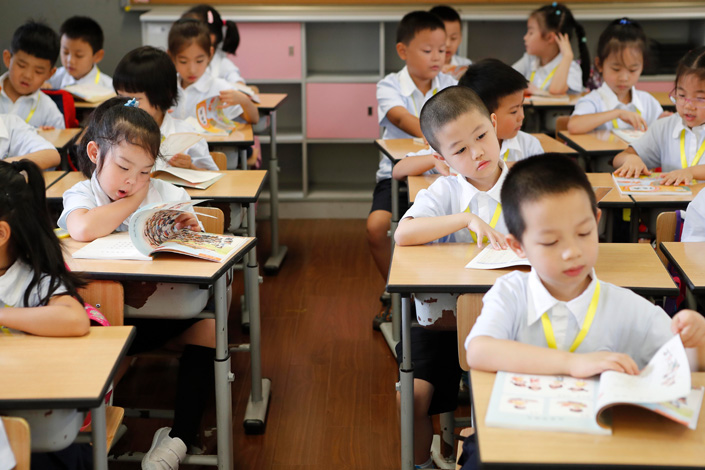 Shanghai first graders read textbooks in September 2017. Photo: Yin Liqin/China News Service/VCG
Education /
Shanghai cancels English final exam for elementary school students
Shanghai education authorities canceled final exams in English and prohibited primary schools from carrying out midterm exams, marking the latest of a range of new measures sweeping China designed to reduce the academic burden on young students.
Primary schoolers should be given finals only for Chinese and mathematics, while other subjects will be evaluated without giving specific test scores, according to a notice released last week by the city's education commission. The document also says first-graders should not be given any written tests and primary schools should not conduct district-wide unified examinations.
China education firms to end most classes with foreign teachers
WeChat /
Beijing prosecutor mulls civil action against Tencent for alleged harm to youth
Tencent said it would closely review the functions of its WeChat app after a Beijing procuratorate said it was exploring a public-interest civil suit against the company amid claims its "youth mode" breaches a national law protecting minors.
Under Chinese law, the announcement of the suit gives stakeholders 30 days to respond before it can move forward.
The Beijing Haidian People's Procuratorate, which posted the document on state-owned legal news website JCRB.com Friday, alleges that WeChat owner Shenzhen Tencent Computer Systems Co. Ltd. is violating the Law on the Protection of Minors (link in Chinese), without specifying how.
Airbus /
Airbus says new narrow-body planes could complement Chinese craft on regional routes
European aircraft maker Airbus said its new narrow-body planes could complement China's domestic competitor on less-busy regional routes, as investors try to gauge just how much of a threat the country's push to use more of its own aircraft might be to foreign plane makers.
Airbus China Marketing Director Hu Qin told a press conference Friday that the company was "maintaining active engagement" with potential Chinese customers in the hopes of selling them planes from the A220 series but did not give specifics.
Elephants /
Yunnan's roaming elephant herd nears home
After trekking more than 500 kilometers through Southwest China, 14 elephants who captivated the world this summer for straying close to major urban areas are being guided home. The herd is now little more than a dozen miles away from the outer reaches of their natural habitat.
Guided by trucks, the wild Asian elephants crossed the Yuanjiang river Sunday night, according to video footage provided by the province's forest fire brigade.
Quick hits /
ByteDance denies reports of a Hong Kong listing plan
Huawei posts sharpest drop in quarterly sales since U.S. bans
TikTok overtakes Facebook as the world's most downloaded app
Energy Insider /
Regulators move to limit prices of fertilizer and plate glass
GALLERY
Central China city tries to spray Covid away
Thanks for reading. If you haven't already, click here to subscribe.
Share this article
Open WeChat and scan the QR code

Caixin-Sinica Business Brief: China Resumes Issuing Visas to Foreigners