Sep 24, 2021 10:56 AM
CHINA
CX Daily: How A Liaoning Bank Got Sucked Into The Evergrande Vortex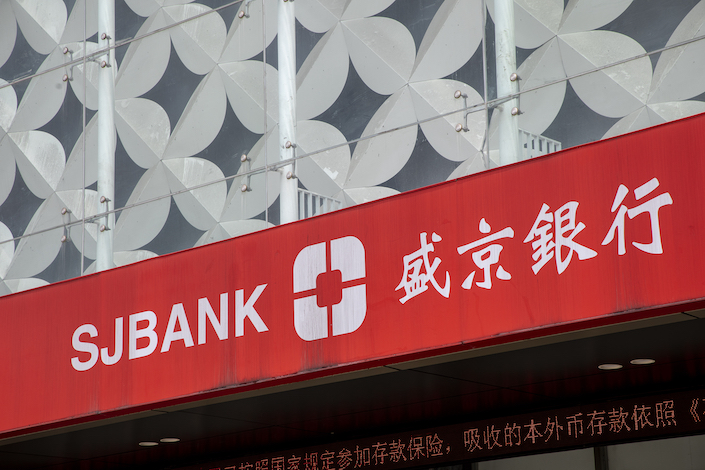 Evergrande is believed to hold the power to control more than 50% of Shengjing Bank's equity.
Evergrande /
In Depth: How a Liaoning bank got sucked into the Evergrande vortex
With China Evergrande Group's colossal debt under a global spotlight, the real estate conglomerate's more than 100 billion yuan ($15.5 billion) of transactions with a regional bank are also raising concerns, prompting the local government to try to cut ties between the two.
Shengjing Bank Co., a commercial bank headquartered in the northeastern city of Shenyang, Liaoning province, holds a substantial amount of Evergrande bonds. Evergrande is also the bank's biggest shareholder.
As the property giant's debt crisis evolves, the Liaoning government is attempting to insulate itself from Evergrande's risks by buying back some of Evergrande's equity in the regional bank through two local state-owned enterprises.
Banks try to calm market jitters by disclosing debts Evergrande owes them
FINANCE & ECONOMY
Yuan /
China drafts new rules for banks' overseas yuan lending to boost yuan use
China plans to relax restrictions on domestic banks' ability to provide yuan-denominated loans overseas, a further step in its strategy to boost global use of the Chinese currency.
The proposals were made by the People's Bank of China and the State Administration of Foreign Exchange in a draft (link in Chinese) of new regulations released Saturday. The rules, which apply to 27 onshore banks, impose limits on the total amount of overseas loans banks can make in yuan and foreign currencies, improve risk prevention and unify the regulations covering both types of lending.
"The regulations…aim to better meet the capital demand of overseas enterprises, effectively serve the real economy, and promote trade and investment facilitation," a statement accompanying the draft said.
Trade /
Beijing opposes Taiwan's application to join Pacific trade pact
Beijing firmly opposes Taiwan's application to join the Comprehensive and Progressive Agreement for Trans-Pacific Partnership (CPTPP), which was submitted days after China's own application, Chinese Foreign Ministry spokesperson Zhao Lijian said Thursday at a regular press briefing.
"We firmly oppose any official contacts between Taiwan and other countries, and Taiwan's accession to any official agreements or organizations," he said.
Banking /
Banking regulator puts new emphasis on governance, data management
China's top banking regulator revised its seven-year-old supervisory assessment criteria for commercial banks, putting more emphasis on corporate governance and data security.
The China Banking and Insurance Regulatory Commission (CBIRC) issued a revision Wednesday to the guidelines on supervision and assessment of commercial banks. It was the first change since the guidelines went into effect in 2014.
Liquidity /
China releases $17 billion to banks amid Evergrande concerns
China's central bank net-injected the most short-term liquidity in eight months into the financial system, with markets roiled by concerns over China Evergrande Group's debt crisis.
The People's Bank of China (PBOC) pumped in 110 billion yuan ($17 billion) of cash with seven- and 14-day reverse repurchase agreements. That was the largest addition through open-market operations since late January, when a funding squeeze sent interbank rates soaring. Prior to Thursday, the PBOC had injected liquidity for three straight sessions, stoking bets that Beijing hopes to soothe market nerves over Evergrande.
Quick hits /
China stocks from property to tech jump as Evergrande hopes rise
Fisher: When excess 'fat' is great for your portfolio
BUSINESS & TECH
Business outlook /
Optimism among U.S. companies in China surges, survey finds
American companies in China are more optimistic about the business outlook in the country than at any point since the launch of the U.S.-China trade war back in 2018, a business group's annual survey found.
The China Business Survey, released Thursday by the American Chamber of Commerce in Shanghai (AmCham Shanghai), also found that over 70% of the surveyed manufacturers had no plans to move supply chains out of China.
The survey of 338 member companies was conducted between June 15 and July 15 with the help of consultancy PricewaterhouseCoopers China, AmCham Shanghai said. It questioned companies on factors such as company performance, investment, domestic competition and mobility.
China's increasingly inward turn could bring 'negative' long-term impact, EU firms say
Shipping /
Cosco unit to pay $116 million for Hamburg terminal stake
A unit of China Cosco Shipping Corp. struck a deal with Hamburger Hafen und Logistik (HHLA) to acquire a 35% stake in Container Terminal Tollerort (CTT) in the Port of Hamburg, expanding the Chinese shipping giant's terminal network in Europe.
Hong Kong-traded Cosco Shipping Ports Ltd., a terminal operator of Cosco, will pay 65 million euros ($76 million) for HHLA's holding in CTT, the company said Wednesday. The buyer also agreed to assume CTT's 34 million euros of debt to HHLA, putting the total value of the deal at 99 million euros ($116 million). HHLA is one of Europe's largest port and logistics service providers.
Xiaomi /
Smartphone-maker Xiaomi bets bigger on smart cars
Chinese electronics giant Xiaomi Corp. raised its bet on smart vehicle manufacturing, a business it believes will be key to its profit growth in the future, with an investment in a Chinese auto microchip startup.
Black Sesame Technologies Inc. said Wednesday it completed a series C funding round led by the Yangtze River Xiaomi Industry Fund, an investment fund established by Xiaomi and the Hubei provincial government in 2017. Several other investors also participated, including Summitview Capital, FutureX Capital, Lenovo Capital and the China Automotive Chip Industry Innovation Strategic Alliance.
Dishonest /
Drugmakers labeled 'seriously dishonest' over graft, broken contracts
Two Chinese drugmakers were blacklisted as "seriously dishonest" by local regulators, one due to corruption and the other over offenses related to the country's drug bulk-buying program.
Yichang Humanwell Pharmaceutical Co. Ltd. engaged in commercial bribery related to four drugs in the central province of Henan, according to a notice published (link in Chinese) Saturday by the Henan Province Public Resources Trading Center. Hubei province-based Yichang Humanwell mainly engages in the development, production and sales of anesthetics and other active ingredients.
Quick hits /
Covid shot from China's Clover found 79% effective against delta
China Oceanwide struggles to save U.S. deals as Evergrande sways
Ling Huawei: China wakes up to need for antitrust regulation
Hot Topics /
Xi sends birthday wishes to 100-year-old Nobel laureate, U.S. to relax travel restrictions, new Covid vaccine
GALLERY
Delta cases rise in two parts of China
Thanks for reading. If you haven't already, click here to subscribe.
Share this article
Open WeChat and scan the QR code

Caixin Biz Roundup: China's Covid Caseload Hits Six-Month High