CX Daily: China to Improve Links Between Digital Yuan and Payment Apps
Wang Shi
Climate /
In Depth: The tycoon with a passion for tackling climate change
This year was the 11th time Chinese property tycoon Wang Shi attended the United Nations climate summit.
The 70-year-old founder of China Vanke Co., one of the nation's largest property developers, said he was the only business representative flying from the Chinese mainland to attend the 26th U.N. Climate Change Conference of the Parties (COP26) of the U.N. Framework Convention on Climate Change in Glasgow, Scotland. Most other Chinese companies sent representatives from their European branches due to the Covid-19 pandemic.
In addition to building a real estate empire, Wang is known as an adventurer and passionate mountaineer. He holds the record as the oldest Chinese national to reach the summit of Mount Everest. Wang is among China's foremost environmentalists, leading multiple environmental initiatives in natural habitat preservation, garbage recycling and forest conservation. Since the Copenhagen climate summit in 2009, he attended the convention every year.
Everything you need to know about China's decarbonization drive
Extreme weather poses growing health risks in China, new study shows
FINANCE & ECONOMY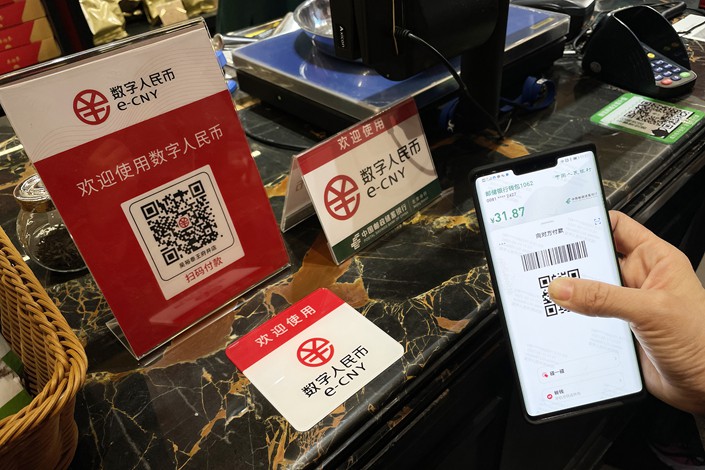 China's digital yuan has recorded total transactions topping 62 billion yuan in trials rolled out in 10 cities
Digital yuan /
China to improve links between digital yuan and payment apps
China's central bank will improve connectivity between the digital yuan and existing payment apps as the country steps up efforts to promote its official virtual currency, People's Bank of China Governor Yi Gang said.
The central bank will "increase (the digital yuan's) interoperability with existing payment tools," and "improve the currency's ecosystem," Yi said Tuesday during a virtual panel organized by the Bank of Finland Institute for Emerging Economies.
"Efforts will be made to establish a management model for the virtual currency modeled on how cash and bank accounts are managed and will improve its efficiency, privacy protection and anti-counterfeiting functions," Yi said.
Full Text: Yi Gang on China's progress on the digital yuan
Bankruptcy /
Shenzhen court issues landmark ruling on personal bankruptcy
A court in the southern business hub of Shenzhen approved China's first personal bankruptcy liquidation (破产清算), another step forward in building a legal framework that will allow millions of individuals across the country to reorganize their debts and make a fresh start.
Hu Xuhui, a local resident who didn't have enough assets to pay her liabilities, was declared insolvent, a process also known in China as bankruptcy liquidation, according to a ruling (link in Chinese) published Tuesday by the Shenzhen Intermediate People's Court. She will now be subject to restrictions on luxury spending and work for three years, and any new assets she earns or acquires above an agreed monthly budget for living expenses will be distributed to creditors. After that, she will be discharged from bankruptcy and the restrictions once the court gives a green light.
Visa /
U.S. resumes visa services in China after reopening borders
The U.S. embassy and consulates in China resumed regular visa services as the country reopened its border to international travelers after barring them for nearly two years under Covid-19 restrictions.
Vaccinated international travelers are allowed to travel to the U.S. with a negative Covid-19 test taken within 72 hours before their flights, said David Meale, chargé d'affaires of the U.S. embassy in Beijing, at a press conference Tuesday. Proof of vaccinations authorized by the World Health Organization, including the ones produced by Sinopharm and Sinovac, are accepted, according to Meale.
Quick hits /
China's inflation risks build as producers pass on higher costs
BUSINESS & TECH
Photo taken on July 3 shows the headquarters of Xiaohongshu in Shanghai. Photo: VCG
Xiaohongshu /
Chinese social media app Xiaohongshu wins $18 billion valuation
Xiaohongshu, a Chinese social media and e-commerce app that resembles Instagram, was valued at $18 billion in a funding round that includes the first injection from a Singaporean state-owned investor, Caixin learned from multiple sources.
The new investment comes as rumors swirl about a potential Hong Kong initial share sale after plans to list in the U.S. were scrapped amid heightened regulatory scrutiny. Authorities' protection of data security could still prove a hurdle to a debut in the Chinese territory.
Officially, the company made no comment on the listing plan. A spokesperson told Caixin only that Xiaohongshu was in "regular communication with financial stakeholders."
Lithium /
Stainless steel giant's lithium deal shows how everyone is getting into new energy
A giant in China's stainless steel industry said it will invest as much as $375 million in a suspended South American lithium project as soaring prices for the battery raw material drive more Chinese companies to expand into the new-energy industry.
Under the deal, Tsingshan Holding Group Co. Ltd. and French mining company Eramet SA will build a lithium plant in Argentina, with the Chinese company taking a 49.9% stake in the joint venture in charge of the project, according to a Monday press release. Eramet will hold the remainder of the shares.
Huawei /
Huawei donates operating system to Chinese tech nonprofit
Huawei Technologies Co. Ltd. donated its homegrown open-source operating system (OS) to a nonprofit social organization it co-founded last year with the goal of increasing use of the system by encouraging external software developers to use it in their products.
The source code of openEuler along with related assets such as verified software packages, trademarks and community infrastructure were handed over to the OpenAtom Foundation, a nongovernmental organization. OpenAtom was set up by tech giants including Alibaba Group Holding Ltd., Tencent Holdings Ltd. and Baidu Inc. as well as Huawei itself in September 2020.
Quick hits /
TSMC, Sony confirm plans to build $7 billion chip factory in Japan
Alibaba joins bike-sharing startup Hello's $280 million funding round
Tencent Music's earnings fall for second quarter running as antitrust crackdown bites
GALLERY
Northern China battles blizzard
Recommended newsletter for you /
China Green Bulletin Premium - Subscribe to join the Caixin green community and stay up to date with the most exclusive insights on ESG, energy and carbon. Sign up here.
Thanks for reading. If you haven't already, click here to subscribe.
Share this article
Open WeChat and scan the QR code