CX Daily: China's Plan to Break Foreign Iron Ore Dependence — Mine More at Home
Photo: VCG
Iron ore /
In Depth: China's plan to break foreign iron ore dependence — mine more at home
The creation of China's new state-owned iron ore giant — built to consolidate the nation's mining investments and coordinate purchases of the key steelmaking input — is being felt everywhere from Simandou to Sydney.
The idea is that China Mineral Resources Group, founded July 19 with registered capital of 20 billion yuan ($3 billion), will centralize purchasing for state-owned steelmakers and traders to create a unified front in negotiations with foreign suppliers. It will also house overseas mining assets.
Taiwan /
Everything you need to know about Beijing's countermeasures against Taiwan after Pelosi visit
Beijing has launched a series of military exercises and economic sanctions against Taiwan in the wake of U.S. House Speaker Nancy Pelosi's visit to the island, with Foreign Ministry Spokesperson Hua Chunying reiterating Wednesday that China will take "all necessary measures to resolutely defend its national sovereignty and territorial integrity."
Here is a roundup of the countermeasures announced as of Aug. 4.
Kindergarten /
Kindergarten killings suspect captured after manhunt
Police in East China's Jiangxi province said Thursday that they captured a man suspected of killing three people and injuring six others at a local kindergarten.
The police statement (link in Chinese) was issued after the killings took place Wednesday morning at a private kindergarten in Anfu county, Ji'an city. The suspect, 48-year-old Liu Xiaohui, was caught by police that night in another part of the city after fleeing the scene, the statement said.
FINANCE & ECONOMY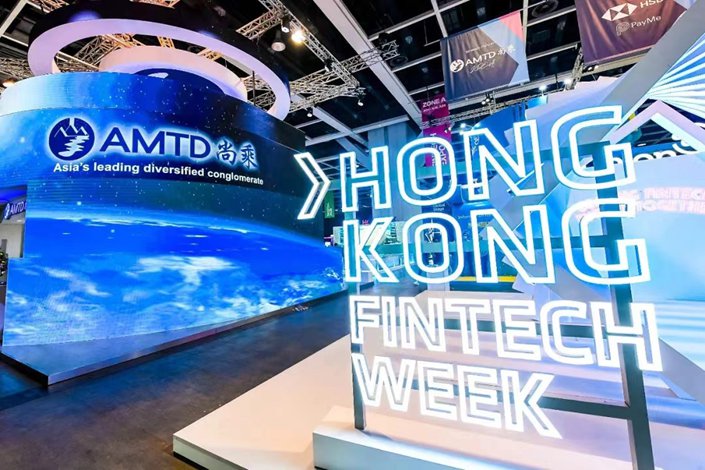 Shares of AMTD Digital — a financial services company that made its debut on the New York Stock Exchange a few weeks ago — surged more than 320 times from their IPO price of $7.80 to a high of $2,555.30 on Tuesday. Photo: AMTD
Stocks /
Li Ka-shing distances himself from AMTD after meteoric stock surge baffles investors
Hong Kong billionaire Li Ka-shing's CK Hutchison Holdings Ltd. is seeking to distance itself from a little-known company whose U.S.-listed stock experienced a mysterious mega rally this week, leaving investors dumbfounded.
Shares of AMTD Digital Inc. — a Hong Kong financial services company that made its debut on the New York Stock Exchange just a few weeks ago — surged more than 320 times from their IPO price of $7.80 to a high of $2,555.30 Tuesday. They pared back those gains to trade at $1,100 at Wednesday's close, giving the company a market capitalization of $203.5 billion.
Macao /
Macao resumes quarantine-free travel with Zhuhai
Macao's government ruled Wednesday that people could enter the neighboring Chinese mainland city of Zhuhai without quarantine after the special administrative region reported no new community-transmitted Covid-19 cases for 11 consecutive days.
Zhuhai in Guangdong province is normally the main entry point to Macao for tourists from the Chinese mainland. The requirement was relaxed from stringent policies imposed June 22 as the world's biggest casino hub locked down businesses in the fight against the region's worst outbreak since the pandemic began. Anyone leaving Macao for Zhuhai previously had to quarantine for seven days in a government-designated facility.
Quick hits /
Singapore joins green finance bonanza with 50-year bond
BUSINESS & TECH
A Starbucks store in Philadelphia, U.S. Photo: VCG
Starbucks /
Starbucks' revenue in China plunges amid Covid curbs
Starbucks Corp. reported a staggering 40% year-on-year decline in quarterly revenue from China, reflecting the damage that the Covid-19 pandemic has done to its second-largest market as its profit took a beating.
In the fiscal third quarter ended July 3, the Seattle-based coffee giant took in $545 million in revenue in China, where nearly 16% of its stores are located, according to the company's earnings report released Tuesday.
Housing /
Chinese housing prices slide again in July
The average price of pre-owned housing units across 100 Chinese cities slid again in July in defiance of hundreds of government policy moves to prop up the collapsing real estate market. Home values fell the most in smaller cities.
In the 100 cities, average housing prices fell 0.09% from June to 16,012 yuan ($2,370) per square meter last month, according to the China Index Academy. The decline was 0.07 of a percentage point sharper than the drop in June. Sixty-nine of the 100 cities reported price declines in July, 11 more than in June.
Airlines /
Air China plans $2.2 billion share placement to expand fleet
China's flag carrier Air China Ltd. plans to raise as much as 15 billion yuan ($2.2 billion) through a private placement to expand its fleet.
Shanghai-traded Air China said it will issue shares to no more than 35 selected investors including controlling shareholder China National Aviation Holding Co. Ltd. The proceeds will be used to buy 22 new jetliners and supplement the company's operating capital.
Quick hits /
Pony.ai's self-driving cabs hit the streets in Beijing
Vivo becomes latest Chinese smartphone-maker accused of tax evasion in India
China's State Grid plans $44 billion of investment in second half to give economy a jolt
Long Read /
As China reforms its financial system, pragmatism should prevail
GALLERY
Fukushima's controversial clean-up
Recommended newsletter for you /
Caixin Must-Read Newsletter brings you the best of our coverage and stories you can't miss. You can opt-in now and get hand-picked news coverage delivered to your inbox each week for free.
Thanks for reading. If you haven't already, click here to subscribe.
Share this article
Open WeChat and scan the QR code

China Stories: Strict Rules at Home Push Chinese Metaverse Entrepreneurs, Investors Overseas