CX Daily: Chinese Regulators Are Naming and Shaming Banks
China Construction Bank. Photo: IC Photo
Small businesses /
Regulators name and shame banks violating loan rules
Two major Chinese banks have been named and shamed after they forced small businesses to buy insurance products as a condition for getting loans in violation of official guidelines to cut borrowing costs for millions of companies nationwide.
The transgressions found at some Beijing branches of China Construction Bank Group Ltd., one of the big five state-owned commercial lenders, and Ping An Bank Co. Ltd., were highlighted in statements issued Monday by the State Council and the China Banking and Insurance Regulatory Commission (CBIRC). They follow a special investigation by the State Council and unannounced spot checks by the watchdog that were prompted partly by complaints made to the State Council via its website.
Lowering costs for businesses, including interest rates, and alleviating the funding difficulties of small companies have been key planks of government strategy for the past few years in an effort to support economic growth. The policy has taken on added urgency this year amid sluggish domestic and global demand and the ongoing trade war with the U.S.
FINANCE & ECONOMICS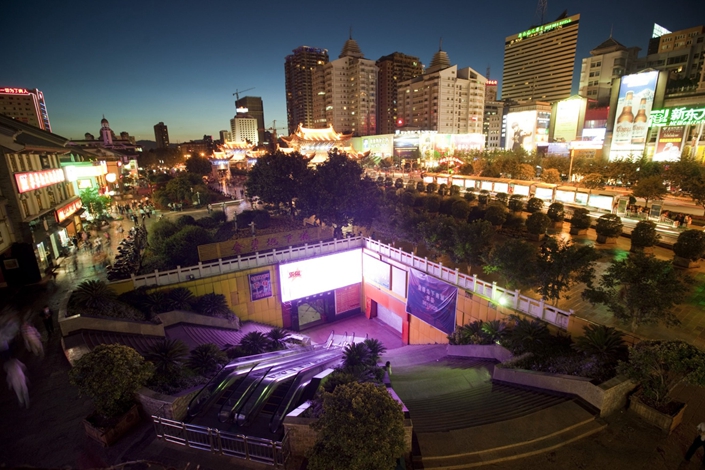 Kunming, Yunnan province, in July 2011. Photo: Bloomberg
Debt /
China's local government units now guarantee $842 billion of credit
Local government investment arms in China were once considered one of the country's riskiest groups of borrowers and a time bomb in a creaky financial system. But in recent years, a growing number of these heavily indebted entities, known as local government financial vehicles (LGFVs), have emerged as white knights of a troubled private sector, offering guarantees to loans and bonds from garment-makers to construction companies.
Beijing is growing increasingly reliant on an ever-bulging state sector to engineer stability in turbulent times, but the added responsibility may prove unbearable for the LGFVs that themselves face a giant wall of debt. Around 2,000 of these funding platforms have offered a total of 5.9 trillion yuan ($842 billion) worth of credit guarantees to domestic businesses. A sizable amount is tied to borrowings from the private sector, which has accounted for a majority of bond defaults, analysts say.
China-U.S. /
Growth of Chinese students studying in U.S. slows to 1.7% amid visa worries
China was the world's top contributor to international students in the U.S. for the 10th consecutive time in the 2018-2019 academic year, but the rate of increase has been coming down as institutions and students fret over the ability to get necessary visas.
Chinese students in the U.S. rose by 1.7% to 369,548 in the latest full academic year, accounting for about a third of all foreign students in the country, according to the Institute of International Education's report released Monday. Undergraduates rose 0.2% to 148,900, while graduate students rose 2.0% to 133,400. However, the rate of increase has been coming down steadily from 8.1% in 2015-2016 academic year to 3.6% in 2017-2018.
Foreign exchange /
China's ever expanding cohort of international students
China's first group of overseas students, totaling 33 and originating from the Soviet Union and other Eastern European countries, arrived in 1950, one year after the founding of the People's Republic. China's policy toward foreign students was relatively conservative over the next decades, but with the reform and opening-up policies implemented in the late 1970s came a slew of policies aimed at encouraging overseas students to study in China.
Misconduct /
Securities regulator accuses Kangde Xin of inflating overseas sales
Scandal-plagued Kangde Xin Composite Material Group Co. Ltd. has been accused by China's securities watchdog of faking documents to inflate its overseas sales, we learned at a Tuesday hearing in Beijing, which provided further detail about potential misconduct by a company plagued by defaults, fraud allegations and investigations of its chairman and auditor.
Kangde Xin faked its overseas sales figures by misrepresenting shipments of a plastic it uses in its production process as sales of its optical film products, the China Securities Regulatory Commission (CSRC) said. Under former Kangde Xin Chairman Zhong Yu's instruction, the company shipped the products overseas and handed them out free, then faked clients' signatures to fabricate business contracts and create a fictitious overseas supply chain, the CSRC said.
Quick hits /
Editorial: Distinguishing the 'forest' and the 'trees' in risk prevention
BUSINESS & TECH
Photo: VCG

Manufacturing /
China sets up massive new fund to transform manufacturing
China established a multibillion-dollar fund with the aim of transforming and upgrading the country's manufacturing, according to a stock filing by state-owned rolling stock company CRRC.
The Thursday filing with the Shanghai Stock Exchange does not specify how much capital the fund intends to raise. However, it reveals that the fund's registration capital is 147.2 billion yuan ($21 billion), making it larger than that of the state-owned China Integrated Circuit Industry Investment Fund (CICF) set up in 2014 to revolutionize the country's chip industry.
Personnel /
Xiaomi appoints chief voice scientist
Daniel Povey, creator of speech recognition toolkit Kaldi, will become Xiaomi's chief voice scientist, founder Lei Jun said Monday on Chinese social media site Weibo.
Povey was a former associate professor in the language and speech processing department at Johns Hopkins University. In recent years, Xiaomi invested heavily in speech recognition. Its voice-activated smart assistant XiaoAI claims to support two-way natural continuous conversation on Xiaomi-branded smartphones.
Software /
Shares in office-software maker hold steady after impressive tech board debut
Shares in software developer Beijing Kingsoft Office Software Inc. held steady on their second day trading after they hit the market at nearly triple their offering price Monday.
Kingsoft Office raised 4.6 billion yuan ($655 million) Monday by offering 21.91% of the company, or 101 million shares, at 45.86 yuan apiece. On Monday, shares opened at 140 yuan before dropping to 126.35 at the close. They gained 7.65% to 136.01 yuan Tuesday. For the software maker —linked to billionaire Xiaomi-founder Lei Jun and ubiquitous in Chinese government departments — it was one of the best debuts on Shanghai's Nasdaq-style tech-focused STAR Board in the five months it has been running.
Devices /
Even 5G can't reverse China smartphone slump
China's mobile phone sales continued their prolonged slump in October despite healthy early interest in next-generation 5G handsets.
The country shipped 35.97 million phones last month, a 0.7% decrease from the previous month and a 6.7% drop YOY, according to the China Academy of Information and Communications Technology, which is tied to the nation's telecoms regulator. The October figure was worse than the 5.8% decline for the first 10 months of the year, when the country shipped 323 million handsets.
Quick hits /
U.S. extends limited Huawei licenses for a further 90 days
Hong Kong investment firm to bid for Thyssenkrupp's prized elevator unit
Bilibili, Qudian post strong growth but get cold shoulder from investors
Thanks for reading. If you haven't already, click here to subscribe.
Share this article
Open WeChat and scan the QR code

Jul 23 08:14 PM

Jul 23 06:25 PM

Jul 23 02:46 PM

Jul 22 07:00 PM

Jul 22 05:51 PM

Jul 22 04:59 PM

Jul 21 06:36 PM

Jul 21 05:33 PM

Jul 21 03:48 PM

Jul 20 08:43 PM

Jul 20 07:06 PM

Jul 20 05:27 PM

Jul 20 05:15 PM

Jul 19 08:00 PM

Jul 19 06:35 PM
GALLERY