CX Daily: China's Retailers See Red Over Surge in Neighborhood Group Shopping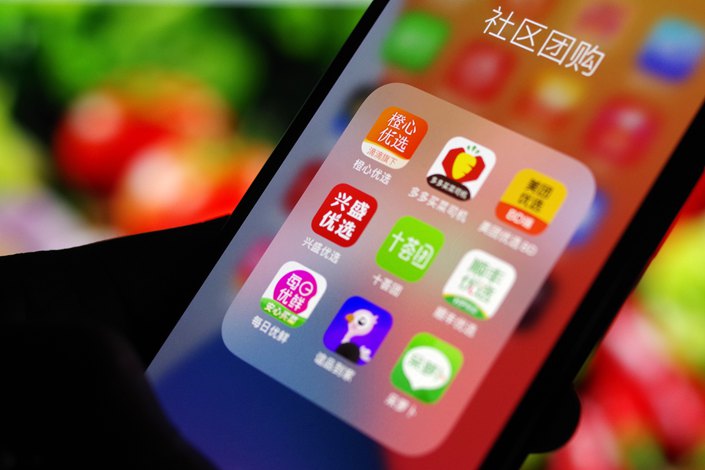 The online segment is expected to reach 1.2 trillion yuan by 2022, accounting for 18% of the whole grocery retail market.
Group-buying /
Retailers see red over surge in neighborhood group shopping
China's community group-buying phenomenon gained such momentum that suppliers and brick-and-mortar retailers are fighting back by trying to restrict buyers' access to prevent a price war.
Multiple grain, oil and grocery suppliers are moving to restrict partner wholesalers from taking orders from community group-buying (CGB) entities, groups made up of residents combining to buy fresh food at discount prices through platforms like bargain shopper Pinduoduo.
Hebei province-based food manufacturer Huahai Shunda Grain and Oil Seasoning Co. Ltd. barred its wholesalers from supplying to CGB platforms without authorization, it said in an internal notice to distributors. It said offered prices should not be lower than the retail price set by the company.
FINANCE & ECONOMY
The Shanghai and Shenzhen stock exchanges are seeking public comment on draft delisting rules until Dec. 28.
Stocks /
China's revised delisting rules blasted as too lenient on financial fraud
Within hours of proposing China's first delisting standard for financial fraud, the Shanghai and Shenzhen stock exchanges drew complaints that the hurdle was too lenient to deter any violations.
"Listed companies that make false financial statements can be relieved because the standards set by the new delisting rules are too low!" wrote senior investment banker Wang Jiyue, formerly of Huatai United Securities Co. Ltd., in a social media post.
In draft rules to simplify the delisting process for public companies published Monday, the exchanges define the delisting standard for financial fraud as reporting net profits that are inflated by more than 100% of actual net profit for three consecutive years. Some investment bankers said the 100% threshold would be difficult to reach in practice.
China reshuffles stock indexes in favor of high-tech companies
Trade /
Australia close to taking China to WTO over barley tariffs
Australia says it has built a strong case to challenge anti-dumping duties imposed by China on its barley exports and will announce soon whether it will take the matter to the World Trade Organization.
Australia has been working closely with the grains industry to "build the strongest possible case," Trade Minister Simon Birmingham told reporters Tuesday. Barley was slapped with tariffs of more than 80% in May after China accused Australia of dumping the grain and subsidizing growers.
"Australian grain growers and farmers are not subsidized; they don't dump their products on global markets; and we clearly have the evidence to mount a strong case," Birmingham said. He said Australia has legal avenues it can pursue via the WTO over barley and wine, which has also been targeted with duties.
China's coal imports fall for the seventh straight month
China sees new jump in pork prices as imports scrutinized for Covid-19
Economy /
China economic recovery picks up speed, indicators show
China's economic recovery continued to pick up steam in November, official data showed, with major indicators accelerating from the previous month, though retail sales growth failed to meet expectations.
Retail sales rose 5% year-on-year in November, picking up from a growth pace of 4.3% in October, according to data (link in Chinese) from the National Bureau of Statistics (NBS) issued Tuesday. Still, the reading came in below the median forecast for a 5.5% increase in a Caixin survey (link in Chinese) of economists.
The NBS was upbeat about the consumption recovery, citing growing employment and improving company profits. It noted the importance of consumption, which failed to meet expectations even though its growth accelerated in November from the previous month.
Yuan /
In Depth: What's next for the yuan after crushing the dollar for six months
Notwithstanding growing tensions between Washington and Beijing and the Covid-19 pandemic, now is a good time for Chinese mainland tourists to hop on a plane to the U.S. The appreciation of the yuan over the past six months means they will get far more bang for their buck.
At the end of May, they needed to exchange 7,146 yuan to get $1,000, but on Monday they would have had to part with only 6,537 yuan, a saving of 609 yuan, or 8.5%, according to the central bank's official closing price. The yuan has been the second-best performer against the U.S. dollar among Asian currencies since it hit a closing low of 7.16 yuan on May 28, beaten only by the South Korean won.
The Chinese currency's rapid appreciation over the past six months to its strongest level against the dollar in nearly two and a half years has raised concerns among some analysts that it has strengthened too quickly and could have an adverse impact on exports.
Quick hits /
China's wave of corporate defaults has some investors seeing dollar signs
Chinese pilot tests positive for Covid-19 after attending 300-person wedding
After wave of defaults shakes markets, authorities pledge better credit ratings oversight
BUSINESS & TECH
Ant Financial Executive Chairman Eric Jing.
Regulation /
Battered by regulators, Ant Group comes out in support of regulation
Ant Group Chairman Eric Jing heaped praise on China's financial watchdogs, striking a conciliatory tone in his first public speech since they kneecapped the company's mammoth IPO early last month.
Speaking at an internet finance industry forum Tuesday, Jing said Ant Group Co Ltd. was working closely with regulators and doing its best to deal with the aftermath of the listing suspension. He also revealed his strong support for state regulation, which he said would guard against the risks that arise from the rapid growth of fintech companies like his own.
"Compliance with regulation is the cornerstone for stable and long-term development of financial technology," Jing said, according to an official translation of the speech circulated by Ant Group. He said the company had reflected on public criticism and "spared no effort" in studying the government's policy insights into financial security and stability.
Accident /
Three sailors dead, five missing after ships collide on Yangtze River
A container ship operated by China's largest shipping company capsized Sunday night after colliding with a foreign-registered cargo liner on the Yangtze River, killing three Chinese sailors and leaving five missing, the Shanghai Maritime Safety Administration reported Monday.
All 16 Chinese sailors on the Xinqisheng 69 rented by a subsidiary of COSCO Shipping Holdings Co. Ltd. fell overboard after it hit the heavier Oceana, which is registered in Antigua and Barbuda in the Caribbean. No injuries or deaths were reported on the Oceana.
A signal from a tracking device on the 165-meter container ship disappeared 30 minutes after the incident, which occurred around 11:30 p.m., data from vessel location provider Shipxy.com revealed.
Rental /
Nanjing authorities intervene in China's rental housing crisis
In response to a nationwide rental housing crisis, authorities in the eastern Chinese city of Nanjing ordered that apartment rental intermediary companies deposit rent payments in supervised accounts when tenants pay at least three months' rent upfront.
Rental companies will also be required to deposit risk reserves proportionate to the scale of their business into the supervised accounts, according to a notice published by Nanjing's Housing and Real Estate Administration Bureau. The measures are intended to protect tenants and landlords from financial problems dogging the rental middleman industry. A staff member at the Nanjing housing bureau told Caixin that the proportion of risk reserves has not yet been determined, and it may take another week or two before detailed rules can be worked out.
Market manipulation /
Boss of diving-gear maker investigated for suspected market manipulation
Yang Zhihui, the controlling shareholder of Shenzhen-listed diving equipment maker China Dive Co. Ltd., is under investigation on suspicion of market manipulation, the company said Monday in a filing (link in Chinese) with the Shenzhen Stock Exchange.
Yang resigned Monday from his posts as a director of the board and general manager of China Dive, according to another filing (link in Chinese).
The stock of China Dive surged from about 50 yuan ($7.63) per share in September 2019 to more than 200 yuan in April. The unusual surge drew the attention of regulators, and the Shenzhen bourse has inquired multiple times into the running of the company.
Quick hits /
Mobike rides into history with shutdown of its app
China's EHang self-flying vehicles set for take off in Austria
Baidu Capital leads $100m Series C+ round in Chinese healthtech startup Weimai
Thanks for reading. If you haven't already, click here to subscribe.
Share this article
Open WeChat and scan the QR code

Caixin Biz Roundup: Chinese EV Startup Looks Overseas as Domestic Business Stalls