CX Daily: Is Global Inflation About to Take Off?
Inflation /
Cover Story: Is global inflation about to take off?
Factories around the world are facing headwinds from surging commodity prices, rising shipping costs and semiconductor shortages, fueling worries that global inflationary pressures are looming as major economies recover from pandemic lockdowns.
In China, factory gate prices have climbed at an accelerated pace in recent months. The producer price index (PPI), which gauges changes in prices of goods circulated among manufacturers and mining companies, rose 4.4% year-on-year, in March, the fastest growth since July 2018. The trend further strengthened in April as prices of coal, steel, cement and glass all increased significantly.
The Politburo, China's top policymaking body, pledged in late April to ensure the supply of goods that are key to people's livelihoods and maintain price stability. The body also issued new measures to prevent housing speculation. Analysts said the statements signaled that the central bank won't tighten monetary policy in response to the commodity price surge. Instead, it will use more-targeted measures such as adding to supplies of certain products to stabilize prices.
Related: Copper jumps to record as growth bets supercharge commodities
Vaccines /
Fosun, BioNTech in $200 million China vaccine venture
Fosun Pharma said it would set up a Shanghai facility to co-produce a Covid-19 vaccine developed by BioNTech SE for the China market, just hours before the German drug maker announced its own plans to build a regional headquarters and similar wholly owned facility in Singapore.
Announcement of the Shanghai facility marks the latest step in a partnership formed by Fosun and BioNTech early in the pandemic, with an aim of bringing the German company's innovative and highly effective mRNA vaccine technology to China. Establishment of the Singapore hub is also a nod to the region's big growth potential and the importance of producing BioNTech's vaccines as close as possible to their actual place of use due to the need for super-cold temperatures during transport.
Related: China's Sinopharm vaccine put on WHO emergency use list
Opinion: WHO vaccine approval a milestone achievement for China's health care industry
FINANCE & ECONOMY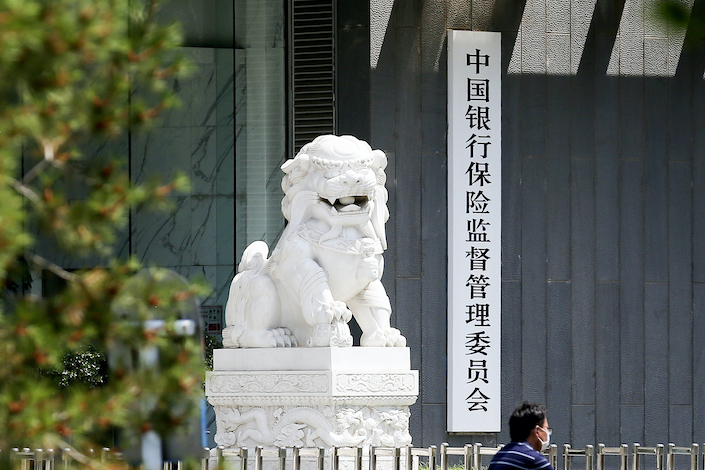 Online banks and insurance platforms are required to display licenses clearly on their web pages.
Licenses /
China's banking regulator revamps financial licensing
China's top banking regulator will implement a new licensing system July 1, consolidating a welter of licenses for financial institutions into three categories: financial, insurance and insurance intermediary.
The proliferation of licenses under the China Banking and Insurance Regulatory Commission (CBIRC) involves different management requirements for various categories, creating administrative difficulties, an official at the commission said. Inspections found that there are some problems in the management and use of licenses in banking and insurance institutions, the official said.
In recent years, more and more financial activities are carried out on the internet, and some businesses provide financial services without licenses. Some major commercial banks have been found skirting regulations by setting up nonlocal departments or offices without approval.
Funds /
China became Asia-Pacific's largest open-end fund market in 2020, report says
China's mutual fund market is catching global attention as it grows in scale and becomes more open to outside players.
The country became the Asia-Pacific region's largest market for open-ended funds for the first time in 2020, according to a report released earlier this month by the U.S.-based Investment Company Institute (ICI), an investment fund industry organization.
Total net assets in China's regulated open-ended investment funds reached $2.7 trillion at the end of last year, up from $1.9 trillion a year earlier and surpassing Japan and Australia to become the largest in the region, the ICI report says, citing data from the International Investment Funds Association.
Insurers /
Chinese online insurer Waterdrop suffers 19.2% share price decline in NYSE debut
Caught short by a domestic regulatory crackdown this year on fintech firms, Chinese online insurance brokerage Waterdrop's effort to mount a U.S. IPO suffered a setback Friday as its shares tumbled 19.2% during their New York Stock Exchange debut.
The American depositary shares of Waterdrop Inc., which is backed by internet giant Tencent Holdings Ltd., had been priced at $12 apiece in the IPO, thus raising $360 million through the sale. The shares closed at $9.70 Friday.
Covid-19 /
In Depth: China starts sending Covid-19 aid to India as U.S. dithers
By helping its neighbor fight Covid-19, China is aiming to protect itself in the battle against the pandemic, while also trying to mend fences with India following the deadly border skirmish last year, according to experts interviewed by Caixin.
On Sunday, Chinese Ambassador to India Sun Weidong said on social media that the Red Cross Society of China's (RCSC) initial donation of 100 oxygen concentrators, 40 ventilators and other medical supplies had arrived in India. Sun also said the RCSC decided to provide $1 million in cash assistance to the Indian Red Cross Society to help the country fight the pandemic.
Related: Hong Kong eases quarantine for inoculated travelers
Quick hits /
China amends audit law to expand coverage
Obituary: Remembering my legendary mentor David Swensen
Editorial: What consolidating the foundation and cultivating vitality means for the Chinese economy
BUSINESS & TECH
Ning Gaoning. Photo: VCG
Chemicals /
China finalizes merger of two largest state chemical firms, creating Sinochem Holdings
China finalized the merger of the country's two largest chemical producers to create a new state-owned company, Sinochem Holdings Corp. Ltd., part of a long-anticipated bid to create scale, cut costs and ease debt pressures on the businesses involved in the tie-up.
The new company was formed through the merger of China National Chemical Corp. Ltd. (ChemChina) — the company behind the record purchase of Syngenta AG in 2017 — and Sinochem Group Co. Ltd.
Sinochem Holdings is a wholly owned subsidiary of the State-owned Assets Supervision and Administration Commission (SASAC) of the State Council — China's cabinet — and has full control over the two partners in the merger. The company's chairman is Ning Gaoning, a veteran executive of several Chinese state-owned enterprises (SOEs) who previously headed both partner firms.
Delistings /
Chinese telecom giants lose appeals of NYSE delistings
China's three major wireless carriers lost their appeals of a New York Stock Exchange decision to delist their shares, a signal that the Biden administration is likely to maintain curbs on certain Chinese companies imposed under former President Donald Trump.
A committee of the board of directors of the New York Stock Exchange (NYSE) "affirmed the determination" to remove the American depositary shares (ADSs) of China Mobile Ltd., China Unicom (Hong Kong) Ltd. and China Telecom Corp. Ltd., the three companies said in similarly worded statements filed Friday with the Hong Kong Stock Exchange, where they are also traded.
The announcements mean the three Chinese state-owned telecom giants lost their attempts to reverse the course of delistings counting on policy changes under the new U.S. administration.
Education /
Alibaba, Tencent-backed edtech firms fined for false advertising
Two hot Chinese tutoring properties were fined millions of yuan for false marketing claims — including in one case professing a partnership with the United Nations — as authorities tighten the screws on the country's after-school training scene.
Alibaba-backed Baidu edtech spinoff Zuoyebang and Tencent-backed Yuanfudao were each fined 2.5 million yuan ($389,000), the State Administration for Market Regulation (SAMR) said (link in Chinese) Monday.
Coal /
China coal profits nearly double in first quarter
Chinese coal companies made nearly twice as much profit in the first quarter compared with the equivalent period last year, new statistics show, as high prices widened the margins of mining companies amid the country's recovery from the Covid-19 pandemic.
A group of more than 4,000 of the country's large-scale coal enterprises booked combined net profits of 80.88 billion yuan ($12.58 billion) in the three months through March, according to a report (link in Chinese) published Saturday by industry group Coal China. That's a rise of 94.3% on the same period last year, when China's Covid-19 outbreak caused a prolonged slump in production and demand.
Quick hits /
EU firms in China are struggling to hire staff from abroad, chamber says
Police launch probe into how leopards got loose from East China safari park
Internet watchdog cheesed off at talent show fans that dumped dairy down the drain
Thanks for reading. If you haven't already, click here to subscribe.
Share this article
Open WeChat and scan the QR code