Aug 20, 2021 09:46 AM
CHINA
CX Daily: What Could Stop The Hottest Thing In IPOs From Landing In Hong Kong
SPAC /
In Depth: What could stop the hottest thing in IPOs from landing in Hong Kong
Rather than applying to list on stock exchanges and going through a disclosure process, companies seeking an IPO instead negotiate a deal with an already listed SPAC, a company created for the sole purpose of taking another business public. "SPAC" stands for special purpose acquisition company.
In Asia, the pace of SPACs has been picking up in South Korea, ratings agency S&P Global Inc. wrote in a June report. And in June, the Hong Kong government said the city's stock exchange would begin accepting public comments in the third quarter of this year about whether to allow SPACs.
Despite their growing popularity, allowing SPACs in Hong Kong will be no easy feat as the city's securities regulator is concerned about shell companies being used to manipulate the market, such as through pump-and-dump stock schemes.
Airlines /
U.S. slashes inbound Chinese passenger flights to 40% of capacity
U.S. aviation authorities forced four Chinese carriers that fly to the country to slash their passenger capacity by 60% after Beijing imposed a similar restriction on four United Airlines routes to China.
The order from the U.S. Department of Transportation dated Wednesday applies to Air China, China Eastern Airlines, China Southern Airlines, and Xiamen Airlines over a four-week period.
FINANCE & ECONOMY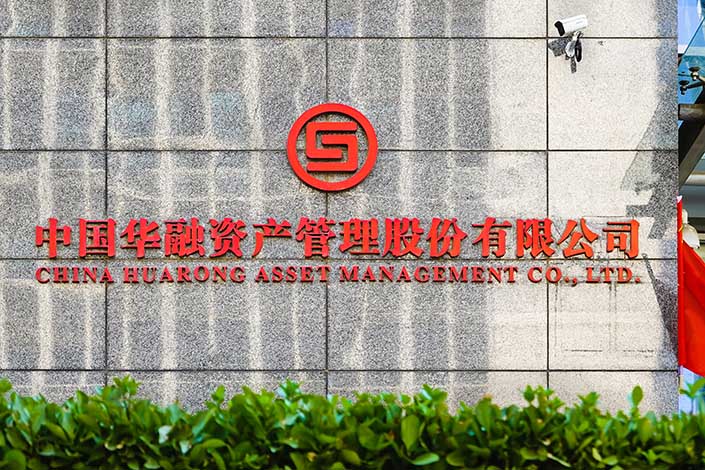 Huarong offices in Beijing on July 4. Photo: VCG
Huarong
Huarong bonds surge on bailout hopes despite huge loss
Debt-ridden China Huarong Asset Management Co. Ltd. warned investors Wednesday that it expects to report a 2020 net loss of 102.9 billion yuan ($15.87 billion), but said that it plans to bring strategic investors on board.
Despite the huge loss, the latest progress on Huarong's bailout has eased investor jitters, with its dollar bonds surging following the news after they had previously sunk amid uncertainty about its future.
The Beijing-based distressed-asset manager Wednesday signed investment framework agreements with five potential strategic investors, including state-owned giant Citic Group Corp., Huarong said in a statement to the Hong Kong Stock Exchange. The other investors are China Insurance Investment Co. Ltd., China Life Asset Management Co. Ltd., China Cinda Asset Management Co. Ltd. and Sino-Ocean Capital Holding Ltd.
Evergrande /
China's financial regulators summon debt-ridden developer Evergrande for a talk
Two top financial regulators directed debt-ridden China Evergrande Group to "maintain stable business operations" and "resolve debt risks" as they summoned the property giant's senior management on Thursday for a talk, according to a statement (link in Chinese) from the People's Bank of China (PBOC).
The PBOC and the China Banking and Insurance Regulatory Commission also ordered Evergrande to disclose significant issues without disseminating inaccurate information and to clarify misinformation in a timely manner.
Wealth taxes /
Chinese academics call for wealth tax to redistribute income
Chinese academics in a province that's pilot-testing measures to reduce income inequality said the government should impose wealth taxes, including on property and inheritance.
In a front-page article published Thursday by the official Economic Daily newspaper, two researchers at Zhejiang University argued that the taxes would help adjust the earnings of high-income groups and narrow the income gap. Li Shi, a professor, and Yang Yixin, a researcher, said the taxes should be imposed at an appropriate time to promote "common prosperity."
Quick hits /
Vietnam and India top annual crypto list as China sinks to 13th
Zhang Wenhong: My dream scenario for fighting Covid
BUSINESS & TECH
A customer inquires about transferring his phone number from one carrier to another at a China Mobile office in Hangzhou, East China's Zhejiang province, in November 2019. Photo: VCG
Information protection /
China's lawmakers plan to make personal data portable across platforms
China's top lawmakers are considering amending personal information protection legislation to allow people to more easily transfer their online information across platforms, a move that could reduce the information monopolies of leading internet businesses.
The revised draft of the Personal Information Protection Law has been submitted to the ongoing session of the Standing Committee of the 13th National People's Congress (NPC), China's top legislature, for a third round of review (link in Chinese), usually the last stage before a law is passed, a statement published on the NPC website said Tuesday.
The latest draft highlights mobile applications' handling of personal data in relation to issues such as excessive collection of personal data, and illegal trading and leakage of such information, the statement said.
Alibaba /
Investors dump more Alibaba shares as bears and bulls grapple
Institutional investors further dumped shares of Alibaba Group Holdings Ltd. in the second quarter as Chinese regulators tightened scrutiny of internet companies.
Institutional investors' holdings of the e-commerce giant's American depositary shares (ADSs), securities representing non-U.S. companies' shares, accounted for 24.3% of its total shares at the end of June, 8.6 percentage points lower than a quarter earlier. The decline almost doubled the drop of 4.6 percentage points at the end of March, public filings show.
Ride-hailing /
Ride-hailing companies should pay their drivers better and limit their hours, transport authority says
China's top transport authority called on ride-hailing businesses to cap the commissions they take from drivers — and disclose them publicly — in the latest move by a government regulator to restrain tech companies' behavior.
Li Huaqiang, deputy director of transport services at the Ministry of Transport, said at a Wednesday press conference that companies should set reasonable rates for driver pay, reveal these rates to the public, use algorithms to manage driver fatigue and limit working hours, and provide drivers with contracts and social insurance coverage.
Baidu /
Baidu rebrands robotaxi app in push to commercialize its driverless technology
Baidu Inc. rebranded its two-year-old driverless taxi service platform in a move it said could inject impetus into its efforts to truly commercialize its self-driving technology amid growing concerns over the safety of autonomous vehicles.
At the annual Baidu World conference Wednesday, the Beijing-based tech giant announced the launch of Luobo Kuaipao, an updated version of its Apollo Go robotaxi service app that allows users to hail autonomous cabs equipped with a safety driver in limited areas of Beijing, Guangzhou, Changsha and Cangzhou.
Quick hits /
Tencent doubles social aid to $15 billion as scrutiny grows
China Mobile plans $8.6 billion Shanghai IPO after being booted from New York bourse
Hot Topics /
Tencent earmarks 50 billion yuan for 'common prosperity,' Beijing says no to shared electric bikes in city, H&M fined
GALLERY
Delta deals a blow to day laborers
Thanks for reading. If you haven't already, click here to subscribe.
Share this article
Open WeChat and scan the QR code