CX Daily: All Signs Point to Economic Recovery in China in Q1
What does March's positive data mean for the economy?
March usually brings heightened economic activity to China, but the strong economic data for the last month exceeded market expectations, raising hopes that the Chinese economy could be turning a corner after months of sluggish growth, ahead of the Wednesday release of first-quarter GDP figures and March activity data.
The coming data release is likely to show a resurgence in March activity, analysts say, though they remain cautious about what the data from March portends for the rest of the year. UBS expects first-quarter growth to dip as low as 6.1% to 6.2% YOY from 6.4% in the previous quarter.
Stronger data this year, others say, were thanks to an earlier Lunar New Year public holiday confining slow business to February, and the effect of cuts to value-added taxes. Furthermore, loosened liquidity conditions have improved the financing environment for small and medium-sized enterprises, and the earlier issuance of local government bonds, which kick-started construction ahead of the usual schedule, was also a major factor.
Check out our full analysis.
FINANCE & ECONOMICS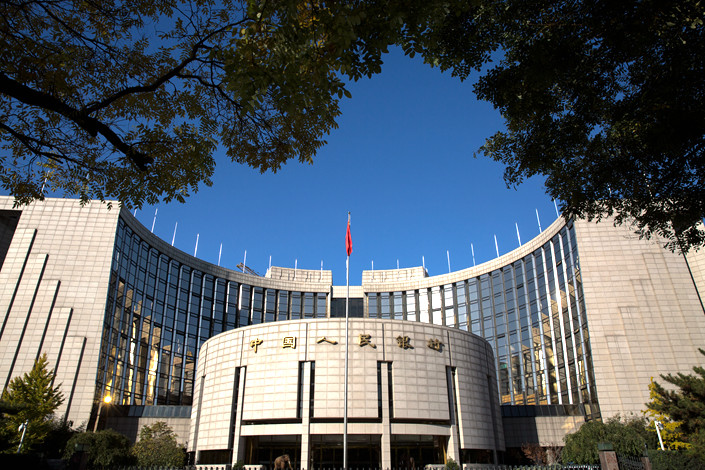 Headquarters of the PBOC in Beijing Jan. 26, 2019. Photo: IC

Liquidity /
Central bank refocuses on keeping money supply under control
China's central bank has emphasized the importance of keeping growth of the money supply under control even as the economy improves, dimming market expectations that the central bank will soon further cut the amount of money banks have to hold in reserve.
Language discussing the money supply was a new addition to the latest report on the quarterly meeting of the PBOC's Monetary Policy Committee. The emphasis means that implementation of monetary policy is going to tighten marginally, one analyst said. The meeting came after China's total social financing, a broad measure of credit and liquidity in the economy, posted a 2.86 trillion yuan ($426 billion) net increase in March, compared with a net increase of 703 billion yuan in February.
Foreign investment /
Credit Suisse plans to pay more than $90 million to take control of joint venture
Swiss investment bank Credit Suisse plans to shell out 628.5 million yuan ($93.7 million) to become controlling shareholder of its Chinese securities joint venture, an exchange filing showed Monday, as China tries to grant foreign investors wider access to its financial markets.
Credit Suisse intends to raise its interest in the Beijing-based Credit Suisse Founder Securities Ltd. from 33.3% to 51% by increasing the firm's capital, according to a filing by the Shanghai-listed Founder Securities Co. Ltd., the other shareholder of the venture. If the deal is sealed, Founder Securities' stake will drop from 66.7% to 49%.
Explainer /
How and why China's local government debt got so big
The root of China's local debt problem can be traced back to an overhaul of the fiscal and taxation systems in 1994 that changed how fiscal revenue and spending responsibilities were split between central and local governments. It strengthened the central government's control over money raised but forced local authorities to assume the lion's share of the cost of public services.
With less money in their pockets, and dependent on the redistribution of fiscal funds from the center, many local authorities struggled to fund their spending, a problem exacerbated by a ban on raising money through bond sales and bank loans. Faced with pressure from infrastructure investment to meet growth targets and pay for health, pension and welfare benefits introduced by former President Hu Jintao, many local authorities turned to a range of new fundraising channels, including LGFVs.
Quick hits /
China needs global competition for services sector, expert says
Editorial: China urgently needs a national pension system
Trade deal enforcement works both ways, Mnuchin says
BUSINESS & TECH
Thousands of Didi ride-hailing cars are parked in Tiexinqiao District in Nanjing, east China's Jiangsu province, Oct. 31, 2018. Photo: IC

IPO /
Uber IPO sheds light on Didi's declining valuation
Global ride-hailing giant Uber Technologies Inc.'s IPO filing in the U.S. and smaller rival Lyft's going public last month have shone a spotlight on the valuation of their Chinese counterpart Didi Chuxing, of which Uber owns a 15.4% stake.
Didi could be worth about $51.6 billion, based on Uber's valuation of its stake in the company at around $8 billion at the end of 2018. That would be down from its $56 billion valuation at the end of 2017, when it announced it would raise $4 billion from investors including Japanese telecom giant SoftBank Group Corp.
More Didi /
Didi proposes changes to Hitch despite no timeline for relaunch
Zhang Rui, the current head of Didi's suspended Hitch service, proposed five measures to improve its safety in wake of two murders of passengers. These include restricting drivers' routes, abandoning the platform's social features, more strictly screening new drivers, allocating safety complaints to specialists and improving emergency management.
A government-led investigation into the ride-hailing app last November uncovered multiple threats to passenger safety, according to a report by the country's Ministry of Transportation in November.
Labor /
Jack Ma and Richard Liu stoke debate flames with support for '996' work culture
Alibaba founder Jack Ma and JD.com founder Richard Liu have both come out in support of '996,' a term used to describe companies requiring employees to work from 9 a.m. to 9 p.m. six days per week. Liu said on his WeChat account that people who "laze away" their days are not his brothers he can fight alongside.
The statements triggered criticism online, as many believe 996 violates domestic labor laws that are supposed to limit daily working hours to eight. He Bin, a public policy expert, told us that a lack of individual labor rights also drives the continuation of 996 culture in China. If job candidates who are against 996 are not considered for roles at certain companies, then that work culture will remain regardless of labor laws.
Real estate /
VP of troubled real estate firm 'missing' after run-in with authorities
Yu Zhisheng, VP of Tahoe group, a luxury property company that has had mounting legal and financial problems in recent months, could not be reached by phone over the past few days, according to Chinese reports. This is uncommon for a high-level executive who was frequently in contact with business partners and colleagues.
Sources told us that his run-in with authorities, around April 5, came just days after Tahoe was suspected of shady stock-related dealings. In January, a Bloomberg poll of analysts rated the company as the Chinese developer most at risk of defaulting on its debt. It was unclear whether Yu was still being held by authorities or was out of touch for other reasons.
Quick hits /
Incident in Shandong pharmaceutical plant kills 10
Struggling oil company's founder declared bankrupt
Mercedes-Benz scandal shines spotlight on suspicious fees
Jia Yueting's Beijing mall again fails to sell
Pet-food maker shakes paws with JD.com amid booming China market
Thanks for reading. If you haven't already, click here to subscribe.

Register to read this article for free.
Register
Share this article
Open WeChat and scan the QR code