CX Daily: China's Top Trade Negotiator Urges Calm in Trade War
Vice Premier Liu He
Trade war /
China's top trade negotiator urges calm in trade war
China is willing to settle the trade war through negotiation and "firmly opposes" U.S. moves to escalate matters, Vice Premier Liu He said Monday morning, urging calm after ructions intensified over the weekend.
"We think an escalation of the trade war is against the interest of China, the U.S. and the entire world," Liu, who is China's top trade negotiator, told a technology conference in Southwest China's Chongqing municipality.
The comments came after President Donald Trump pledged to further increase tariffs on Chinese goods. The existing additional tariffs on $250 billion of annual Chinese products will be increased to 30% from 25% staring Oct. 1, and the planned tariffs on $300 billion of Chinese goods, part of which are scheduled to take effect Sunday, will be increased to 15% from 10%, Trump said on Twitter Friday after the U.S. market closed.
FINANCE & ECONOMICS
Real estate /
Central bank turns its attention to mortgage pricing
China's central bank unveiled new rules for how banks will set mortgage rates, with the aim of also making rates on home loans more responsive to market forces.
Starting Oct. 8, banks will begin setting the interest rates on new mortgages based on the newly revamped national loan prime rates, a new loan-pricing reference for commercial banks that the central bank launched last week. The reference is designed to replace the PBOC's official benchmark rates.
Trade war /
Corporate America sounds alarm after Trump orders businesses out of China
U.S. companies are concerned about President Donald Trump's threats to ban them from doing business in China, and they're poised to halt new investments if the trade war escalates, the leader of a group of top CEOs said.
"[Trump] has a lot of authority through the national security statutes to disrupt trade and commerce in a way that would cause huge damage — not just to the Chinese economy, but to the global economy and the U.S. economy," said Josh Bolten, president of the Business Roundtable and a former chief of staff to President George W. Bush, regarding Trump invoking emergency powers on trade.
Debt /
In depth: China's long debate over personal bankruptcy system
Under Chinese law, individuals who provide personal guarantees for business-related borrowings retain liability even when their companies go bankrupt. While businesses can seek debt relief, individuals cannot. The risk of falling into debt is also rising for individuals because of easier access to consumer credit. Household leverage reached 53.2% of GDP at the end of 2018, up from 44.9% in 2016, official data showed.
While some try to repay their loans, others flee or even commit suicide. Efforts to set up a personal bankruptcy system finally picked up pace this year as local authorities including those in Taizhou and Wenzhou cities in Zhejiang province, as well as Shenzhen are studying personal bankruptcy systems. Check out our progress report on local efforts as well as the national drive.
Fintech /
China issues 3-year fintech development plan
China's central bank published a three-year plan Friday to develop the fintech industry, aiming to accelerate the application of science and technology in the financial sector, coordinate development of technology and finance, and significantly increase the public's satisfaction with digital financial products and services by 2021.
The plan stresses the need to make fintech a "new engine" for financial development, boosting the real economy, the PBOC said. Through the proper application of fintech, consumers should benefit from diversified financial services and products and lower costs, according to the plan.
BUSINESS & TECH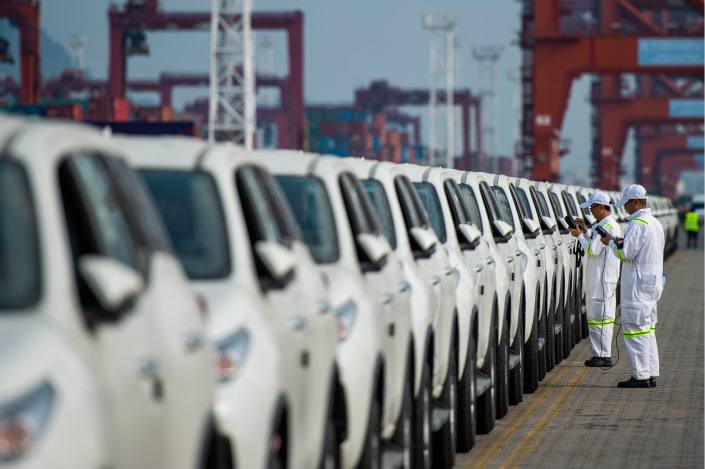 Workers inspect imported cars at a port in Shenzhen, Guangdong province, on April 10. Photo: IC Photo
Auto /
U.S.-made car sales in China to suffer as Beijing reimposes penalty duty
Sales in China of luxury U.S. car brands and some U.S.-made German vehicles, which were already struggling, are expected to be dampened further after Beijing decided to resume the 40% punitive tariff on automobiles imported from the U.S. as part of the country's retaliation against the U.S. escalation of the trade war.
The Chinese government announced late Friday that starting Dec. 15 it will add an extra 25% tax on automobiles and a 5% extra duty on auto parts imported from the U.S. in what is the second time China has resorted to the auto duty in reaction to U.S. tariff threats.
Apps /
Short-video app Douyin to give creators access to more user information
Popular Chinese short-video platform Douyin, known internationally as TikTok, said it will offer content creators more tools to target specific audiences, allowing some 10 million more people to make money on the platform over the next 12 months.
One tool is traffic optimization, which allows content creators to better target users within specific regions or cities. The other, already online, is a content management system, which will allow creators to access more of users' information, Douyin said. The move follows similar announcements from company archrival Kuaishou.
NEVs /
Baidu overtakes Google as world's second player in global smart-speaker market
China's smart-speaker market leader Baidu overtook Google as the second-largest player by shipments in the second quarter of 2019, market analysis firm Canalys said in a report published Monday.
According to the report, Baidu shipped 4.5 million units during the period, while Google shipped 4.3 million. Amazon remained the top player, shipping 6.6 million smart speakers across the globe. Baidu's impressive performance is part of China's robust growth in the sector. During the three months, Chinese players' total shipments of smart speakers were double those of the U.S. —12.6 million units versus 6.1 million units, Canalys said.
NEVs /
Electric battery-maker's profits surge as subsidy cuts loom
Profits of China's largest lithium-ion battery-maker surged 130.8% in the first half of this year on the back of an electric car sales boom in the world's largest auto market.
Contemporary Amperex Technology Co. Ltd. (CATL) made 2.1 billion yuan ($290 million) in the six months to June, up from an adjusted profit of 911 million yuan in the same period a year before, the company said Saturday in its latest financial report. Revenue rose 116.5% to 20.3 billion yuan. But such bumper profits could be short-lived, as the company braces for imminent government subsidy cuts.
Quick hits /
Smart surveillance startup applies for Hong Kong IPO
Meituan jumps on first-ever profit, as CATL sags and Sinopec slumps
Chinese autonomous driving startup Pony.ai runs with Toyota
Ford's would-be EV partner caught up in China auto slump
Alibaba-backed internet-only insurer reports first profit since IPO
Thanks for reading. If you haven't already, click here to subscribe.

Register to read this article for free.
Register
Share this article
Open WeChat and scan the QR code