CX Daily: China Ditches caps on Foreign Institutional Investor Programs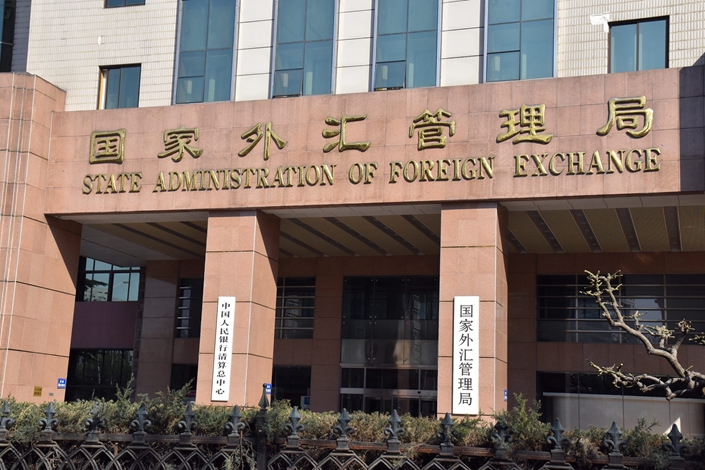 State Administration of Foreign Exchange in Beijing, March 24, 2019. Photo: VCG
Foreign investment /
China ditches caps on Foreign Institutional Investor programs
China decided to remove the caps on how much overseas investors can invest in the country through certain programs in a move to further open up the country's financial markets.
The State Administration of Foreign Exchange (SAFE) said in a statement Tuesday that the State Council, China's cabinet, has approved a policy to remove the quotas for both the Qualified Foreign Institutional Investor (QFII) and RMB Qualified Foreign Institutional Investor (RQFII) programs.
SAFE is filing an application to the State Council to scrap related administrative permission requirements, and the cabinet will formally announce the changes later, according to the statement.
FINANCE & ECONOMICS
Inflation /
Surging pork prices fuel consumer inflation in August
China's consumer inflation remained at a 17-month high in August, fueled by pork prices that surged at the fastest pace in more than eight years, even as factory gate prices continued to fall because of declining raw material prices, official data showed Tuesday.
China's consumer price index (CPI) rose 2.8% YOY in August, the same as the month before, according to data from the National Bureau of Statistics. The average pork price increased 46.7% YOY amid the swine fever fallout. Meanwhile, the producer price index (PPI) posted a 0.8% YOY decline in August to the lowest since August 2016.
Crypto /
China readies for digital currency launch
China's central bank appointed Mu Changchun, a deputy director of its payment and settlement department, as the new head of its digital currency research institute, a move widely interpreted as a sign that the PBOC is approaching the release of its digital currency.
Mu, a veteran of the Chinese central bank, has become the PBOC's point man on digital currencies and has taken on a much higher public profile since June when Facebook Inc. released a white paper outlining plans to create a cryptocurrency it named Libra. The U.S. social media giant's proposal prompted the central bank to accelerate plans for its own digital currency.
Gold /
China added nearly 100 tons of gold to its reserves
China added almost 100 tons of gold to its reserves since it resumed buying in December. The run of accumulation comes amid a rally in prices and the economic drag of the trade war with Washington.
The PBOC raised bullion holdings to 62.45 million ounces in August from 62.26 million a month earlier, according to data on its website at the weekend. In tonnage terms, August's inflow was 5.91 tons, following the addition of about 94 tons in the previous eight months.
Foreign ownership /
Nomura's China securities venture on track to hire 100 staff
Nomura Holdings Inc. is on track to have more than 100 employees in its Chinese securities venture when it starts operations in December, people familiar with the matter said, as China opens up its $42 trillion financial industry to foreign competition.
The new hires are part of Nomura's plans to develop a wealth management and institutional brokerage business on the mainland, according to the sources. The Tokyo-based company received in-principle approval from Chinese regulators for four licenses, covering brokerage, proprietary trading, asset management and research, the people said.
Quick hits /
Li Ka-shing calls for Hong Kong reconciliation
China revises rules on insurers' related-party transactions
Keyu Jin: Trade talks and the art of wait and see
BUSINESS & TECH
Photo: VCG

African swine fever /
'Significant progress' reported on developing vaccine to protect pork supply
Researchers at the Chinese Academy of Agricultural Sciences said Tuesday that a potential vaccine developed by its Harbin-based veterinary science research institute completed lab safety and efficiency tests and now awaits biosafety tests at the Ministry of Agriculture and Rural Affairs with a view to launching clinical trials in the near future.
As of July, African swine fever, which has no reliable cure, had resulted in the culling of more than 1 million pigs in China and roiled the world's largest pork market.
Huawei /
U.S. charges Chinese professor accused of stealing trade secrets for Huawei
The Chinese professor a Silicon Valley startup accused in a civil lawsuit of stealing its trade secrets for Huawei Technologies Co. Ltd. now faces a federal criminal charge as the U.S. escalates its crackdown on the telecom giant.
Bo Mao, a professor at Xiamen University in China and a visiting professor of computer science at the University of Texas at Arlington, is charged with conspiracy to commit wire fraud against a California technology startup to obtain its "property" on behalf of a Chinese telecommunications company.
Huawei /
BYD produces first batch of Huawei handsets after trade war bites into Flex contract
Chinese car- and electronics-maker BYD announced Monday that its handset-component arm has produced the first batch of Huawei smartphones since the telecom giant's initial U.S.-based manufacturer Flex pared down business amid ongoing trade tensions, a local state-run newspaper reported.
The batch was finished just 70 days after BYD and Huawei signed a production contract as part of an agreement to churn out some 80,000 handsets per day by the end of the year and generate revenue of more than 50 billion yuan ($7 billion) within three years, accordin to the report. It did not say how many phones were produced in the initial batch.
5G /
China Unicom, China Telecom link up on 5G construction
China Unicom said Monday that it signed an agreement with rival China Telecom to jointly build and share a 5G network nationwide. The accord followed the government's call for major telecom carriers to collaborate on building, operating and maintaining the next-generation wireless networks to reduce costs.
The partnership between China Unicom and China Telecom will focus on the access network, which connects subscribers to their service provider. The two companies will remain independent on the construction and operation of their backbone networks, the core part of the telecom network architecture, according to the agreement.
Quick hits /
China's auto sales decline extends
Ctrip.com boosts global drive with name change to Trip.com
Baidu buys into tech investment firm to boost AI push
Shanghai unveils assessment regime for bike-sharing behavior
Editorial: Swine fever offers opportunity to reform how China raises hogs
Africa-dominating Chinese handset player registers on Shanghai high-tech board
Thanks for reading. If you haven't already, click here to subscribe.
Share this article
Open WeChat and scan the QR code