CX Daily: 'No Quotas,' U.S. Embassy Tells Chinese Students That Could Wait Indefinitely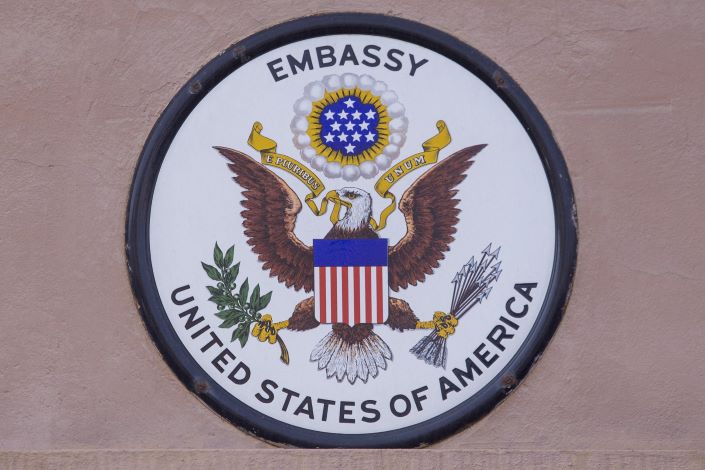 U.S.-China /
'No quotas,' U.S. embassy officials tell Chinese students — but you could wait indefinitely
Chinese students seeking to study science and technology in the U.S. have been told to submit their visa applications at least 120 days before their course starts, as American embassy officials sought to reassure Chinese students they were not subject to visa quotas.
Speaking at an education event in Beijing Sunday, U.S. Embassy staff in China denied that quotas were in place and said there had been no change in policy. But staff reiterated that those applying for study in science and related fields were subject to an "administrative review of indefinite length."
"There are NO limits to the number of Chinese students who receive visas. Every qualified Chinese student visa applicant can receive a visa," read one slide of an official presentation given by two embassy officers at the China Education Expo Sunday. The presentation followed President Donald Trump's pledge to address Chinese students' visa woes during an Oct. 11 meeting with a Chinese trade delegation.
FINANCE & ECONOMICS
Corn is harvested in Walnut, Illinois, U.S., on Oct. 2, 2018. Photo: Bloomberg
Soy /
Chinese buyers return to market for U.S. soy after tariff waivers are granted
Soybean processors in China were granted permission to buy an additional 10 million tons of U.S. supplies without retaliatory duties thanks to a new round of tariff waivers, sources said. This would be a third round of waivers, with about 5 million tons granted previously.
On Tuesday, Chinese buyers were seeking cargoes for late this year and early next, the people said. The bids mark a return to the American market after Chinese buyers recently picked up cargoes in Brazil, where prices have been more attractive to Asian crushers already hurt by slower feed demand due to the spread of African swine fever.
Fintech /
Beijing probes tech companies' data scraping activities
Beijing's financial regulator is conducting a blanket probe of all big data companies to see whether they illegally gather personal information online, a process known as data scraping.
Companies are required to submit a commitment letter promising not to engage in such activities, and those that were found to be conducting such activities are required to report and correct them as soon as possible, according to window guidance issued Tuesday by the Beijing Financial Supervision Administration. The wave of investigations was triggered when some online lenders were found using borrowers' personal information to facilitate debt collection.
P2P /
China's incredible shrinking P2P lending industry
The draconian cleanup campaign of China's scandal-ridden P2P industry has led to a three-year implosion that has put the sector almost back to where it was in 2014.
The number of functioning P2P lending platforms fell to 646 in September, a decline of nine compared with August and the lowest since early 2014 when the industry was booming, data compiled by Wangdaizhijia, an online lending research portal, show. The scale of the drop has been dramatic – at its peak in November 2015, the sector had more than 3,600 platforms.
Markets /
Regulators mull new rules on stock sales following IPO lockups
Chinese regulators are mulling rule changes to better regulate listed companies' major investors in selling their stakes after lockup periods following IPOs to prevent market volatility, we've learned.
A proposed plan for the rule changes has been submitted to authorities for review, sources said. Major shareholders in Chinese companies going public are barred from selling their stakes for at least a year after an IPO to limit market hype and reckless financing practices. But a total of 1.29 trillion yuan ($182 billion) of mainland-listed shares will be freed from IPO lockups over the next three months, our calculation shows.
Quick hits /
Opinion: Trump tariffs will be back regardless of China-U.S. trade deal
Paul Chan: How Hong Kong plans to counter the economic slowdown
BUSINESS & TECH
Ferretti yachts are on public display in Venice, Italy. Photo: Bloomberg
Selling spree /
China is struggling to offload foreign acquisitions, from yachts to pizza
In just a few weeks, companies from yacht makers to luxury clothing and pizza outlets — acquired by Chinese businesses in recent years — have either scrapped planned IPOs or sought alternatives to reduce their debt piles.
Ferretti SpA, the Italian superyacht-maker controlled by China's SHIG-Weichai Group, shelved its planned Milan listing last week, citing weak market conditions. Shandong Ruyi Technology Group Co. Ltd., which spent more than $4 billion on purchases including U.K. trench-coat maker Aquascutum, introduced a local state-owned enterprise as its second-largest shareholder amid rising pressure to repay debt. Geopolitical factors are hurting sentiment in dealmaking on uncertain outlook, observers say.
Huawei ban /
Huawei lobbying outlays hit record with hire of trump fundraiser
Huawei Technologies Co.'s lobbying spending spiked in Q3 as the Chinese telecom giant hired a fundraiser for President Donald Trump with deep ties to Republican leadership to help it fight back against the administration's blacklisting of the company from the U.S. market.
Huawei spent a company record of $1.8 million on federal lobbying in the three months ended in September, up from $30,000 in the same period last year, when it had largely shut down its lobbying presence in Washington and whittled its office down to a skeleton staff. Of the total, Huawei laid out an eye-popping $1.7 million to pay lobbyist Michael Esposito, according to federal disclosures.
Telecom /
China's MIIT calls for exit of 2G, 3G to make room for 5G
The conditions for the exit of 2G and 3G networks have become mature, with 4G networks covering 98% of China's rural area, said Wen Ku, director of the telecom department of China's Ministry of Industry and Information Technology.
The MIIT encourages carriers to guide users to switch networks, freeing limited frequency resources for the development of 5G and 4G mobile networks, Wen said. Without a complete exit, 2G and 3G networks will not only occupy towers, land and power but also require more complex hardware in base stations and phones, which will be costly to maintain, Wen said.
Biotech /
China drugmaker blasts controversial campaign to slash pharma prices
China's aggressive campaign to bring down drug prices is leading to a "vicious cycle" and will prevent the emergence of a national pharmaceutical champion, said one of the country's biggest drugmakers.
In some of the strongest criticism yet over a new policy that is likely to save China tens of billions of dollars, but has roiled health-care stocks and led to widespread company profit warnings, Stephen Tse, vice president of Sino Biopharmaceutical, said the program will undermine local companies' ability to invest and grow. "If prices are kept low, you won't see the rise of any big pharmas on the horizon," Tse said.
Quick hits /
JD Logistics partners with third-party platform in search of more retail orders
As subsidies subside, so does investor interest in electric-car startups
Fosun dives deeper into health sector with international investment alliance
Former China internet star battles cashflow problems
Veteran power industry official latest to fall in anti-graft campaign
GNC's Chinese backer to consider buyout of vitamin retailer
Bankrupt former LeEco chief to auction lavish Beijing office at 30% discount
Bank of China blocks fingerprint access via Samsung devices
Thanks for reading. If you haven't already, click here to subscribe.
Share this article
Open WeChat and scan the QR code