CX Daily: North China Bathed in Orange as Vast Sandstorm Descends
Social media /
Cover Story: The clash of China's social media titans
China's internet giant Tencent Holdings and rising challenger ByteDance Ltd. are fighting an all-out war with escalating turf battles and legal tussles even as the country's regulators toughen scrutiny of big tech's market power.
The pair are clashing across multiple business arenas as they fight for control of traffic, the backbone of internet companies' growth. Tencent, the gaming and social media behemoth, has amassed more than 1 billion users on its popular messaging app WeChat, which connects with a wide range of services offered by Tencent and partners. But ByteDance is catching up as its short-video platform Douyin, the domestic version of TikTok, has attracted more than 600 million daily active users.
The latest faceoff took place in early February when ByteDance sued Tencent in a Beijing court alleging that Tencent violated antitrust laws by blocking access to content from Douyin on WeChat and its QQ instant messaging app. ByteDance sought a modest 90 million yuan ($14 million) in compensation.
Sandstorm /
North China bathed in orange as vast sandstorm descends
People across northern China awoke to fierce winds and orange-tinted skies Monday as some of the most severe and widespread dust storms for years disrupted transport and sent air pollution soaring.
Weather officials in a string of cities including the capital, Beijing, warned of reduced visibility through Tuesday morning as air quality monitors surged to their maximum possible readings.
The haze was caused by cold air and high winds in China's arid west and other areas kicking up dust and blowing it across the country, the National Meteorological Center (NMC) said.
FINANCE & ECONOMY
Currency /
China tests greater flexibility for multinationals' currency conversion
Under a trial launched by Chinese financial regulators, certain multinational corporations including oil giant Royal Dutch Shell PLC will be allowed to convert their yuan funds into other currencies more freely.
The pilot program marks part of China's efforts to push for the internationalization of the yuan.
The first part of the trial, which will take place in Beijing and the southern tech hub of Shenzhen, will involve major multinational businesses with relatively high credit ratings and aims to facilitate their cross-border use of funds, according to a joint statement (link in Chinese) published by the People's Bank of China (PBOC) and the State Administration of Foreign Exchange (SAFE) Friday.
Economy /
China's economic indicators surge on low baseline
China's economic recovery continued in the first two months of 2021, official data showed Monday, with the figures given an extra boost off a low comparison base due to the anti-pandemic measures imposed last year that ground large parts of the economy to a halt.
On the supply side, value-added industrial output — which measures production by factories, mines and utilities — grew 35.1% year-on-year (link in Chinese) in the first two months, beating the median forecast for 31.2% growth in a Caixin survey (link in Chinese) of economists. Comparing the figure with the pre-pandemic level, output grew 16.9% relative to the same period in 2019, according to data from the National Bureau of Statistics (NBS).、
Industrial production was given added impetus by policies that encouraged people not to travel for the traditional Lunar New Year homecoming to prevent the spread of the coronavirus, NBS spokesperson Liu Aihua said at a Monday briefing (link in Chinese). It meant that people took less time off work than usual, and fewer working days were lost than in previous years, she said.
Trusts /
Sichuan Trust fined $5.4 million over shadow banking scandal, 12 other violations
Troubled Sichuan Trust Co. Ltd. was fined 34.9 million yuan ($5.4 million) — one of the biggest fines ever levied against a Chinese trust company — for conducting quasi-shadow banking businesses and issuing illicit loans, a provincial banking regulator said.
China has put the once free-wheeling $3 trillion (link in Chinese) trust industry under closer oversight as regulators have grown concerned at financial risks in the sector, which plays an important role in financing by providing loans to high-risk companies and those who have difficulty getting credit from traditional banks.
Covid-19 /
China eases visa rules for foreigners who get Chinese vaccines
China will ease visa application requirements for foreigners seeking to enter the Chinese mainland from Japan and Hong Kong if they have been inoculated with Covid-19 vaccines made in China, Chinese authorities said.
The new rule will take effect Monday to help resume "people-to-people exchanges between China and other countries in an orderly manner," according to statements released by the Chinese Embassy in Japan Monday and the Commissioner's Office of Chinese foreign ministry in the special administrative region Friday.
Quick hits /
Ant Group CEO Simon Hu steps down to focus on charity
Editorial: Planning retirement reform should involve everyone
Scandal-plagued Kangde Xin is about to get booted from the Shenzhen bourse
BUSINESS & TECH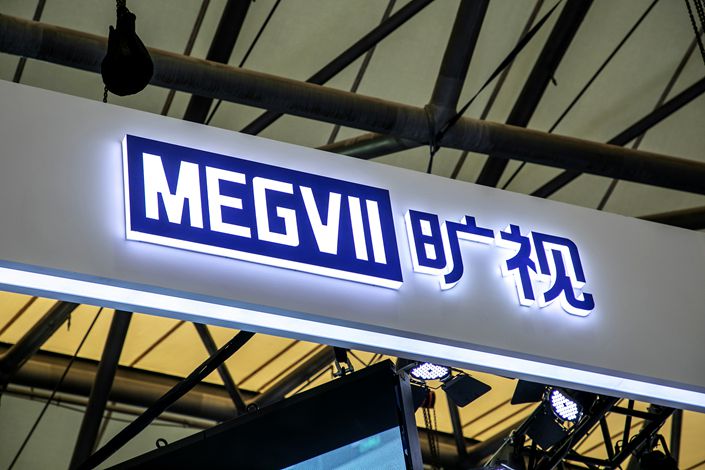 China is accelerating efforts to back homegrown high-tech companies to rival counterparts from the U.S. and achieve independence from the U.S.-backed international clampdown on Chinese companies. Photo: VCG
IPO /
Megvii says STAR Market listing on track as IPO review begins
The Shanghai Stock Exchange said it is reviewing a filing by facial recognition specialist Megvii Technology for an initial public offering on its Nasdaq-style STAR Market, making it the latest member of the domestic "AI-quartet" on track to list shares in the mainland market.
Megvii is among a group of Chinese artificial intelligence startups — including Yitu Internet Technology Co. Ltd., SenseTime Group Ltd. and Guangzhou CloudWalk Information Technology Co. Ltd. — that produce facial recognition technology with strong backing from the Chinese government. The quartet enjoys favorable regulatory policies and the prospect of more welcoming domestic investors to bankroll its highly prioritized technologies.
Alibaba-backed Megvii plans to list some 253.4 million Class B shares as the underlying stock for its Chinese depositary receipt offering and to raise around 6.018 billion yuan ($924.4 million) in the proposed listing, according to a prospectus filed Friday.
Blacklist /
Huawei, Hikvision land on new blacklist from U.S. telecom regulator
Embattled networking equipment giant Huawei Technologies Co. Ltd. and surveillance-equipment maker Hikvision Digital Technology were among five Chinese companies named to a new blacklist published by the U.S. telecom regulator.
The Federal Communications Commission (FCC) said the five were "deemed a threat to national security," making it the latest regulator to maintain such a list. Other agencies with similar lists include the Department of Commerce and the Department of Defense. Each list carries different implications, though all are designed to steer investors, suppliers and customers away from the companies — sometimes forcibly.
The three other companies on the FCC's list, published Friday, were telecom equipment maker ZTE Corp. and surveillance-equipment makers Hytera Communications Corp. Ltd. and Dahua Technology.
Myanmar /
Chinese Embassy calls for end to violence in Myanmar after attack on factories
The Chinese Embassy to Myanmar urged the Southeast Asian country's government to take effective measures to stop violence and punish attackers after dozens of Chinese-invested factories were vandalized at an industrial zone in the city of Yangon.
The embassy confirmed that as of Monday, 32 Chinese-invested companies were attacked, causing damage worth about 240 million yuan and leaving two Chinese employees injured, according to state media reports in China.
Most of the targeted companies are textile and clothing factories located in the Shwe Lin Ban Industrial Zone in the northwest of Yangon, the country's largest city and its former capital.
Retailer /
Billionaire Zhang Jindong remains Suning.com's top shareholder
Zhang Jindong, the billionaire founder of Electronics retailer Suning.com Co. Ltd., remains the company's largest shareholder through an alliance after a state-led bailout, the struggling retailer said Friday.
In the bailout, Zhang and three of the other largest shareholders sold a combined 23% of the company's shares to two state-owned investment entities in Shenzhen for 14.8 billion yuan ($2.3 billion), according to a filing with the Shenzhen Stock Exchange.
After the sale, Zhang's stake in the company decreased to 16.38% from 24.94%. But he formed an entities-acting-in-concert alliance with Suning.com parent company Suning Appliance Group Co. Ltd., according to a letter to the Shenzhen Stock Exchange sent Friday night. Suning Appliance's stake decreased to 5.45% from 16.8%, but the alliance gives Zhang control of 21.83% of the voting power.
Quick hits /
Didi driver detained over passenger's death
Tencent and Baidu fined by antitrust regulator for previous deals
Tesla adjusts production processes to meet China capacity growth
Thanks for reading. If you haven't already, click here to subscribe.
Share this article
Open WeChat and scan the QR code

China Stories: What Li Yining Taught China About Economic Reform