CX Daily: China's Economic Growth Slides to Nearly 30-Year Low
A worker installs rubber seals on vehicle doors at a truck production line at JAC Motors in Hefei, Anhui province, July 5, 2019. Photo:VCG
GDP /
China's GDP growth slows to weakest in almost three decades
China's economy grew by 6% YOY in the third quarter, hitting the bottom of the government's 2019 target range and the weakest pace in almost three decades, reflecting sluggish domestic and global demand exacerbated by the ongoing trade war with the U.S.
For the first nine months, GDP rose 6.2% YOY, within this year's target range of 6% to 6.5% announced by Premier Li Keqiang in March.
An official at the National Bureau of Statistics, however, gave an upbeat assessment of the outlook for the rest of the year, citing positive signs in September.
Even so, many analysts expect GDP growth to ease further in the fourth quarter, given the headwinds facing the economy including slowing global expansion, persistent U.S.-China trade tensions, a sluggish property market amid continued government controls, and the challenges of boosting investment.
FINANCE & ECONOMICS
The China Banking and Insurance Regulatory Commission issued new rules for structured deposit products. Photo: VCG
Regulation /
Popular high-yield deposits under scrutiny in risk clampdown
China's top financial regulator issued a set of new rules to regulate commercial banks' $1.5 trillion business of structured deposits, demanding better disclosure and risk control, in a bid to rein in the fast expanding sector.
Structured deposits, often known overseas as yield-enhancement products, are deposit products that are embedded with derivatives contracts linked to currencies, commodities or stock prices. They offer a mixed return in line with regular bank deposits along with yields linked to the derivatives.
The products have gained popularity in China since 2018 as regulators tightened control on banks' sales of wealth management products, forcing banks, especially smaller lenders, to seek alternative sources of funding. As of the end of September, Chinese banks had 10.9 trillion yuan ($1.5 trillion) of structured deposits outstanding, compared with 9.62 trillion yuan at the end of 2018.
Investment /
Hong Kong hedge funds record biggest quarterly outflow since 2009
Hong Kong's hedge fund industry had its biggest quarterly outflow since the global recession a decade ago, a shift that may deepen concern about investor sentiment in the protest-wracked financial hub.
Net redemptions totaled about $1 billion in the three months ended September, the most since the second quarter of 2009, according to data compiled by Eurekahedge Pte. Analysts from the research firm said that while anti-government protests in Hong Kong have unnerved markets, the outflow was in keeping with redemptions from hedge funds globally after poor returns from a number of managers in 2018.
Stock Connect /
China allows access to dual-class stocks listed in Hong Kong
China will allow onshore investors to buy dual-class shares traded in Hong Kong for the first time, giving them access to some of the world's hottest startups such as Xiaomi Corp. and Meituan Dianping.
The country's stock exchanges revised rules Friday to bring stocks with different classes of voting rights into the trading links between the mainland and the former British colony. The rules will be effective Oct. 28, according to announcements on the social media accounts of the Shanghai and Shenzhen stock exchanges.
Mainland exchange regulators in July 2018 decided that such stocks would be temporarily excluded from the Stock Connect programs, citing mainland investors' lack of understanding of such assets and related risks.
Banking /
Are banks making high provisions for tax avoidance? Or for rainy days?
The Ministry of Finance recently implied that banks should not hide their profits by manipulating provision coverage ratios. The implication that banks maintain high provision coverage ratios to avoid or evade taxed has caused much controversy.
Among all a bank's financial indicators, profit is probably the most easily manipulated. There is a seesaw relation between bank profits, risk provisions and the recognition of nonperforming loans (NPLs). It is difficult to completely control banks' NPL recognition with rules and regulations, as it involves subjective judgments which test risk control capabilities. In addition, it's totally up to lenders how big a portion of assets are classed as "off-balance-sheet," and those assets can beef up profits without increasing risk provisions.
So, do commercial lenders make relatively high risk provisions from profits to avoid tax, or to prepare for rainy days? Please check out our analysis.
Quick hits /
Northern China Sets Modest Winter Pollution Reduction Target
U.S. Meat Producer Bans Pig-Fattening Drug in Bid to Target China Demand
Beijing Points System Mints 6,007 New Residents
BUSINESS & TECH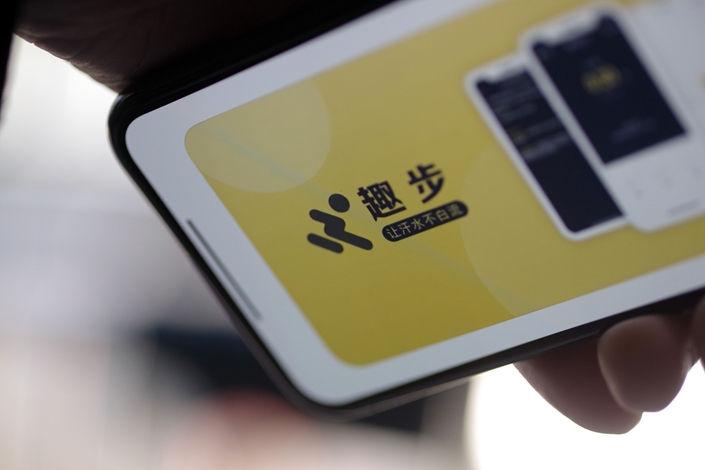 The Changsha government has received more than a dozen letters asking about the legitimacy of Qubu. Photo: IC Photo
Scam /
Popular walking app Qubu faces financial fraud probe
It seems almost too good to be true: a mobile app that tracks how many steps you take each day and provides cash rewards depending on how far you walk.
And so it may well turn out, as Chinese authorities are investigating whether blockchain-based fitness app Qubu is a scam.
The app rewards users who walk more than 3,000 steps a day with "candy coins," a type of digital currency that can be exchanged for real cash through virtual-coin trading platform Global Health Blockchain Club.
Public security officials in Central China's Hunan province are investigating alleged illegal fundraising and financial fraud at the company behind the program, amid claims that it operates a Ponzi-like business model.
Private equity /
Chinese bidders read up on Australia's Modern Star
It's a private equity-heavy field in the auction for Navis Capital's educational resources company Modern Star.
It is understood Navis Capital and its bankers Luminis Partners and Morgan Stanley ushered a bunch of private equity funds into the second round data room this week and told them to have binding bids ready by early December.
Sources said the private equity players to express interest in the business included global firm Bain Capital, along with China's Fosun, Citic, CDH Investments and Hony Capital, which owns Better Education Group.
NBA turmoil/
NBA's China crisis has already caused 'substantial' losses, commissioner says
The National Basketball Association's crisis in China, triggered by the Houston Rockets general manager tweeting support for Hong Kong protesters, has already cost the league "substantial" losses.
"The financial consequences may go on and be fairly dramatic," Commissioner Adam Silver said Thursday at the Time 100 Health Summit in New York. But the league is willing to take on the costs to support free expression, he said.
The NBA was plunged into turmoil earlier this month after the Rockets' Daryl Morey posted the tweet in support of pro-democracy demonstrators in Hong Kong. He soon deleted the message, but China took umbrage and the NBA's sponsors in the country cut ties with the league.
Office sharing /
WeWork putting the brakes on China push: Report
Office-share company WeWork postponed plans to expand in China, the Nikkei Asian Review reported Wednesday citing people familiar with the matter.
The news comes after the enterprise delayed its IPO and announced that founding CEO Adam Neumann would leave the company in an executive capacity.
In China, a nationwide economic slowdown and competition from cheaper local competitors have threatened to dampen demand for the U.S. company's office spaces. Although the company will continue to open new locations in 2019 and 2020, expansion plans for 2021 have been put on ice, Nikkei reported
Disney tie-up /
Tencent-backed e-book platform partners with Disney for 'Star Wars' project
Tencent-backed e-book platform China Literature will collaborate with The Walt Disney Co. to produce online Chinese-language versions of dozens of "Star Wars" novels, China Literature announced in a statement Wednesday.
The move marks the first time Disney has granted its electronic copyrights on the Chinese mainland.
Under the tie-up, China Literature will translate 40 existing "Star Wars" novels into Chinese. The platform will also publish one all-new novel "with Chinese characteristics" written by a Chinese author, according to the statement.
Quick hits /
iQiyi Looks to AI to Force-Feed Ads to Viewers
'No New Progress' on Zotye Joint-Venture With Ford
Qutoutiao's Online Literature Unit Gets $100 Million Windfall
Thanks for reading. If you haven't already, click here to subscribe.
Share this article
Open WeChat and scan the QR code