CX Daily: China Inches Towards Tech Independence with Foreign Patent Acquisitions
Photo: VCG
Manufacturing /
Chipmaker secures patent deals as China seeks to break foreign tech dependence
A three-year-old state-backed memory-chip maker signed two deals with a Canadian patent-licensing company that will give China access to the technology it needs to produce the widely used chips domestically.
ChangXin Memory Technologies Inc. (CXMT) signed two agreements with a subsidiary of Quarterhill Inc. related to DRAM technologies developed by chip designer Infineon Technologies AG, according to a joint statement released Thursday.
One deal is a licensing agreement that will give ChangXin Memory access to some of the technologies, while the second will give it outright ownership of other IP. The statement did not disclose details such as the exact number of patents or the financial terms of the deals.
FINANCE & ECONOMICS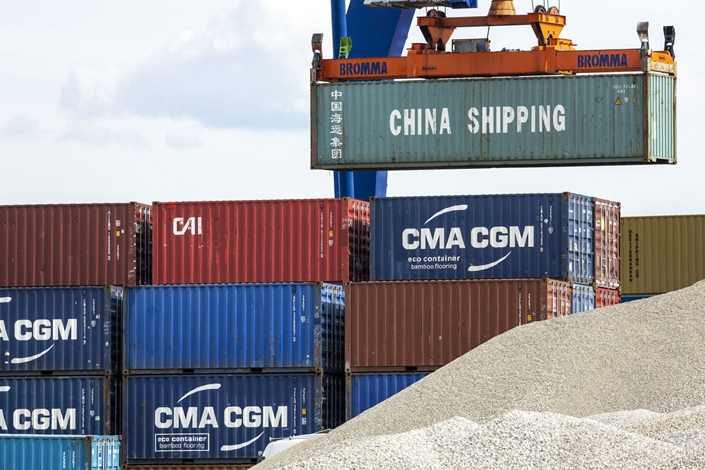 Photo: VCG
Trade war /
U.S. trade with China declines again as tariff talks drag on
U.S. trade with China extended its slide in October as goods imports from the nation fell to a fresh three-year low amid prolonged talks on a trade deal between the two largest economies.
Merchandise imports from China declined 4.8% from September to $35.3 billion while exports tumbled 17% to $7.49 billion, the lowest in almost a year, Commerce Department data showed Thursday. The gap narrowed to a seasonally adjusted $27.8 billion, a seven-month low. The overall U.S. deficit in goods and services trade narrowed to $47.2 billion in October, less than the median estimate of $48.5 billion by economists in a Bloomberg survey.
Properties /
Chinese investment in U.S. commercial real estate is plunging
Chinese investors put $1.4 billion into U.S. commercial real estate in the 12 months through September, a 76% plunge from a year earlier, according to a report from Real Capital Analytics. Investment from Hong Kong was also down.
"Chinese investors have become net sellers as authorities in China have restricted speculative outbound investment," Jim Costello, senior vice president at Real Capital Analytics, wrote in the report. That's after six consecutive years of gains in cross-border acquisitions.
Banking /
Postal Savings Bank opens wealth management unit
Postal Savings Bank of China inaugurated a new arm to manage wealth management products, the last of China's top six state-owned lenders to set up a designated wealth management unit under a national regulatory structure.
PSBC Wealth Management Co., a wholly owned subsidiary of the Postal Savings Bank, opened for business Thursday in Beijing. The company also unveiled the first batch of products to tap the country's 22 trillion yuan ($3.1 trillion) bank wealth management market.
Coming up /
Sun, Dec. 8: The GACC will report import and export data for November.
The PBOC will release November data on M2, M1, M0 growth, new yuan-denominated loans and newly added social financing
Tues, Dec. 10: The NBS will release November's CPI and PPI.
Quick hits /
Opinion: Time for a global rethink on taxation
BUSINESS & TECH
Photo: VCG
Genetics /
Chinese-backed DNA testing company suspends U.S. business, lays off staff
Veritas Genetics, the DNA testing company known for bringing down the price of whole-genome sequencing, is suspending its U.S. operations after a financing crunch tied in part to concern over its Chinese backers.
The Danvers, Massachusetts-based company has cut all of its U.S. staff, which totaled about 50 people, said Chief Executive Officer Mirza Cifric. Operations in China, Latin America and Europe will continue. Cifric called the outcome "unexpected and abrupt."
Bailout /
HNA-backed Hong Kong Airlines gets last-minute lifeline, sources say
Some 4 billion yuan ($569.19 million) in syndicated loans announced this week will be prioritized for resolving the financial difficulties of the 13-year-old HNA-backed Hong Kong Airlines Ltd., whose money problems have been so severe that it is at risk of losing its aviation license, HNA creditors familiar with the matter told us.
On Tuesday, Hainan Airlines Holdings Co. Ltd. announced that its parent HNA Group Co. Ltd., which is a major HKA stakeholder, will receive loans from a consortium of eight major policy and commercial banks on the Chinese mainland. However, the company did not specify which subsidiary it planned to spend the money on, only saying in a statement that the latest loans will be used to pay operating expenses such as jet fuel, aviation materials, take-off and landing fees, staff salaries and aircraft rental fees for HNA Airlines and its affiliated airlines.
  HNA Halts Trading of $185 Million Bond Amid Liquidity Concerns
Electric cars /
Nio's growth stagnates as foreign adversaries expand in China
Embattled Chinese electric vehicle maker Nio Inc. reported a slight uptick in deliveries in November from October as the company struggles with a cash crunch, a cooling electric car market and a crop of foreign entrants.
Nio delivered 2,528 cars in November, consisting of 2,067 ES6s and 461 ES8s, the company said Thursday. The total represents the fourth consecutive month that sales have risen, but November deliveries were only two cars higher than in October, marking a dramatic deceleration from previous months. In October, Nio's sales grew 25% month-on-month.
Earnings /
China's software sector profits up nearly 12% in first 10 months
From January through October, the country's software industry expanded its revenue by 15.2% year-on-year to 5.79 trillion yuan ($822 billion), while profit was up 11.9% to 734.2 billion yuan, according to statistics published Wednesday on the WeChat public account of the Ministry of Industry and Information Technology.
Revenue generated from software products, information technology services, information security products and embedded system software increased by 13.6%, 17.7%, 10.3%, and 7.7% respectively from a year ago, the ministry said.
Quick hits /
Sweetome Acquires 2 Units as Homestay Sector Defies Sharing-Economy Gloom
China's AutoX applies for license to test fully self-driving cars in California
Solar power fades with end of state support, but seen stabilizing in 2020
Bali cracks down on dirt cheap package tours from China
China Merchants seeks majority stake in Turkish bridge
Some Chinese semiconductor unicorns are overvalued, investor says
Kuaishou reports strong esports user data thanks to League of Legends
China tops global education test amid persistent criticism of cherry-picking
SAIC taps India electric car market with MG model
Xiaomi targets Indian borrowers with new online lending service
Thanks for reading. If you haven't already, click here to subscribe.
Share this article
Open WeChat and scan the QR code