China Lays Out Economic Policy Roadmap for 2020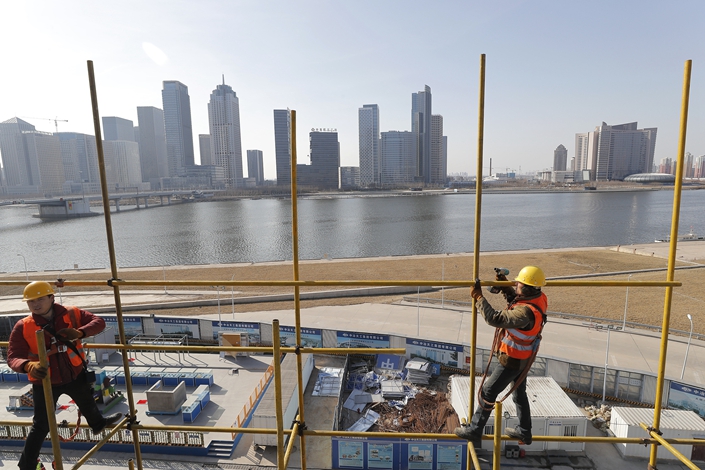 Top central and local government officials gather every December for the three-day Central Economic Work Conference (CEWC), which sets out the country's economic policy direction and strategy for the following year. Photo: VCG
China's top policymakers pledged more-effective measures to ensure stable growth next year as the world's second-largest economy faces increasing downward pressure amid a continued slowdown and a prolonged trade war with the U.S.
Their decisions, made public in a statement by the official Xinhua news agency after a three-day closed-door meeting to discuss strategy for 2020, signal it's unlikely there will be big changes in the government's policy stance next year, economists said. Many expect a continuation of moderate monetary and fiscal easing to ensure that economic growth stays in what the statement called a "reasonable range." Although the focus on deleveraging appears to have been downgraded, reiteration of the leadership's commitment to prevent financial risks suggests there will be no major stimulus, some analysts noted.
Economists at UBS AG, Nomura, BofA Global Research and Macquarie Capital Ltd. expect the government will lower the annual target for gross domestic product (GDP) growth in 2020 to reflect the tougher climate and lack of major stimulus. All four estimate the goal will be lowered to "around 6%" from the 2019 target of 6%-6.5% announced in March. The pace of China's GDP growth slowed to 6.2% in the first nine months of 2019 and is forecast to slip to 6.1% for the full year, down from 6.6% in 2018. Many economists expect a further slide to 5.7% for 2020.
"The policy statement released signalled a slight shift towards policy easing to ensure stability next year, without hinting (at) any coordinated stimulus plan or major overhaul in policy stance," BofA economists led by Helen Qiao wrote in a research note. "Overall speaking, the tone of the … statement is steady and balanced. It set growth stability as an important task."
Top central and local government officials gather every December for the three-day Central Economic Work Conference (CEWC), which sets out the country's economic policy direction and strategy for the following year. Details of the policies and numerical targets for indicators such as GDP are often not made public until the annual meeting of the National People's Congress in March, but the read-out from the meeting gives a good indication of what the leadership is planning to do.
Targeted support
"In recent years, measures around social and economic stability have increasingly underpinned the main policy objective coming out of China's Economic Work Conference, with more emphasis on these measures this year than before," Marie Diron, managing director of the sovereign risk group at Moody's Investors Service, wrote in an email. "As such, we expect China's 2020 policy stance to resemble that of 2019, with a significant focus on fiscal policy to prevent a sharper economic slowdown. Meanwhile, monetary policy will continue to underpin efforts to mitigate financial risks and offer targeted support to specific sectors."
But she cautioned that "the effectiveness of fiscal stimulus in supporting growth will be hindered by the rising risk aversion of banks, companies and households, in light of heightened uncertainty around the pace and composition of China's economic growth."
In the CEWC statement, policymakers pledged to continue to fine-tune a "proactive" fiscal policy and "prudent" monetary policy, although unlike last year, the meeting didn't specify further cuts to taxes but emphasized the need to improve the quality and effectiveness of fiscal policies. Many analysts took that as a signal that the government won't announce more tax cuts next year after unleashing 1.3 trillion yuan ($143 billion) of reductions in 2018 and 2 trillion yuan in 2019.
Read more
In Depth: Why Easing Monetary Policy Is Not Enough
UBS economists said they expect fiscal expansion in 2020 to be smaller than in 2019 but more focused on spending and infrastructure than tax cuts. "We think headline general government budget deficit may stay unchanged at 2.8% of GDP, or at best edging up to 3% of GDP," they wrote.
On monetary policy, the CEWC statement continued to describe it as "prudent" but used the words "flexible and appropriate" compared with last year's "appropriately loose or tight." The change suggests policy makers may take a more dovish tone, according to economists at Goldman Sachs, who added that overall, comments about monetary policy "indicate a mild loosening bias but a reluctance to loosen aggressively, which has been the revealed preference in recent months."
The meeting pledged to ensure reasonably ample liquidity, maintain money, credit and aggregate financing growth in line with economic growth, and lower funding costs for private and small businesses. Wang Tao, chief China economist at UBS, expects more cuts in banks' reserve requirement ratio totaling 100 basis points next year and a further decline of 10 to 15 basis points in the Loan Prime Rate, the new benchmark interest rate.
Amid growing expectations that the government will loosen controls on the residential property market, traditionally a key growth driver, to stimulate the economy, the CEWC reiterated President Xi Jinping's mantra that "houses are for living in, not for speculation," and reiterated calls for long-term mechanisms to be implemented to stabilize land and housing prices. At the same time, recognizing that housing markets across the country differ greatly, the statement also highlighted that individual cities will be given more discretion to implement controls on home purchases and prices based on local conditions.
Stable property prices
"As housing prices and household debt both doubled over the past four years, it will be crazy for policymakers to significantly ease property curbs at this stage," economists Larry Hu and Irene Wu at Macquarie wrote in a research note, although they said President Xi's economic advisers view property as "the biggest downside risk for next year."
Goldman Sachs also highlighted the risk of falling property prices in 2020, pointing out that the goal of "keeping property prices stable" could be interpreted as aiming to prevent prices from changing too dramatically in either direction.
"Although we believe a full-scale easing and stimulus in the property sector is unlikely, economic factors are likely compelling Beijing to adjust its overly hawkish stance on the property sector," Nomura's economists said.
Han Wei contributed to this report.
Contact reporter Timmy Shen (hongmingshen@caixin.com, Twitter: @timmyhmshen)
Caixin Global has officially launched Caixin CEIC Mobile, a mobile-only version of a world-class platform for macroeconomic and microeconomic data.
From now on, all users can enjoy a one-month free trial on the Caixin App through December 2019. If you're using our App, click here. If you haven't downloaded the App, click here.
You've accessed an article available only to subscribers
VIEW OPTIONS
Share this article
Open WeChat and scan the QR code

Caixin-Sinica Business Brief: Venture Capital Giant Sequoia to Carve Out China Business Over Geopolitical Concerns