CX Daily: China Asks Inexperienced Companies to Stay Out of Chipmaking
Semiconductors /
Beijing to inexperienced companies: Stay out of chipmaking
They've got no experience, no technology and no talent. But that hasn't stopped a disparate range of businesses from charging into the race to be China's next chipmaking champion, earning a rebuke from the nation's top economic planner.
China is seeking to stop unqualified companies from entering the semiconductor industry as the collapse of a number of high-profile chipmakers illustrates how difficult it will be for the nation to build strong domestic manufacturers in the face of U.S.-China trade tensions putting its supply at risk.
Many companies have "blindly taken on projects" despite having no experience, technology or workers skilled in integrated circuit development, Meng Wei, a spokesperson for the National Development and Reform Commission (NDRC) said Monday during a press briefing.
FINANCE & ECONOMICS
Vanguard, which made its name by offering investors index funds that charge very low management fees, can make bigger profits by serving hundreds of millions of retail investors than by serving a limited number of institutional clients.
Asset management /
Chasing individual investors, Vanguard ditches Chinese state clients
U.S. asset management giant Vanguard Group Inc. recently returned $21.6 billion in managed assets to government and government-backed clients in China, knowledgeable sources told Caixin, as it continues its expansion on the Chinese mainland under its global strategy of focusing on individual investors.
Returning the $21.6 billion in assets shows how the company is shifting its global focus to providing services for retail clients and away from the more demanding and less lucrative business of managing funds for institutional investors.
The three clients — the State Administration of Foreign Exchange, the National Council for Social Security Fund, and the country's sovereign wealth fund, China Investment Corp. — were among the first Chinese institutions to outsource the management of some of their investment funds. A spokesperson for Vanguard in China declined to comment.
Yuan /
Not even China can stop yuan's rally
Currency traders are testing China's tolerance for a strong yuan, which keeps rallying no matter what officials do to rein in appreciation.
The currency climbed about 0.4% Wednesday to its strongest since July 2018, even after the People's Bank of China set its daily reference rate weaker than analysts expected. Traders have pushed the currency stronger than the so-called fixing for six days, a sign of confidence that the yuan will continue to rally.
The offshore yuan, whose moves aren't limited by the fixing, suggests traders based beyond mainland China are even more bullish. The rate has been stronger than its onshore counterpart for the longest stretch in more than a year. Deutsche Bank AG strategists were the latest to join a growing chorus of market watchers predicting the yuan will gain if the Democrats win the U.S. elections.
Fiscal /
China's fiscal revenue started growing again in third quarter
China's fiscal revenue returned to year-on-year growth in the July-to-September period at 4.7% after shrinking for two consecutive quarters, data from the Ministry of Finance showed (link in Chinese) Wednesday.
Fiscal revenue rose year-on-year for four months from June to September as the economy steadily recovered, according to an official with the ministry. Tax revenue shrank 6.4% year-on-year in the third quarter, milder than the 11.3% drop in the first half-year.
Auto financing /
Chinese car dealership tycoon ordered to divest auto finance unit
Shanghai Dongzheng Automotive Finance Co. Ltd. was suspended from the dealer loan business, and its controlling shareholder was asked by regulators to exit the company within three months.
In imposing the rare penalty on a Chinese auto financing company, the Shanghai Bureau of the China Banking and Insurance Regulatory Commission found the enterprise in serious violation of the principle of prudent operation, the commission said Monday.
ZhengTong Auto Services Holdings Ltd., controlled by billionaire Wang Muqing, improperly obtained approval to set up Dongzheng Automotive Finance in 2015 and has since conducted illegal related-party transactions with Dongzheng, the regulator said in an administrative decision.
Quick hits /
Fisher: The big, broad Chinese bull market Western pundits miss
Chart of the Day: Hong Kong unemployment hits nearly 16-year high
BUSINESS & TECH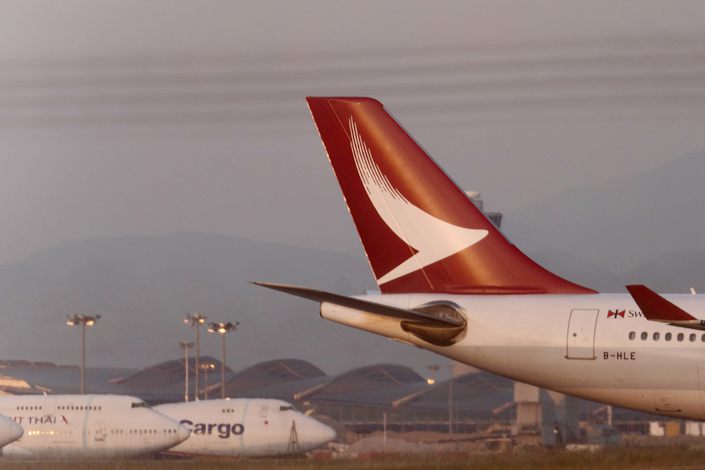 The tail fin of an Airbus SE A330-342 aircraft operated by Cathay Dragon, a unit of Cathay Pacific Airways Ltd., right, is seen at Hong Kong International Airport at dusk in Hong Kong, China, on Saturday, March 11, 2018. Photo: Bloomberg
Airlines /
Cathay to cut over 5,000 Hong Kong jobs and close Dragon brand
Cathay Pacific Airways Ltd. will cut about 5,300 jobs based in Hong Kong and and close its Cathay Dragon unit as part of a sweeping overhaul of the city's flag carrier triggered by the halt in air travel due to the coronavirus pandemic.
An additional 600 Cathay workers outside of Hong Kong may also be affected, and 2,600 currently unfilled positions will be eliminated. The entire reduction of some 8,500 positions amounts to around 24% of Cathay's headcount, one of the largest hits in the aviation sector globally since the outbreak started.
Covid-19 has had a devastating impact on aviation. As many as 46 million jobs are at risk, and airlines alone face about $420 billion in lost revenue this year.
Intel /
Analysis: Intel's memory sale leaves China's chip aspirations out in the cold
Global chip giant Intel Corp.'s plan to sell its China-centered memory business to a South Korean buyer shows how U.S. efforts to stymie Beijing's chipmaking ambitions may reach as far as China's own shores, analysts said.
The blockbuster deal in which SK Hynix will pay $9 billion for Intel's NAND flash memory business marks the latest move by the U.S. chip giant to offload assets unrelated to its core business of making high-tech chips that power desktop and laptop computers. The sale will make SK Hynix the world's second-largest player for the popular memory type.
China also has big ambitions in flash memory, especially in light of recent efforts by the U.S. to block development of its domestic chip industry. But despite those aspirations and even as the business being sold was centered on an Intel memory-making plant in Northeast China, no Chinese buyers were mentioned as candidates for the purchase.
Clean power /
Clean power won't be enough for China to meet Xi's pledge, report says
China will need to quickly ramp up clean power generation to reach net zero carbon dioxide emissions by 2060, but that still won't be enough to meet the target unless the world's largest greenhouse gas emitter dramatically increases its use of carbon-trapping technology, experts said.
The country should aim to start generating most of its energy from clean sources and then rapidly expand the use of that power to achieve its ambitious goal, top climate analysts told the journal Nature in a report published Monday. At the same time, China will need to scale up the use of carbon capture and storage (CCS) technologies that siphon off waste carbon dioxide released when fossil fuels burn.
Duty-free /
Alibaba takes 6.1% stake in Swiss duty-free retailer Dufry
Chinese e-commerce giant Alibaba Group Holding Ltd. agreed to buy a 6.1% stake in Dufry AG as part of the Swiss-based travel retailer's share placement to raise a roughly $900 million.
Alibaba will pay 163 million Swiss francs ($179 million) for the shares, Dufry said Tuesday. The Chinese company will also invest 69.5 million francs in Dufry via convertible notes. The three-year notes can be converted to 2.1 million Dufry shares. The capital injection will boost Dufry, the world's largest travel retailer, at a time when sales plunged amid the Covid-19 pandemic. The tie-up followed the establishment of a China joint venture between Alibaba and Dufry as the two companies eye further tapping the Chinese retail market.
Quick hits /
Former CNPC employee commits suicide after killing four
Mining giant Zijin's profits soar despite Papua New Guinea dispute
In blow to Fosun Pharma, its German partner to make Covid-19 vaccine for China market
Thanks for reading. If you haven't already, click here to subscribe.

Register to read this article for free.
Register
Share this article
Open WeChat and scan the QR code

Caixin-Sinica Business Brief: TikTok CEO Pushes Back on Security Concerns