CX Daily: China Dragoons Banks, Alipay Into Crypto Crackdown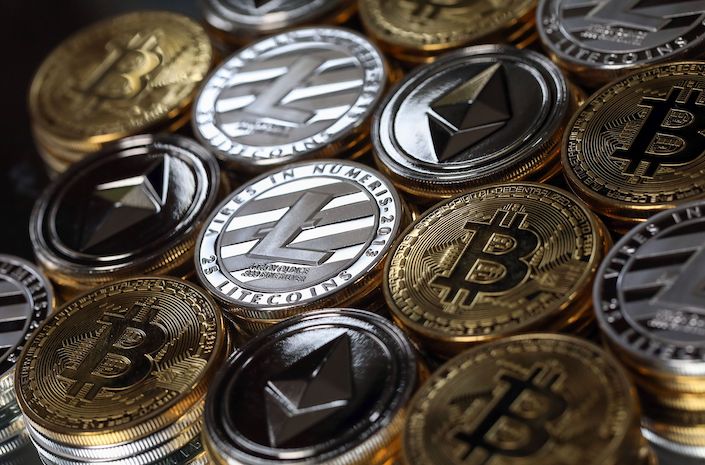 A collection of digital currency.
Cryptocurrencies /
China dragoons banks, Alipay into crypto crackdown
China's central bank called a meeting with several major banks and payment provider Alipay to reinforce a ban on cryptocurrency trading, the latest move in a sweeping clampdown on crypto speculation.
The People's Bank of China summoned representatives from Industrial and Commercial Bank of China, Agricultural Bank of China, China Construction Bank, Postal Saving Bank of China, Industrial Bank and Alipay, the payment service of Ant Group, and told them not to provide crypto-related services, according to a statement issued Monday by the central bank.
Cryptocurrency activities "disrupt financial order and also breed risks of criminal activities like illegal cross-border asset transfers and money laundering," the central bank said. All banks and payment companies must not provide services related to cryptocurrency transactions, it said.
Carbon /
China to limit daily carbon price moves to 10%
Carbon emission credits traded on the Shanghai Environment and Energy Exchange won't be allowed to rise or fall more than 10% in a session, according to a notice issued by the exchange.
The maximum size of a single transaction will be less than 100,000 tons of carbon dioxide equivalent, the exchange said. The rules spell out limitations for China's national carbon market before the expected start of trading this month.
FINANCE & ECONOMY
The volatility in global crude oil prices over the past year has fueled demand in China for hedging instruments. Exchange. Photo: Shanghai Futures Exchange
Oil options /
China's first crude oil options go live in boost to derivatives market
China took another step forward in its plans to open up the country's financial markets and increase its pricing power over globally traded commodities with the launch of yuan-denominated crude oil options contracts, the first in the energy sector available to foreign investors.
The contracts started trading Monday on the Shanghai International Energy Exchange, part of the Shanghai Futures Exchange, following Friday's launch of yuan-denominated palm oil options on the Dalian Commodity Exchange, which are also open to overseas investors.
Japan /
In Depth: How Japan's nuclear disaster zone is emerging as a clean power leader
In the wake of the Fukushima disaster, Japan is gradually saying goodbye to nuclear power, pursuing renewable power sources and putting big bets on hydrogen power. All the country's nuclear plants were taken offline for inspections after the disaster, and most remain mothballed, even as some Japanese utilities are pushing hard for the resumption of nuclear power generation and conservative politicians are in favor of the sector.
But though Japan's energy mix has changed, it isn't necessarily getting greener. That may be set to change as the country, in line with many other nations, sets ambitious carbon goals. Late last year, Prime Minister Suga revealed a plan to cut greenhouse gas emissions in Japan to net zero by 2050.
Tax haven /
Hainan won't turn into the Cayman Islands, governor says
Southern China's Hainan province vowed to tighten scrutiny to prevent businesses from using preferential policies to evade taxes after the central government unveiled plans to turn the tropical island into a free trade port.
"We will not let Hainan free trade port become a tax haven," provincial Governor Feng Fei said Monday at a press briefing. A tax haven is a place that allows wealthy individuals and business owners to avoid paying taxes. The Cayman Islands, Bermuda and the Bahamas are well known as tax havens.
Covid-19 /
Air services grounded as South China tech hub hit with new Covid-19 cases
The recent discovery of Covid-19 cases in South China's economic and technology hub of Shenzhen has caused flights to be grounded at one of the country's busiest airports.
Flights between Shenzhen's Bao'an airport and Beijing have been suspended until July 1, and it is not clear when authorities will decide to resume services to the national capital, an airline source told Caixin.
Flights and rail services to other major cities such as Shanghai and Chengdu have had their frequency reduced.
Related: Hong Kong and Macao discuss easing Covid travel restrictions for each other's residents
Quick hits /
China's ambassador to U.S. heads home after eight years in Washington
China's $113 billion of green bonds caught in jumble of rules
BUSINESS & TECH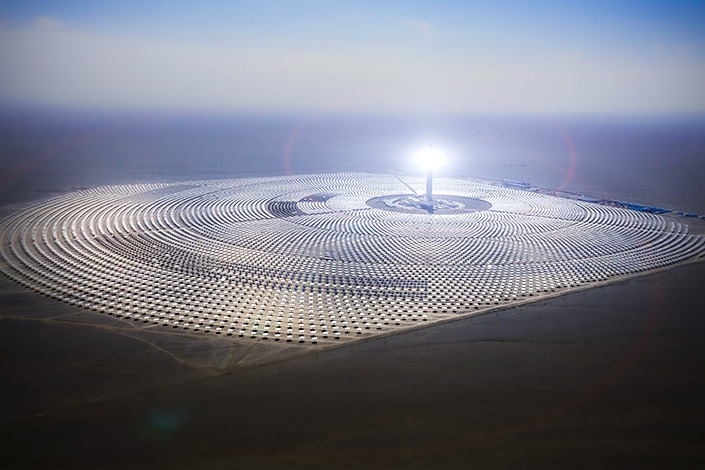 A photothermal power station in Hami, Xinjiang Uyghur autonomous region, on June 16. Photo: VCG
Energy /
Exploring paths to carbon neutrality, China expands emissions trading trials
A growing number of regions in China are testing carbon trading programs underpinned by green energy certificates, as the world's largest greenhouse-gas emitter explores a variety of pathways toward realizing its ambitious net-zero carbon pledge.
It comes even as questions remain about whether the certificates could be used in international carbon markets in the future.
At least six regions are testing systems that allow low-carbon energy to be traded.
Property /
Debt-ridden Evergrande plans to sell stake in property unit for estimated $400 million
A unit of the debt-challenged China Evergrande Group plans to sell part of its holdings in a Shenzhen-listed developer in a deal estimated at nearly $400 million amid investor concerns about the real estate giant's financial health.
Under the deal, Evergrande subsidiary Guangzhou Chiron Real Estate Co. Ltd. will transfer a 29.9% stake in developer China Calxon Group Co. Ltd. to private equity firm Shenzhen Huajian Holding Co. Ltd., according to a Tuesday filing (link in Chinese) from Calxon. The transfer will make Huajian the controlling shareholder in Calxon.
Syngenta /
Syngenta takes first step toward STAR Market listing
Syngenta Group Co., the agriculture giant owned by China National Chemical Corp., took a step toward a possible initial public offering on the Shanghai Stock Exchange's Nasdaq-like STAR Market.
Swiss-based Syngenta started the so-called "tutoring" process with investment banks for the planned offering, the company said Monday in a statement. Syngenta could be valued at as much as $60 billion, Bloomberg reported.
Brands /
Chinese brands rising in global esteem, analytics firm says
It wasn't long ago that Chinese brand names were bywords for cheap, inferior goods.
But that appears to be changing as some of the Asian nation's biggest companies carve out a growing reputation for innovation, responsiveness, convenience — and quality.
That was the message from Wang Xing, Greater China President for Kantar BrandZ, in a speech Monday to mark the analytics firm's annual report on the world's most valuable brands.
Quick hits /
Buyout group reaches deal to take China's 51job private
Greater Bay Area manufacturing engine roars back, survey shows
Opinion: Regional integration key to China's role in high-tech value chains
Energy Insider /
Energy Insider: Top EV charging station maker eyes $46.5 million fundraising; Hubei shuts all coal mines for maintenance
Thanks for reading. If you haven't already, click here to subscribe.
Today's CX Daily was compiled and edited by Kevin Guo (xinguo@caixin.com).
Share this article
Open WeChat and scan the QR code