Aug 03, 2021 09:28 AM
CHINA
CX Daily: China Securities Regulator Pledges To Make IPO Policies More Predictable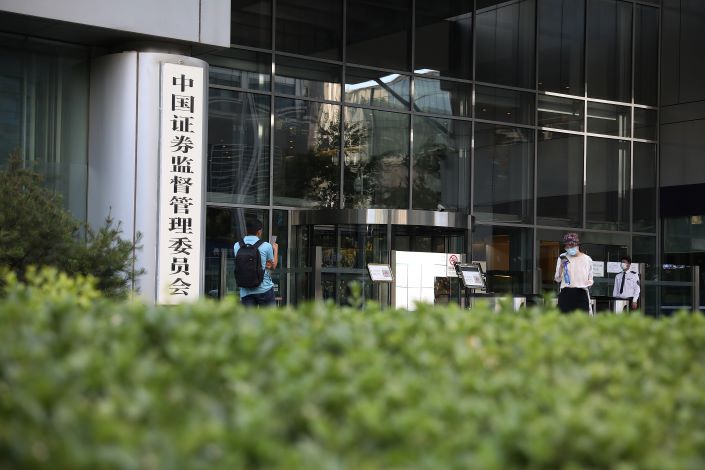 The China Securities Regulatory Commission headquarters in Beijing on June 10. Photo: VCG
IPOs /
After market turmoil, China's securities regulator pledges to make IPO policies more predictable
China's top securities regulator pledged to make policies more predictable and transparent in response to its U.S. counterpart requiring additional disclosures for Chinese IPO risks.
The China Securities Regulatory Commission (CSRC) will communicate closely with relevant authorities to properly handle relationships among investors, businesses and regulators, according to an official statement (link in Chinese) Sunday.
The remarks show how Chinese regulators are trying to reassure overseas investors. Beijing's regulatory moves to rein in tech companies, specifically ride-hailing platform Didi Global Inc., and the private tutoring sector, triggered massive market sell-offs over the prospects for U.S.-traded Chinese companies.
SEC requires additional disclosures for Chinese IPOs
Olympics /
Cover Story: The rocky road of the Tokyo Olympics
The Tokyo Olympics will no doubt be remembered like no other after it opened July 23 in a mostly empty stadium following an unprecedented one-year delay caused by the Covid-19 pandemic.
With a colorful but subdued ceremony, the games began amid a mixture of excitement and fear of a virus resurgence in Tokyo. The two-week event, now at the midpoint, is a major test for organizers as the coronavirus has brought profound changes to the way international sporting events are held. For the Japanese government, the success of the Olympics also has political and economic implications.
Opinion: What made Su Bingtian Asia's fastest man? 17 months on the bench
Opinion: China's Olympic rowing medals vindicate hard work and innovation
FINANCE & ECONOMY
PMI /
China's manufacturing grows at slowest pace in 15 months, Caixin PMI shows
China's manufacturing sector expanded at the slowest pace in 15 months in July as output growth softened and new orders dipped, a Caixin-sponsored survey showed.
The Caixin China General Manufacturing Purchasing Managers' Index (PMI), which gives an independent snapshot of the country's manufacturing sector, slipped to 50.3 from 51.3 the previous month, according to a report released Monday. Readings higher than 50 signal expansion.
The July reading was notably pulled down by a renewed decline in total new orders, the first fall in the gauge in 14 months. Meanwhile, higher factory-gate prices dented consumer demand and the Covid-19 pandemic continued to drag on export sales, which edged up only slightly in July, according to the survey.
Ban /
U.S. investment ban on businesses with alleged links to China's military takes effect
The U.S. ban on American investment in 59 Chinese companies with alleged ties to military and surveillance sectors took effect, dimming prospects for a swath of major Chinese companies traded overseas.
The ban prevents U.S. investors from buying or selling securities or related interests in the sanctioned companies starting Aug. 2, according to an executive order signed in Junebby U.S. President Joe Biden. Huawei Technologies Co. Ltd. and China's "Big Three" telecoms are among the 59 companies blacklisted.
Children /
China needs national child welfare law to reduce burden of childrearing, experts say
Chinese experts called for the introduction of a child welfare law, emphasizing the state role in childrearing to reduce burdens on families and to cope with a stubbornly low fertility rate.
The country should establish a unified welfare system for children, Xu Yanli, a professor at China University of Labor Relations, told a forum recently. She also suggested launching a specific law on children's welfare to address deficiencies in the current family support system and to boost population growth.
Covid-19 /
China's capital to impose travel restrictions as new Covid outbreak spreads to 15 provinces
Beijing's municipal government is set to impose fresh travel bans by restricting visitors from high- or medium-risk areas in China by suspending inbound flights, trains and long-distance buses from areas where Covid-19 cases have been reported, including the cities of Nanjing and Zhengzhou.
As of Monday, Beijing reported four confirmed cases and one asymptomatic case, city government spokesperson Xu Hejian said at a press briefing, without specifying the date that the travel ban will take effect.
Nanjing launches fourth round of mass Covid testing within two weeks
Theater audiences exposed to Covid-19 in Hunan
Quick hits /
Editorial: Understanding the 'fish-water' theory
Ray Dalio: Understanding China's recent moves in its capital markets
BUSINESS & TECH
Kris Wu. Photo: VCG
Kris Wu /
Rape detention could put Kris Wu on hook for millions over ruined endorsement deals
Police in Beijing detained pop star Kris Wu on suspicion of rape, meaning the Canadian is looking not only at a potentially lengthy prison sentence but also having to compensate brands for broken sponsorship deals.
Cops in the capital's Chaoyang district released a statement late Saturday that they had taken the celebrity into custody after investigating online claims that the 30-year-old had "repeatedly tricked young women into sexual relations." The probe came after Wu was accused of a series of sexual assaults late last month.
Prior to his detention, over a dozen brands including Chinese streaming site Tencent Video, Italian luxury brand Bulgari and French brand Louis Vuitton announced they had terminated brand ambassador or spokesperson contracts with Wu.
Beijing police arrest pop star Kris Wu on rape allegations
Policies /
China needs policy shift to retain foreign companies, former commerce minister says
To keep foreign companies in China, the country needs to make progress on intellectual property protection, predictability of government policy and favorable talent policies, former Commerce Minister Chen Deming said Friday.
Speaking at an annual forum hosted by the Center for China and Globalization, Chen said the preferential policies on land and taxation that helped attract foreign investments since the late 1970s have almost "reached the ceiling."
Chen served as China's trade chief from 2007 to 2013 and now serves as the chairman of the China Association of Enterprise with Foreign Investment, a nationwide nonprofit mainly composed of companies with foreign investments in China.
Music /
NetEase music streaming arm wins approval for Hong Kong IPO
The money-losing music streaming arm of Chinese gaming company NetEase Inc. received approval from the Hong Kong stock exchange to hold an initial public offering, according to updated listing information submitted by the company to the bourse.
Cloud Village Inc. said Sunday it expects to remain unprofitable through 2023 due to "continued investments in content, technologies, marketing initiatives as well as research and development," according to its post-hearing information pack filing, which is an indication that a public listing has been approved. The document did not reveal the size of the Hong Kong offering.
Sinopec /
Melting snow floods Sinopec site in Xinjiang desert
A snowmelt flood in the Taklamakan Desert in China's Xinjiang region swamped a China Petroleum & Chemical Corp. (Sinopec) exploration site.
Sinopec posted a video of the flooding Thursday on social media showing that 30,000 sets of equipment and nearly 50 exploration vehicles were flooded.
Quick hits /
China orders 25 tech giants to fix raft of problems
Evergrande offloads stakes in internet unit for $418 million
Tesla wannabe Xpeng begins building new factory in Central China
Hot Topics /
Pop star Kris Wu arrested in Beijing, first doping case at Tokyo Olympics, melting snow floods Sinopec site
GALLERY
Chinese athletes shine in Tokyo
Thanks for reading. If you haven't already, click here to subscribe.
You've accessed an article available only to subscribers
VIEW OPTIONS
Share this article
Open WeChat and scan the QR code

Caixin China Biz Roundup: Hong Kong 'Homecoming' Listings