CX Daily: Markets React to Withdrawal of Hong Kong Extradition Bill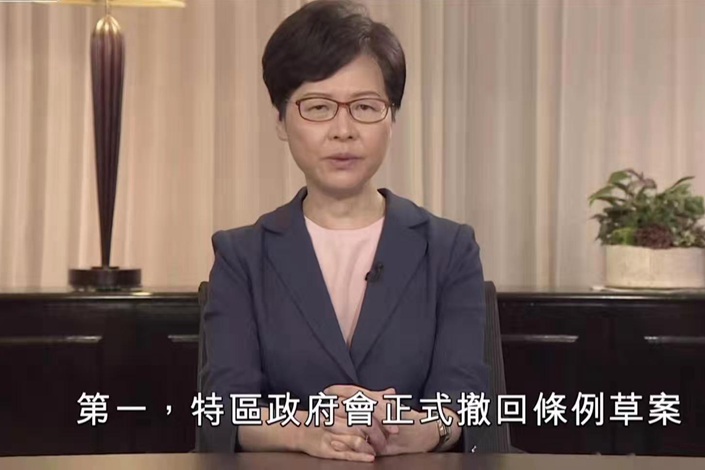 Hong Kong Chief Executive Carrie Lam made a prerecorded televised address announcing the withdrawal of the extradition bill. Photo: Now TV
Hong Kong /
Hong Kong shares soar on withdrawal of extradition bill
Hong Kong stocks rallied nearly 4% Wednesday after news broke that Hong Kong Chief Executive Carrie Lam would withdraw legislation that would have allowed suspects wanted on the Chinese mainland to be extradited from the city. The Hang Seng index surged 3.9% to 26,523.23.
Lam made the announcement in a prerecorded televised address after markets closed. "The government will formally withdraw the bill in order to fully eliminate the public's doubts," Lam said.
"The discontentment extends far beyond the bill," she said. "It covers political, economic and social issues, including the oft-mentioned problems relating to housing and land supply, income distribution, social justice and mobility and opportunities for our young people. It also reflects the desire for the public to be fully engaged in government decision-making."
FINANCE & ECONOMICS
A child accompanies a train attendant during her on-board duties on Aug. 27. Photo: VCG
Economy /
Services sector grows at fastest pace in three months: Caixin PMI
The Caixin China General Services Business Activity Index rose to 52.1 in August from 51.6 in the previous month, expanding at the fastest pace in three months. The Caixin China Composite Output Index, which covers both manufacturers and services providers, inched up to 51.6 in August from 50.9 in July. Readings above 50 indicate expansion.
"China's economy showed clear signs of a recovery in August, especially in the employment sector. Countercyclical policies took effect gradually," said Zhong Zhengsheng, director of macroeconomic analysis at CEBM Group Ltd., an affiliate of Caixin Global.
Taxes /
Top 500 private companies putting more into government tax coffers
The latest annual survey of China's top 500 private enterprises shows that their contributions to the government's fiscal coffers continued to grow faster than their revenue last year, and that their share of the state's total tax income increased even as their return on equity declined.
The revelations come in a report by the All-China Federation of Industry and Commerce. The report, which was published late last month, is based on a survey of private businesses with annual turnover of more than 500 million yuan ($70 million), covering a wide range of indicators including revenue, assets, personnel, and views on key social and economic issues.
Misconduct /
Large Chinese bank and two insurers found in violations
China's banking and insurance regulator uncovered infringement of consumer rights by a big bank and two insurers, including overcharging on fees and engaging in deceitful sales tactics.
The China Banking and Insurance Regulatory Commission (CBIRC) didn't disclose the names of the bank and insurers in a statement released Monday. But the regulator revealed the products involved in the misconduct. Publicly available records showed that these products were offered by state-owned Postal Savings Bank of China, PICC Life Insurance Co. Ltd. and ZhongAn Online P&C Insurance Co. Ltd.
Quick hits /
Letter from the editor: The U.S.'s intergenerational divide on dealing with China
Yu Yongding: The yuan's bid for freedom
BUSINESS & TECH
Photo: IC Photo

Huawei /
Huawei fires back at inventor over IP theft accusations
Chinese telecom giant Huawei on Tuesday denied allegations by a Portuguese inventor that it had stolen his IP in response to a Wall Street Journal report last Friday that the U.S. government was investigating the company for alleged theft of smartphone camera patents.
Patent owner Rui Pedro Oliveira said that after a 2014 meeting with Huawei to discuss his camera designs, the company did not agree to use his IP, but later started to sell products that infringed upon it. In a statement Huawei issued Tuesday, the company said Oliveira is "taking advantage of the current geopolitical situation" as well as "pushing a false narrative through the media in an attempt to capitalize on a dispute," according to state-run China Daily.
In depth /
Evergrande's electric car ambitions hit speed bumps
In trying to become the world's largest new-energy vehicle company, real estate giant China Evergrande Group said it spent 14.1 billion yuan ($1.96 billion) on electric-vehicle (EV) projects in H1 and is planning to pump in an additional 6 billion yuan by year end. But not much has materialized, as the company faced a high-profile deal that soured, challenges integrating the tech it is acquiring and broader EV market headwinds.
Last month, the group's EV and health-care business unit said it booked a 2 billion yuan loss in H1, blaming surging costs in the EV business, including investment projects and R&D. The problem with acquiring its way into EV, according to analysts, is that most companies Evergrande can buy are not industry leaders, and integration will be difficult.
Check out our deep dive.
The great sale /
HNA cash drops 20 times faster than debt as asset sales continue
HNA Group Co.'s cash pile shrank 20 times faster than its debts, indicating that pressure is building for one of China's most indebted conglomerates to speed up asset sales.
Cash, equivalents and short-term investments as of the end of June tumbled 61% from a year earlier, according to data derived from the Hainan-based Chinese group's interim report released on Friday. By comparison, total debt fell 3%. The figures illustrate how HNA's liquidity challenges persist more than a year after the company that was once at the forefront of China's unprecedented acquisition binge began dumping tens of billions of dollars in assets.
Tobacco /
Four years after rollout of tough new rules, tobacco ads still light up cigarette shops
Four years after the introduction of amended rules on tobacco advertising considered China's toughest yet in the war against smoking, related ads and other promotions remain common and are even on the rise, according to a report released by the Chinese Association on Tobacco Control.
Some 90% or more of sales points for tobacco products in the cities of Guangzhou, Zhengzhou, Chengdu and Hefei contained some form of related advertisements or other promotions. The report, which examined eight cities, 10 counties and townships and 741 sales points, found that 64.9% of sales points in cities surveyed had tobacco ads. Compared with a similar survey in 2016, the concentration of places with ads was up nearly 20%.
Quick hits /
Embattled entrepreneur relinquishes CEO job at Faraday Future
China's CATL takes stake of Australian lithium exporter
In baijiu heartland, French firm plans malt whisky distillery
China Huaneng Group plans to acquire and delist HK-listed unit
Vice chairman of Foxconn's listed arm resigns, CTO takes place
Deepfake app Zao apologizes for user 'confusion' and promises data protection
Alibaba cuts stake in top production studio that cozied up to Tencent
AI startup Yitu seeks IPO on China's new tech board
Weibo's Instagram knockoff taken down days after debut amid plagiarism charges
Thanks for reading. If you haven't already, click here to subscribe.
Share this article
Open WeChat and scan the QR code