CX Daily: More of China's Top Brass are Getting in on Trade Talks
US Trade Representative Robert Lighthizer (left) leads Chinese Vice Premier Liu He (center) and U.S. Treasury Secretary Steven Mnuchin to their positions for a group photo during a meeting in Shanghai on July 31. Photo: VCG
Trade war /
China, U.S. to hold trade talks in Washington next month
China and the U.S. agreed to hold another round of trade talks in Washington in early October, China's Ministry of Commerce announced Thursday.
China's Vice Premier and top trade negotiator Liu He spoke with U.S. Trade Representative Robert Lighthizer and Treasury Secretary Steven Mnuchin by phone on Thursday morning and agreed to begin preparing for the October meeting, according to a press release from the commerce ministry.
Also on the call were Chinese Commerce Minister Zhong Shan, China's central bank Governor Yi Gang, and the National Development and Reform Commission's Deputy Chairman Ning Jizhe.
FINANCE & ECONOMICS
The Nomura economists see an MLF cut as one of the most efficient ways for Beijing to achieve its goal of lowering real interest rates. Photo: VCG
RRR /
China signals monetary easing to support 'real' economy
China's cabinet, the State Council, signaled that authorities will ease monetary policy with both broad and targeted cuts to the reserve requirement ratio (RRR) for banks "in a timely manner" to support the real economy, particularly small businesses, according to an official statement.
The State Council's statement indicates that China's government aims to keep the economy on an even keel by ensuring there is ample credit available in the financial system amid economic headwinds that include slowing growth and a trade war with the U.S., though the timing remains in question.
Indexes /
JPMorgan to include China in benchmark bond indexes
JPMorgan Chase & Co. will start a phased inclusion of Chinese government debt into its benchmark emerging-market indexes, potentially ushering in a fresh overseas influx into the world's second-largest bond market.
China's weight will be capped at 10% of the GBI-EM global diversified and narrow diversified indexes. The inclusion will begin Feb. 28, 2020, the bank said in a statement Wednesday. Goldman Sachs Group Inc. analysts earlier estimated that such a move could lead to about $3 billion of monthly inflows into China's bond market.
Local debt /
China's local governments asked to submit 2020 borrowing needs
China's Finance Ministry has started to make an early assessment on how much debt local governments need to sell next year, three months ahead of the usual schedule.
The move indicates the Chinese government's urgent need to increase infrastructure investment through local government bond issuance amid mounting pressures. The State Council, China's cabinet, said in an executive meeting Wednesday that the early move to assign quotas for next year's new special-purpose borrowing aims to ensure funds are put into use and generate results in early 2020.
Defaults /
Private bond defaults hit record $4.4 billion as economic slowdown bites
China's issuers have missed repayments on a record 31.8 billion yuan ($4.4 billion) of private bonds this year through August, compared with 26.7 billion yuan for all of 2017 and 2018 combined, according to data by China Chengxin International Credit Rating Co., one of the country's biggest rating firms.
The outstanding amount of publicly issued bonds is about three times that of private notes, according Bloomberg-compiled data. Still, the private placement market is a key source of funding for China's smaller non-state-owned companies and local government financing vehicles as deals are struck with a small group of qualified institutional investors, shielding firms from market volatility.
Coming up /
Sat. Sept. 7: The GACC will release import and export data for August.
Sun. Sept. 8: The PBOC will release data on August M2, M1, M0 growth, new yuan-denominated loans and newly added social financing.
Tues. Sept. 10: The NBS will release August's CPI and PPI.
Fri. Sept. 13: Chinese mainland markets will be closed for three days for the Mid-Autumn Festival.
Quick hits /
The unlikely Chinese cities where house prices rival London
Unit of embattled CEFC China booted from Shenzhen bourse
China tightens screws on P2P debt dodgers
BUSINESS & TECH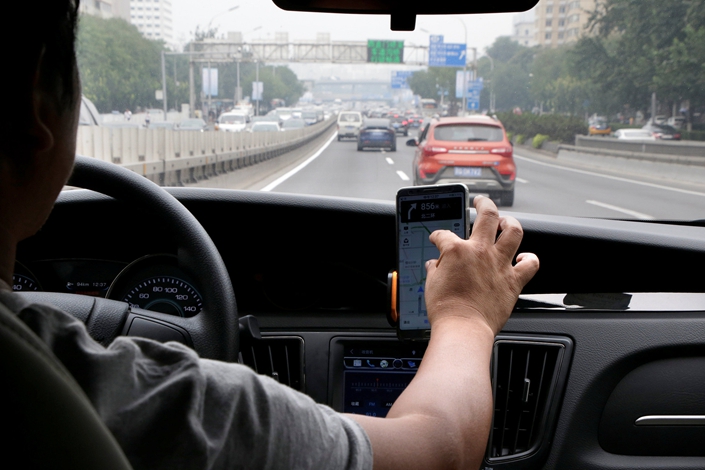 Photo: VCG

Ride-hailing /
Didi's app could be pulled over Shanghai violations
China's dominant ride-hailing company Didi Chuxing could have its app removed from Chinese app stores if it doesn't clean up its act, or so the Shanghai government has threatened after fining Didi for violating ride-hailing regulations – again – according to a statement.
Since July, the commission has cited Didi's Shanghai operation for at least 100 violations, which amount to 10 million yuan ($1.44 million) in fines, according to the statement. The commission announced the latest one Wednesday night after local officials caught a Didi driver in an "unqualified" vehicle Tuesday.
Aviation /
Cathay Pacific Chairman Slosar resigns to retire
John Slosar will resign and retire from his position as chairman of Cathay Pacific Airways, effective after a board meeting scheduled for Nov. 6, the company said in a filing to the Hong Kong stock exchange Wednesday, marking the third departure of a senior executive in less than three weeks.
Chief Executive Rupert Hogg and Chief Customer and Commercial Officer Paul Loo resigned last month following Beijing's warning to the carrier over participation by some employees in the city's recent mass protests. Slosar, 62, was CEO of Cathay Pacific from 2010 to 2014 and chairman since 2014. Two years ago, he said he had no plan to retire.
Gaming /
After barren 2018, game publishers' revenue shows signs of recovery
Two of China's biggest game publishers reported strong revenue growth in the first half of this year after they spent most of last year unable to release new titles amid a regulatory freeze.
For the six-month period, 37 Interactive Entertainment Technology Co. Ltd. and Zhejiang Century Huatong Group Co. Ltd. recorded revenue of 6 billion yuan ($839 million) and 6.9 billion yuan, respectively, an increase of 83.83% and 22.97% that's partly due to a low comparison base last year. In December 2018, the authorities ended their months-long freeze on new games being released.
Meat /
Impossible Foods eyes Chinese dining table for faux meats
U.S.-based Impossible Foods Inc., which produces synthetic meat products using soy and other plants, is in talks with several China companies for a potential partnership to tap the world's largest meat-consuming market, according to company founder and CEO Patrick Brown. The company has the backing of Bill Gates and Li Ka-shing.
Impossible Foods plans to set up China production facilities to supply the country and bring the whole business chain to China, Brown said. The company is in early talks with government agencies in the southwest Yunnan province for a potential partnership, in hopes to open its first China factory in the province, we've learned.
Quick hits /
Weibo's Instagram knockoff copies South Korean firm's logo, and is taken down
Tencent invests $120 million in Chinese CRM company
China begins setting standards for hospital 5G networks
Momo slides after China launches probe into viral face-swap app
China's battery maker CATL in supply partnership with Bosch
Thanks for reading. If you haven't already, click here to subscribe.
Share this article
Open WeChat and scan the QR code