CX Daily: Noose Tightens Over Consumer Lending in East China
Photo: VCG
Loans /
Noose tightens over consumer lending in East China
The China Banking and Insurance Regulatory Commission's (CBIRC) Zhejiang bureau recently told banks in the province to strengthen controls on lending for personal consumption and ensure that the money is not being diverted into banned areas, according to a notice we've seen.
There is a longstanding prohibition on the use of consumer loans and credit cards to make down payments for homes and to invest in the stock, bond, gold and futures markets, asset management products and private lending.
But a banking executive complained that it's difficult to implement the rules and that they don't have the technology to do what the regulator is requiring, namely to monitor money once it leaves a bank. In June, the CBIRC's Zhejiang bureau fined the Hangzhou branch of the Bank of Nanjing 1.7 million yuan ($240,000) for failing to manage consumer loans properly after finding borrowed money had been used to buy homes and invest in stocks and privately offered equity funds.
FINANCE & ECONOMICS
A passenger looks out at the Taipei 101 building from a train in Taiwan. Photo: Bloomberg
Markets /
Rush of foreign money into Taiwan sends stocks near record
Foreign investors have piled into the Taiex this month, leaving stocks tantalizingly close to a record, though they may be unlikely to reach it because of the trade war and how many companies' fortunes are linked to Apple Inc.'s latest iPhone, several analysts said. They predict the benchmark gauge will end the year about 2.5% higher at 11,200 — a whisker shy of the record reached last year.
Global investors have flocked to Taiwan equities so far in September with $2.3 billion of inflows, the most among 10 Asian markets tracked by Bloomberg. Optimism over the economy's dominant semiconductor industry helped the Taiex rise 6% from its August low, while the local dollar saw its longest rally in three years.
Banking /
China approves private bank backed by Wuxi companies
China's banking regulator cleared the creation of a second private bank this year after a two-year hiatus on approvals, bringing the total number of private banks in the country to 19.
Jiangsu Hongdou Industry Co. Ltd., a men's apparel maker, said Tuesday that it obtained regulatory approval to establish Wuxi Xishang Bank. Hongdou and a second major backer of the bank, petrochemical company Jiangyin Chengxing Industrial Group Co. Ltd., are large private companies in Wuxi, a city near Shanghai in eastern China.
Personnel /
Another finance veteran gets senior provincial-level job
Another financial industry veteran has been given a role in provincial-level leadership, the third since the start of August, as the trend of financiers being moved to government positions continues.
Li Bo, a former director of the central bank's monetary policy department, has been given a senior position in the leading Communist Party body of the government of Southwest China's Chongqing municipality. The Chongqing-born official is likely to get a job as vice mayor. Chongqing is one of the four municipalities — along with Beijing, Tianjin and Shanghai — regarded as provincial-level entities under direct governance of the central government.
Coming up /
Fri, Sept. 27: The NBS will release the industrial profits data for the January-to-August period.
Quick hits /
Trump's new national security adviser seen as arbiter, not ideologue
Jim O'Neill: The return of fiscal policy
Opinion: China could have difficulty holding its tough line on real estate
BUSINESS & TECH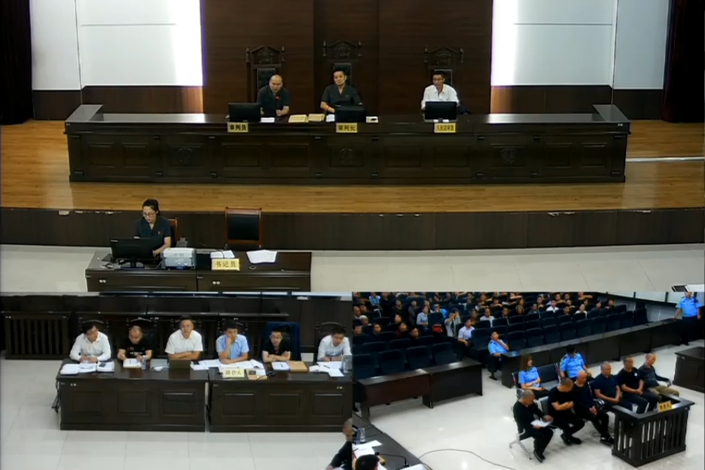 A court in the city of Shenmu in Northwest China's Shaanxi province holds a hearing on Sept. 5 in the case of Li Jun and others suspected disturbing public order. Photo: Supreme People's Court
Media /
In depth: Hunan journalist charged with publishing fake news about Shaanxi coal mine closure
The trial of a journalist accused of fabricating stories has raised concerns over local governments stretching the definition of criminal "disorderly conduct" to silence dissent. Li Xiaogen has been accused of offenses including disorderly conduct and "provoking trouble" for articles he wrote for the Hunan Contemporary Business Daily in 2018.
Li published stories about the seizure of a village-owned coal mine based on documents provided by villagers in Northwest China's Shaanxi province. Those documents were forged, but Li claims he didn't know this when he published his stories. Prosecutors argue he caused damage to the government's reputation. A judgment has yet to be reached.
Biotech /
China Biologic receives $4.6 billion buyout offer
Nasdaq-listed plasma-based biopharmaceutical company China Biologic Products has received a potential shot in the arm in the form of a $4.6 billion buyout offer, according to a Wednesday press release.
The offer price of $120 per share represents a 16.3% premium to China Biologic's close of $103.10 on Wednesday. The company, a major provider of blood plasma-based therapies in China, received the proposal from a group of six buyers, including Beachhead Holdings and Citic Capital China Partners, according to the release.
Huawei /
Huawei woos tech world with $1.5 billion and 5G secrets
Huawei Technologies Co. is offering up its most valuable 5G secrets and $1.5 billion to software developers, courting the global tech community at a time the U.S. is heightening scrutiny of the Chinese giant.
China's largest technology company aims to ramp up investment in its developer program over the next five years, Deputy Chairman Ken Hu told attendees at an annual conference. That effort is gaining urgency with Huawei in danger of losing access to American circuity and code, including the Google software it needs to run the world's No. 2 mobile devices business.
Environment /
Thailand faces online backlash after prize panda dies at 19
Chinese investigators will arrive in Thailand Thursday to look into the sudden death of a male panda, which has provoked nationalistic outrage on Chinese social media. The Chinese consulate in Bangkok confirmed the death of Chuang Chuang the panda on Monday afternoon, with local media reporting he had collapsed shortly after eating a meal of bamboo. No cause of death has been given.
The consulate said officials from the China Conservation and Research Center for the Giant Panda would work with counterparts at the Chiang Mai Zoo, where Chuang Chuang was held, to determine the cause of death.
Quick hits /
Mobile game revenue steadily recovering, report says
Battery giant CATL in $1.4 billion fund-raising plan
Former Fonterra-backed dairy superstar rapped for name change
ABB bulks up with Huawei on industrial cloud
Alibaba recruits big-hitters for AI research labs
China's cybersecurity industry expected to grow 23% to $8.9 billion
Henlius Biotech raises $410 million in Hong Kong IPO
Embattled Hanergy sued for unpaid $10 million on luxury jet lease
World's highest grid project takes shape on 'Roof of the World'
Thanks for reading. If you haven't already, click here to subscribe.
Share this article
Open WeChat and scan the QR code