CX Daily: China Targets Internet Platforms in New Guidelines to Prevent Monopolies
Two delivery riders from Meituan and Ele.me.
Antitrust /
China drafts new guidelines to rein in internet platforms
Just a day before Singles' Day, China's massive Nov. 11 annual online shopping festival, market regulators issued draft rules aiming to prevent monopolistic practices in internet platforms' economic activities.
The proposed regulations, part of a series of measures the State Administration of Market Regulation plans to unveil to regulate online economic development, followed a meeting Friday of the market regulator, internet regulator and the State Taxation Administration.
China is making major revisions to its antitrust law for the first time in more than 11 years to give it more teeth while reining in the dominance of the country's internet Goliaths. A draft revision of China's Anti-Monopoly Law expands on criteria used to judge a company's control of a market and mentions internet companies for the first time.
China tech selloff claims another $200 billion in market value as investors worry over antitrust rules
FINANCE & ECONOMICS
Microlending /
JD.com's fintech unit may stumble before IPO as tough new draft rules shake small-loans sector
China's tighter draft online microlending regulations could cast a cloud over e-commerce giant JD.com Inc.'s fintech unit ahead of its Shanghai IPO.
Online microlending has been the major force driving the revenue growth of Jingdong Digits Technology Holding Co. Ltd., or JD Digits, for the past few years. Like many of its peers, the fintech giant's rapid expansion was partly thanks to lax supervision of online microlending.
As some fintech companies have grown too big to ignore, regulators have stepped up scrutiny to see off systemic risks. On Nov. 2, China issued draft rules that stipulate stricter requirements for online microlenders, some of which are operated by fintech giants like JD Digits and Ant Group Co. Ltd.
Central bank /
Exclusive: Major commercial lender's chief named as newest central bank deputy governor
Liu Guiping, president of state-owned China Construction Bank Corp. (CCB), was appointed as a central bank deputy governor on Wednesday, sources with knowledge of the matter told Caixin.
Liu is filling the vacancy left by Zhu Hexin, who became Communist Party chief of state-owned financial conglomerate Citic Group Corp. in March and later also assumed the role of chairman.
Liu, 54, has more than three decades of experience in the financial industry and regulation, mostly in the banking sector. He took office as CCB president last year.
Economy /
Charts of the Day: Chinese shoppers flock to virtual supermarket aisle
Even as China's "Double 11" shopping extravaganza grabbed headlines Wednesday with its thousands of online promotions, a quieter but more pervasive trend of buying everyday groceries online was building momentum in the world's largest internet market.
The trend intensified during the height of China's Covid-19 outbreak in the first half of the year, with many people turning to online channels for daily groceries as they were encouraged — or forced — to stay home to prevent the virus from spreading.
Even before the virus, online grocery buying in China was growing more than 30% annually and reached a market penetration rate of 10% last year, according to a report issued this week by McKinsey and Co. It added that more than half of Chinese consumers currently buy packaged foods online, and more than a third buy fresh food.
Singles' Day bonanza may herald return of China's consumers
Bonds /
China issues 37 directives in one day to cool a wild bond market
Unprecedented volume, dozens of trading suspensions and daily circuit breakers: China's convertible bond market turned so chaotic that regulators released 37 new directives in a day just to calm it down.
While the market is no stranger to bouts of speculation followed by crackdowns from Beijing, wild moves last month included one note that surged as much as 180% in a day before losing more than half its value. Activity has cooled since the China Securities Regulatory Commission released its draft rules Oct. 23, with Tuesday's trading volume more than 70% lower than last month's record high.
Chinese chipmaker Tsinghua Unigroup's bonds crash after debt warning
State-owned coal miner's $150 million default threatens debt-ridden parent
Quick hits /
Zhang Wenhong: The darkest period of Covid-19 is behind us
GF Securities launches internal shakeup in wake of client's $12.6 billion fraud
Banking watchdog loosens rules to encourage consumer finance companies to lend more
BUSINESS & TECH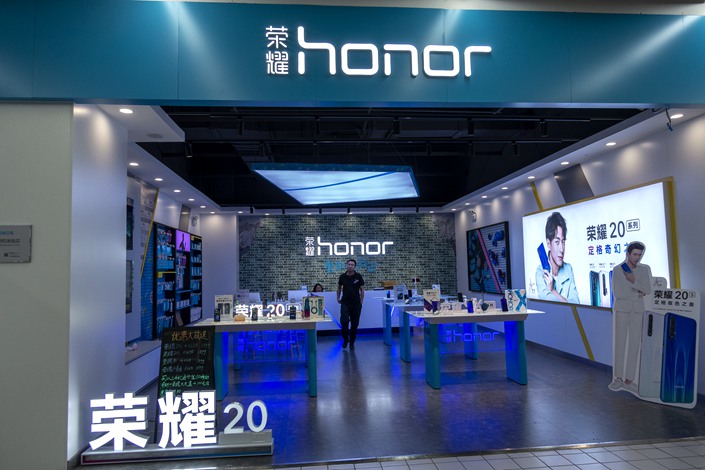 Huawei launched Honor in 2013 as a sub-brand targeting the low-end and midrange smartphone market.
Huawei /
Huawei to sell budget Honor smartphone brand
Huawei Technologies Co. Ltd. plans to sell its budget smartphone unit Honor as the company reels from U.S. sanctions that have throttled its chip supplies.
The Shenzhen-based technology giant has been in talks with potential buyers, including distributors and state-backed funds that Huawei does business with, sources in some of the companies told Caixin. Honor's current management would continue to run the business after it is sold, the people said.
Reuters reported Tuesday that handset distributor company Digital China Group Co. Ltd. and three investment firms backed by the Shenzhen government would get stakes of 10% to 15% in the company in a $15.4 billion deal for all of Honor's assets, including the brand, its research and development resources and its supply chain management.
Cargo /
Alibaba-backed Cainiao joins group buying stake in Air China Cargo
China National Aviation Holding Corp., parent of the country's flag carrier Air China Ltd., agreed to sell 31% of its freight business unit Air China Cargo Co. Ltd. to investors including Alibaba Group's logistics arm Cainiao as part of a restructuring of the state-controlled aviation industry.
Cainiao along with Shenzhen International Holdings Ltd., State Reform Shuangbai Development Fund and a company representing Air China Cargo employees paid a combined 4.85 billion yuan ($733 million) to the freight carrier. The deal values Air China Cargo at about 15.7 billion yuan, or 1.72 times book value, according to a Caixin calculation.
Shenzhen International, a Hong Kong-listed logistics and construction company, earlier this week said it would purchase a 10% stake in Air China Cargo. Cainiao and other investors haven't disclosed details of the investment. State Reform Shuangbai Development Fund is a government-backed fund dedicated to restructuring state-owned enterprises.
Autos /
Nissan drives deeper into last resort China with 30% capacity rise
Nissan Motor plans to raise production capacity in China by around 30% and send in vehicle development teams from Japan, keeping focused on a growth market even as the automaker retreats from the pursuit of scale under former boss Carlos Ghosn.
The Japanese automaker wants all of the new cars it releases in China to be electrics, in line with Beijing's support for low-emission vehicles. As its latest quarterly results are likely to show Friday, Nissan has little choice but to double down on China at a time of flagging growth in the American and Japanese markets.
Education /
Short-seller struck GSX moves to absorb rival online tutoring business
After-school tutoring services provider Puxin Ltd. plans to sell its online school business to competitor GSX Techedu Inc., which has made headlines in recent months after attacks by high-profile short sellers prompted a probe by the U.S. securities regulator.
Both of the New York-listed companies have struggled to turn a profit amid intense competition for market share in China's online education sector. Despite the online school seeming to be a strong revenue driver, Puxin said in an internal notice circulated online that the goal of the divestiture is to implement a profitable development strategy and boost the company's K-12 brand and business.
The two companies have yet to disclose information related to the deal. A GSX source told Caixin that the two are in talks.
Quick hits /
Natural gas prices surge as winter bites
Regulators' three red lines on debt spur property developers to curb leverage
Alibaba stockholders convert 1.3 billion shares from ADRs to HK ordinary shares
Thanks for reading. If you haven't already, click here to subscribe.

Register to read this article for free.
Register
Share this article
Open WeChat and scan the QR code

Caixin-Sinica Business Brief: Venture Capital Giant Sequoia to Carve Out China Business Over Geopolitical Concerns