Sep 03, 2021 09:49 AM
CHINA
CX Daily: The Congo Mine That Could Feed China's Vast Hunger For Copper
Copper /
In Depth: The Congo mine that could feed China's vast hunger for copper
The first shipment of copper ore from the Kamoa-Kakula mine in the southern Democratic Republic of Congo is expected to arrive in China this month after traveling overland to the South African port of Durban.
The mine, operated by a Chinese-Canadian joint venture, is expected to produce 200,000 tons of ore a year in its first phase, rising to a peak of 800,000 tons or more by 2029, with all the output to be smelted, processed and sold in China.
As China's economy recovers from the domestic Covid-19 epidemic it has regained its immense appetite for copper — a key indicator of a nation's economic health. In June, the government said it would release copper, zinc and aluminum from its national strategic reserves for the first time in more than a decade.
Vaccines /
Exclusive: China's Fosun Pharma borrows $300 million for Covid vaccines
Shanghai Fosun Pharmaceutical (Group) Co. Ltd. secured $300 million of loans from the Asian Infrastructure Investment Bank (AIIB) and the International Finance Corp. (IFC), the private-sector arm of the World Bank, to expand Covid-19 vaccine output and distribution.
Proceeds are expected to finance capital investment in Fosun's Covid-19 vaccine supply plan, including setting up cold chain logistics infrastructure and expanding and upgrading manufacturing facilities for vaccine and test kits, according to the websites of the AIIB and the IFC.
FINANCE & ECONOMY
The scenery of Haikou, South China's Hainan province, on Wednesday. Photo: VCG
Carbon /
Hainan plans international carbon market as part of free trade port strategy
Hainan province will promote the establishment of an international carbon trading exchange and try to attract more listed companies to set up shop on the tropical island, according to a plan on using finance to support its goal of becoming a free trade port.
The plan (link in Chinese), released Wednesday, fleshes out how Hainan will act on a list of recommendations (link in Chinese) issued earlier this year on the same subject by central financial authorities.
The implementation plan is the latest step in Beijing's grand vision of transforming the southern island into a world-class free trade port.
China Carbon Watch: Emissions allowance market prices hold firm despite slump in trading
China-U.S. /
China-U.S. tensions jeopardize cooperation on climate change, foreign minister says
Chinese Foreign Minister Wang Yi urged Washington to "meet halfway" to get the bilateral relationship back on track, saying China-U.S. cooperation on climate change cannot be sustained without improved ties.
As two great world powers, "cooperation is the only right choice and the keen expectation of the international community," Wang said during a virtual meeting Wednesday with U.S. Special Presidential Envoy for Climate John Kerry.
Caixin Explains: China's bottom lines and demands for working with Washington
Housing /
Guangzhou's new pre-owned property reference system could cut prices in half
Guangzhou in southern China launched a price reference system for pre-owned properties aims to prevent real estate agencies from inflating prices, a move that could cut property rates by as much as 50%.
The mechanism provides reference prices for institutions involved in property transactions based on factors like estimated prices, rates from historical sales over the past year and prices of new developments in the area, according to a Tuesday statement (link in Chinese) from the Guangzhou Municipal Housing and Urban-Rural Development Bureau.
Quick hits /
China to expand lending to small businesses and poor students
Shrinking capital investment drives down Caixin New Economy Index
Opinion: Why the U.S.-China trade war will ease in the fourth quarter
BUSINESS & TECH
Xiaomi's headquarters in Beijing in May 2019. Photo: VCG
Xiaomi /
Smartphone giant Xiaomi officially revs up smart car business
Electronics giant Xiaomi Corp.'s founder and CEO Lei Jun will lead its new electric-vehicle business, officially registered this week to formalize the company's long-foreshadowed push into the smart-car industry.
In a statement published Wednesday on its public WeChat account, Xiaomi said it set up Xiaomi EV Inc. with registered capital of 10 billion yuan ($1.6 billion), with Lei serving as its legal representative.
The announcement further fuels the competition to win future Chinese electric-vehicle buyers after the recent entry of tech giants including Baidu, Huawei and Didi Chuxing into a sector once dominated by Tesla and a handful of local startups.
ByteDance /
ByteDance to scale back fintech business amid regulatory headwinds
ByteDance Inc., operator of short-video apps TikTok and Douyin, said it would sell its securities brokerage business as it pulls back from financial services.
A ByteDance spokesperson confirmed the move to Caixin Thursday. The Beijing-based company, which recorded a 111% surge in its 2020 revenue to 236.6 billion yuan ($36.9 billion), operates the platform Songshu Zhengquan (松鼠证券), which translates as "Squirrel Securities."
Rental /
Airbnb-style rental platforms ordered to remove Beijing listings, sources say
A majority of nonhotel listings have been removed from Airbnb-style short-term rental platforms in Beijing on the orders of the city government, company sources told Caixin.
Several government agencies, including the Beijing Municipal Commission of Housing and Urban-Rural Development, the local office of the Cyberspace Administration and the public security bureau, summoned nine short-term rental platforms for a meeting Aug. 20 and ordered the platforms to remove "noncompliant properties" within seven days. Rural listings are unaffected.
In attendance were representatives from Airbnb, Trip.com, Meituan, Tujia, Qunar, Xiaozhu, Tongcheng-Elong, Muniao and Alibaba-owned Fliggy.
Quick hits /
SK Innovation to build $1 billion battery plant in China
Tencent, Alibaba shed $330 billion in combined bourse value
China's private refiners grab barrels as they prepare to ramp up
Hot Topics /
China vows no interference in Afghanistan, regulators get tougher on ride-hailing sector, Covid lockdowns push up shipping costs
GALLERY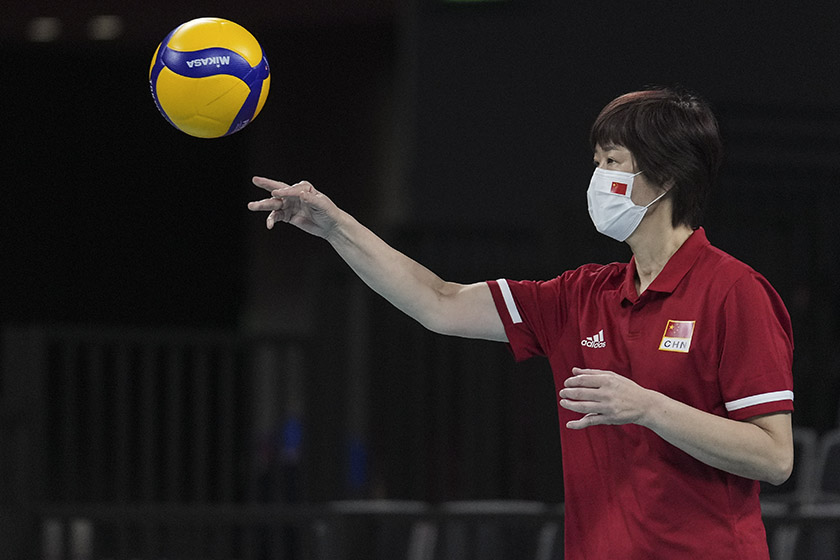 China's legendary volleyball coach resigns
Thanks for reading. If you haven't already, click here to subscribe
Share this article
Open WeChat and scan the QR code