CX Daily: Clock Ticks on SOEs' Required Support for Pension System
Photo: VCG
Social security /
State firms told to hurry up support for struggling pension system
As China tries to fill a pension shortfall, the government ordered SOEs to stop dragging their feet on the mandated transfer of equity to the national social security fund.
SOEs managed by the central government are meant to have transferred 10% of their state-owned equity by the end of 2019, though the deadline can be extended to the end of 2020 if companies "really have difficulties," a document released Friday by several central government departments read. In principle, the deadline for local SOEs is the end of 2020, the document said.
The national social security fund is mainly charged with making up for pension shortfalls and is separate from the country's local government-managed social insurance funds including those for medical insurance and pensions. Lou Jiwei, a former finance minister, told us in March that the equity transfer program aims to help shrink the gap between pension funds' revenues and expenditures as the population ages and pension payouts increase.
FINANCE & ECONOMICS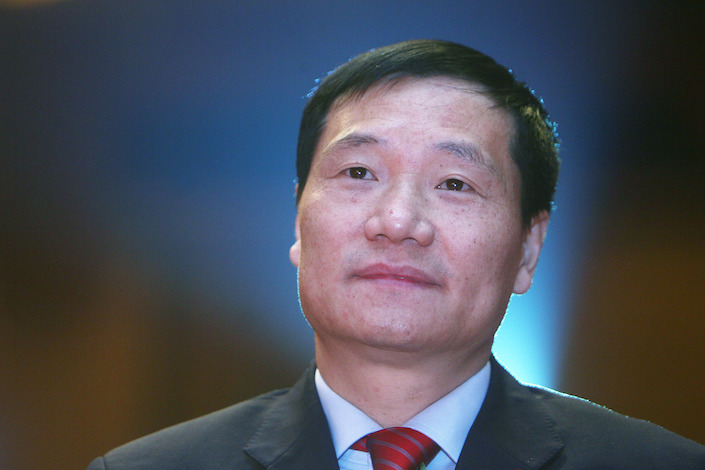 Xiao Gang, former chairman of the CSRC, said the 2015 stock-market crash was "inevitable." Photo: VCG
Markets /
China's 2015 stock crash was 'inevitable,' former securities czar says
Xiao Gang, chairman of the China Securities Regulatory Commission (CSRC) from 2013 to 2016, is often blamed for the unprecedented market meltdown that eventually set off a global rout during his tenure. In a 1½ -hour speech Wednesday night, his first public remarks on the subject, he disputed the idea that the circuit breaker mechanism he introduced caused the 2015 stock market crash. The collapse was "inevitable," he said.
The 2015 stock market crash was a liquidity crisis caused by too much leverage, which triggered widespread panic among investors when the market plunged, Xiao said. The former chairman acknowledged that the CSRC was aware of the leverage problem at the time and had actually checked the financing business of brokerages. "But we didn't follow through," Xiao said. "We were not decisive enough because we wanted the bull market to keep going."
Lending /
New reference rate for bank loans edges down
The national interest rate that Chinese banks now use as a reference for pricing one-year loans edged down 5 basis points to 4.2%, official data showed Friday. A basis point is a hundredth of a percentage point.
The drop in the one-year national loan prime rate (LPR) met market expectations for a rate reduction to help lower businesses' borrowing costs. Friday's was the second release of revamped national LPRs. The five-year-plus national LPR, a reference for pricing loans with the same maturity such as most mortgages, remained unchanged at 4.85%, according to a central bank affiliate.
Anbang takeover /
Anbang rescuer skirts share sale rules via ETF swap
Dajia Insurance Group, the state entity created to take over some of the assets of troubled Anbang Insurance Group Co. Ltd., used an unusual route to sell off one of its corporate shareholdings, skirting regulations limiting stock disposals by big investors.
Its subsidiary, Dajia Life Insurance Co. Ltd., effectively sold part of its stake in state-owned China State Construction Engineering Co. Ltd. (CSCEC) by swapping the equity for shares in three exchange-traded funds (ETFs), cutting its holding to 8.59% from 11.06%, the Shanghai-listed construction and engineering group said (link in Chinese) Thursday. Based on CSCEC's closing share price that day, the stake is worth 5.9 billion yuan.
Quick hits /
Ken Fisher: What you — and central bankers — need to know about America's inverted yield curve
BUSINESS & TECH
FedEx jet freighters sit at Memphis International Airport during the morning sort in September 2013. Photo: Bloomberg
FedEx woes /
FedEx pilot detained in China over air-gun pellets in luggage
A FedEx Corp. pilot was temporarily detained in southeastern China after authorities found hundreds of air-gun pellets in his luggage prior to boarding a commercial flight to Hong Kong, marking the delivery firm's latest setback in the country.
The pilot, who was held in the city of Guangzhou, was later released on bail. The company is working with relevant authorities to better understand the facts, U.S.-based FedEx said in an email. Geng Shuang, spokesman at China's Ministry of Foreign Affairs, said at a briefing Friday that the pilot was detained after being found with 681 air-gun pellets in his luggage. A WSJ report said Chinese authorities have started a criminal probe of the former U.S. Air Force colonel for allegedly carrying ammunition illegally.
Huawei /
Huawei launches new smartphones — without Google
Huawei unveiled its new Mate 30 series Thursday at an event in Munich, but thanks to a U.S. government decision to backlist the company, it is devoid of Google apps.
Because the new Huawei smartphones lack access to Google's app store, customers can download only apps such as Facebook and Instagram from other third-party app stores, or use the web version of apps such as YouTube. The new Huawei smartphones have their own app store, Huawei AppGallery, but such apps are not available there, a Huawei representative said.
Environment /
Grassroots carbon control projects could help China beat Paris pledge: study
Efforts to reduce greenhouse gas emissions by cities, regions, and companies in China could prevent the equivalent of millions of tons of planet-warming carbon dioxide from entering the atmosphere, helping the country exceed its international climate commitments and mitigate climate change, new research has found.
The study, published Wednesday by Yale University and Germany-based research organization the NewClimate Institute, concludes that initiatives outside the national government could slash China's greenhouse gas emissions in 2030 by around 50 million tons of carbon dioxide per year beyond what current national policies would achieve.
Energy /
Seeking outside investors for high-tech project, state grid settles for state entity
Nearly a year after announcing its intent to bring in outside investors to develop its planned ultra-high-voltage (UHV) grid, China's main electricity distributor is expected to announce the signing of its first such partnership by the end of this month, a company official said.
Luo Qianyi, chief accountant of State Grid Corp. of China, disclosed the development at a briefing this week but did not elaborate. A source close to State Grid told us the partner is a state-owned entity controlled by the central government, which is most likely making the investment for nonfinancial reasons. Chinese state-owned enterprises often make such big decisions based on political considerations as much as economic factors as they try to help the government meet objectives.
Quick hits /
iPhone 11 released in China to mixed reception from shoppers
Pop singer Jay Chou's new song gets purchased more than 8 million times in two days
Tiffany plans more China stores as tourist spending falls
Squeezed by Huawei, Oppo shifts focus overseas
Tencent offers open-source system for IoT
Chinese smartphone-maker, big in Africa, prices IPO far above Apple
Dajia Insurance launches online shop
Pony Ma steps down as Tencent Credit's legal representative
Thanks for reading. If you haven't already, click here to subscribe.
Share this article
Open WeChat and scan the QR code